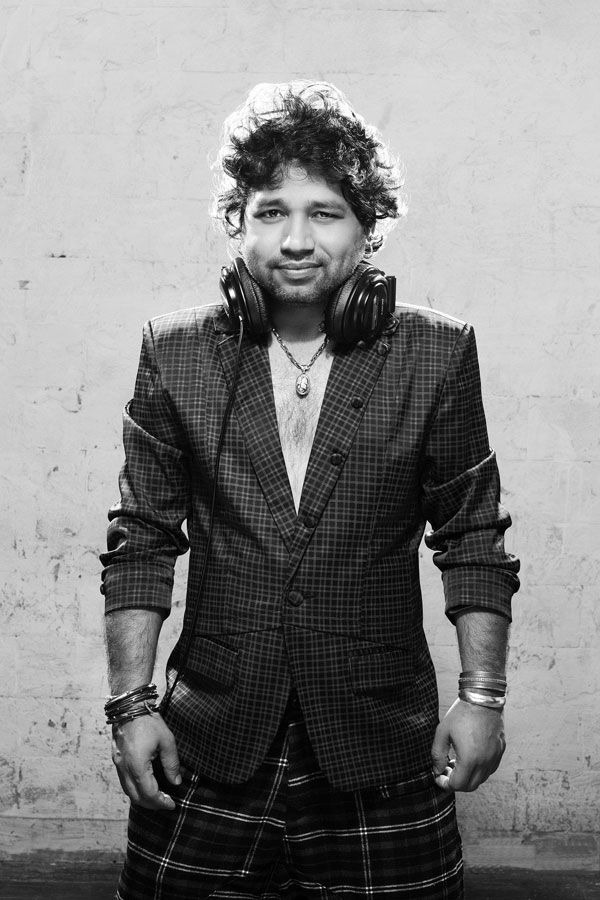 Probably one of my favorite songs is 'Ya Rabba' from Salaam-E-Ishq and when I heard I had the chance to interview singer Kailash Kher I, of course, jumped at the chance and not just because of that song. His incredible voice has been heard on over 300 songs and that is just in the film industries of India. Besides singing he has also composed and written lyrics for many a chartbusting tune. Then there are the incredible songs that he has composed for his band Kailasa. Along with his two partners, Paresh and Naresh, they have created a unique soulful sound and have just released a new album titled Rangeele. The band is currently on a world-tour and according to Mr. Kher they are spreading the joy of music and more musical awareness with their live shows. I had a wonderful and inspiring conversation with him as we talked music, of course, but also what their music is all about – love.
Can you tell us about how you came to be a singer? Was this always what you wanted to do?
I was already doing business as a career and it was going good in Delhi, but later on it collapsed. My first love and passion was music, but music is something I had never taken seriously for opting to do as a career. But I thought this is God's way to show me the path that maybe I am only made for music and to perform live, to compose music and to write lyrics and to compose tunes. When I decided in 2000-2001, I came to Mumbai and everything started falling in place.
You have done some amazing songs for the film industry, can you tell us what it is like to be a singer in the film music industry.
You know I am a playback singer by chance, Stacey. When I entered here I never thought that I'd be singing for films. I never thought that at all, because I was working on my album, my non-film music album. Somebody heard my voice and they found my voice very interesting and they started using it in television commercials, radio commercials and then same people were doing some movie tracks and they started using my voice in movie tracks also. In 2002, I sang my first solo film song and that became like a very, very, very, very big chartbuster and that's where the new tag on me of playback singer in films started. Since then I've sung in more than 300 movies till now and in 18 different languages in India for regional movies, besides Hindi, I have sung – Kannada, Tamil, Telugu, Malayalam, Oriya, Bangla, Marathi, Gujarati, Bhojpuri, Punjabi, Nepali… many languages.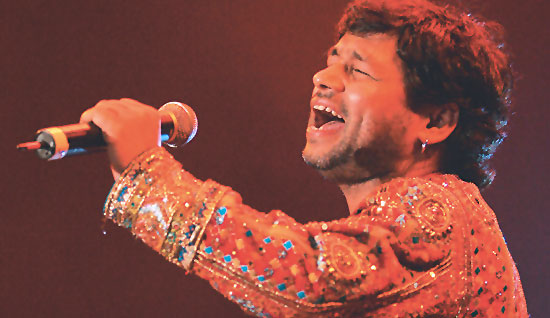 How is it working in these different industries?
Any film industry is actually almost more or less the same. Only thing is their way of doing things, their way of executing things in the Hindi film industry, it is a little different from the South. The Hindi film industry is very vast and very big and very huge compared to the other regional film industries and because of that sometimes you know things are not that organized in Hindi films. It is very organized in Telugu and others Kannada, Malayalam, Tamil. You know, whatever they say, whatever they promise, even what time you will be there and studio will be ready and all set for you, so they won't be eating your time while they fixed everything. So it is more organized, but it is all irrelevant. It doesn't really affect me. I find all the people in the Hindi film industry as well as South film industries all are great and amazing, because in their own way they all have some kind of uniqueness, which is very rare in any other field.
It must be fascinating to meet all those different people and sing all those different styles…
It is very, very fascinating, you know Stacey. You see my language is Hindi so I know the meaning, but when I'm singing for Kannada, when I'm singing for Telugu, when I'm singing for Bangla, when I'm singing for Oriya, when I'm singing for Malayalam, when I'm singing for Tamil, I don't know any meaning of that. And even if they explain to me, even if it is just the gist of it, to put the same kind of emotional passion in it, that's a challenge. By the grace of Almighty mostly, songs sung by me, are the biggest chartbusters even in the regional films also. Now today I always take a step back whenever I get a phone call for a new song's recording, because I always think that if I sing this song it will be a hit and then people will call me for more languages… different languages. Since that is not my language I should not get into that language so much, because the original people in that language, the singers, should not be deprived because of our entry.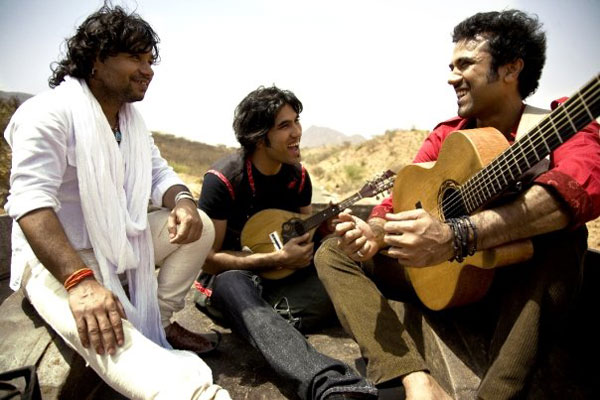 What do you think of Hindi film music today?
Oh today, I would say it's the best era for Hindi film music, because people are open to receive experiments and people are open to doing experiments. The audience is also changing and the creators are also changing and we are the witness of this change. That is why we can say that this is a wonderful era.
So music direction…
You know what Stacey, see, I alone don't do music direction, but along with my partners Naresh and Paresh I have formed this band called Kailasa, with which we will be travelling. The entire team of Kailasa comprises of 12 people including 3-4 technicians. We are the prime members me, Naresh and Paresh. So the three of us have done like Shankar, Ehsaan and Loy, we've done like independent music scores for movies and that music really has been greatly appreciated and chartbusters. Now why are we not doing many films like that is because we are doing lots and lots of live concerts in India and also in small, small cities in India. That is like a very new thing in our time. Earlier big cities used to have live concerts, but now even smaller cities also are coming up. With so much happening we are the witness of that. I want to spread more and more live concert culture. Because see, we are the only band which is, you know, as popular in film music as non-film music also. So that way we are spreading more and more musical awareness by performing live.
It must be amazing…
It's so wonderful. It's so overwhelming. In terms of doing movie as a composer you know it's so much time, so time consuming and commitments are so much there. So we try to hold back and just stick to live concerts and film recordings, which is the best thing actually.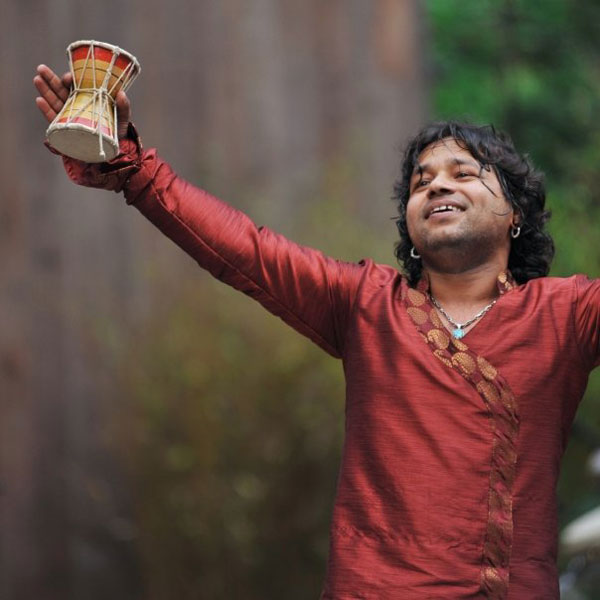 Tell us about your new album Rangeele.
See Rangeele has 11 songs and all are love songs. In each track you will only find love and romance, but you know in every song you will find different perceptions and different perspectives of love. That is what the core strength of this album is because Kailasa has been producing songs, Kailasa has been producing albums based on only love and love in its own way, in its best divine form. So that is what it is all about… love. Love is bringing happiness, love is bringing celebration. But love sometimes awakens the devil in you also. So all those perspectives, you know, these minute expressions of emotional changes are there to experience and that is what is love. It's not always sunny days but there are rainy days too. There is a larger than life kind of message through our music and that's what I love about all this.
How would you describe your music?
I would describe it as very, very soulful music, which is not bound to be in any particular genre, because any genre would make it limited. Now definitely since we are performing for every diverse audiences and every diverse venues over the entire globe, our music should not be fixed in any particular style or any genre. I would say we produce soulful music, which connects soul to soul. It comes from our soul to you and you may be German, you may be French, you may be Hispanic, but you will connect with our music because music speaks the language of love. It's not about what syllable you are using, but it's the combination of syllables, as well as the sound and if it is sung in the right spirit then it connects irrespective of what language you are singing.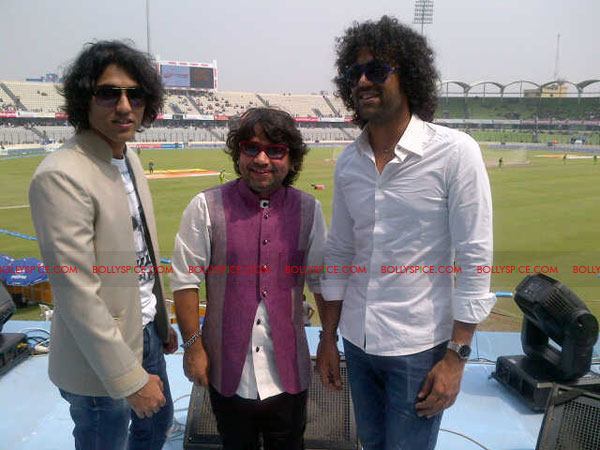 That's beautiful!
Can you tell us about the song you are composing for Sachin Tendulkar?
It is because we are very proud of Sachin Tendulkar. We love him as human being. He has met me many times and he loves my music, he hums sometimes my tunes, my songs, and that is a great honor. He's a legend, he's an icon and he's like a person to look up to in every era, he will be like that. He's an asset to the nation; he's a treasure to the nation. Now you know what could be the best tribute if not music from artists like us. So I think that's what we are going to do. I am going to compose a new track for him. He has created history of completing 100 centuries in the world of cricket. The very next day we performed at the international match with India and Pakistan in Bangladesh. So three nations of people were there and we were there with our Kailasa band and cheering for Sachin as well as both the teams – India and Pakistan. That day we sang there and motivated the spirits of players, and India won so that was more exciting.
What inspires you?
You know what Stacey, every small, small thing around me. Life in every day-to-day life inspires me like anything. That is what reflects through my writing and lyrics.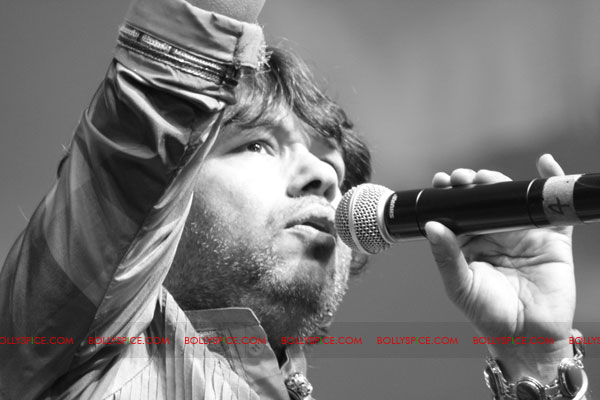 What does the support of your fans from all over the world mean to you?
This is what I feel, after touring the entire world, maybe musicians are the messengers sent by Almighty to spread message of love, I think. And that's what Kailasa has been doing, because it's not only about money. There has been many a festival we have attended where we have spent money from our own pocket just to be part of that and to experience the audiences' response and all. And we have got overwhelming response, be it at Hollywood Bowl or Celebrate Brooklyn or maybe the Stern Grove Festival or maybe Santa Monica festival, Santa Monica Pier, even Kennedy Center or maybe Royal Festival Hall in London. Everywhere, wherever we performed, it was heavenly kind of experience and Kailasa means heaven.
Next stop for Mr. Kher is the UK and the tour begins its journey on April 4, 2012. Put together by London-based Saregama Events, the UK Tour will see Kailash and his band Kailasa visiting prestigious venues in London, Birmingham, Liverpool and Leicester from April 4th to the 9th. I would like to thank Mr. Kher for the wonderful talk and wish him all the best!