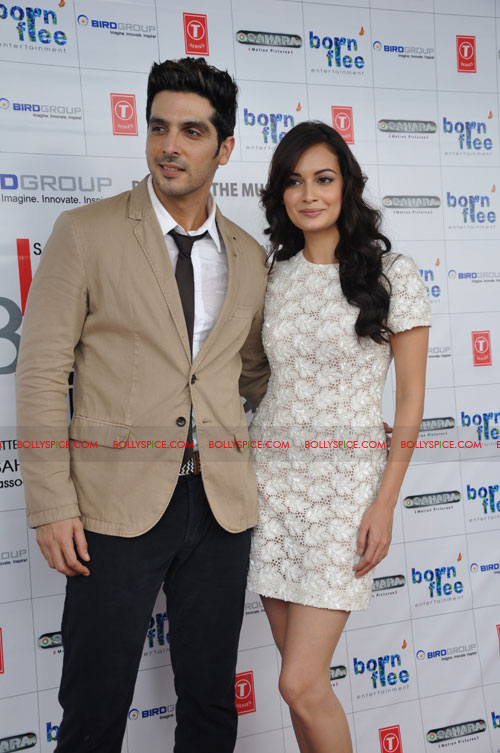 Music for Love. Music for BreakUps. Music for Zindagi.
The soundtrack for Sahara Motion Pictures and Born Free Entertainment's first collaboration has music to touch your heart
It is clear that as producers, Zayed Khan, Dia Mirza, and Sahil Sangha backed by Sahara Motion Pictures, are playing the quality and not the quantity game. So instead of packing the soundtrack of their debut production Love, BreakUps, Zindagi with fillers of dubious quality, they just have 4 rock solid numbers composed by Salim-Sulaiman and have lyrics by the great Javed Akhtar.
This first ever collaboration between Javed saab and Salim-Sulaiman has truly yielded wonderful results.
'Rozaana', the first track is sung by Salim Merchant himself. An upbeat peppy (and wonderfully written) song, it captures the magic that exists in our everyday life and celebrates the small things that add to making life our most memorable journey taken. It's one of the most uplifting songs that you would have heard in recent years, and is perfectly composed, arranged, and performed.
'Rab Raakha' features the inimitable talents of Sonu Nigam and Shreya Ghoshal who are given company by Salim Merchant and Shradha Pandit. It is a wedding song, but it is not the usual boisterous Punjabi number that often typifies wedding songs. Instead, it soulfully aims to capture the myriad of emotions that fill up our hearts during the course of a wedding. The lyrics span over the many moods, nuances and intricacies of the occasion once again celebrating the color, joy and love.
Talking about the album writer/director Sahil Sangha said, "We were convinced that the songs in the film had to add to the story rather than being forced into a soundtrack for marketing purposes alone. We are thrilled that Salim- Sulaiman have given us a soundtrack that we can always be proud of."
For those who have caught a glimpse of the visuals are as delighted by the look and feel of the songs as they are with the sound of them.
'Love Love Love' makes wonderful use of harmonies. Benny Dayal and Shradha Pandit are soulful, sensuous, and exultant, all in the same song. It is a tune that aims to make you fall in love all over again, each time you have a listen. The lyrics and arrangement have an inherent sense of romance, that highlights the nature of the relationships shared by the protagonists of the film.
Said Bhushan Kumar, Chairman & Managing Director of T-Series, "Even after having worked with so many composers and released so many soundtracks, the soundtrack of Love, Breakups, Zindagi was clearly a special one. I am proud that T-Series is the company bringing this to music lovers; and I am sure it will be as much loved by music lovers as we at T-Series love it."
The final track in the album is called 'Chayee Hai Tanhayee'. It features Shafquat Amanat Ali and Shruti Pathak, is a beautiful song of longing and loneliness. The composers beautifully draw from qawwali rhythms but turn it into something absolutely contemporary- a soul searching song that explores the heart's desire of what could have been that brings the album to a poignant close.
Love, BreakUps, Zindagi then, is truly a soundtrack that leaves you wanting for more, rather than one that makes you wait for it to get over. Another sure sign, then, that the production house may be new and the producers' young, but their words of commitment to producing wonderful new cinema is being backed up in deed by the quality that they are delivering.
The film releases on 7th October 2011.