On June 9th, the musical legend Ustad Rahat Fateh Ali Khan launched his new album 'Back 2 Love' at an exclusive event in Dubai, held in collaboration with Universal Records and Nokia Mix Radio. Rahat announced his partnership with global music streaming service Mix Radio, to mark the wider launch of the service in the Middle East.
To coincide with the launch, Rahat's new solo video 'Zaroori Tha' released yesterday morning, and has already hit over 200,000 views on YouTube. The new video, shot in Dubai, features real life TV couple, 'Big Boss' winner Gauhar Khan and Kushal Tandon. The song itself is a beautiful ballad and sure fire hit with Rahat's millions of fans around the world.
The launch night saw Rahat perform a few snippets from his new album 'Back 2 Love', and a surprise guest appearance from director Mahesh Bhatt, who described the singer as 'one of South Asia's treasures'.
Speaking exclusively to Bolly Spice at the event, Rahat told us some more about his new partnerships with Nokia Mix Radio and with Universal Records:
"We chose to tie up with Nokia Mix Radio because it's a huge platform and right now digital is the trend around the world. The Mix Radio team is very experienced and a great bunch of people and we loved working with them. Technology is a great thing. I want to promote my music faster and to the widest audience. Mix Radio is a fast service, straight to mobile phones. I want to do more of this kind of promotion. Mix Radio is a very good medium, with over 30 million songs in their catalogue! In addition Universal Records offer us a huge global platform, we are focusing on making more Sufi / Qawwali music with them for a mainstream audience."
Talking about his new album and how it differs from making the big Bollywood hits:
"Back 2 Love" is based on 10 romantic love songs. Every kind of atmosphere of love has been addressed in the lyrics of these songs, all shades of love. There are many kinds of boundaries in film music. I am singing for a music director where the beat has already been made, but with this album and for my other individual projects I have more freedom and a blank canvas to create on."
Last time I met with the star he also spoke about his upcoming music academy in Pakistan, which we touched on briefly again:
"The academy is happening. We are working on it. To build the infrastructure takes time. My team and I are working on multiple projects but that is definitely one of the projects which is in the pipeline. There is a huge number of male and female vocal talent already in Pakistan. They are across platforms like Coke Studio and already making great music."
And finally on his brand new video 'Zaroori Tha' which features TV stars Kushal Tandon and Gauhar Khan:
"We really like the both of them. Their chemistry on screen is fantastic and this song is made for them. The lyrics for this song are very touchy and we felt this was the right kind of song for them to show and they've done a great job for my video."\
http://youtu.be/6-n_szx2XRE
Rahat also revealed that his next video which will release around the end of July and has also been shot in Dubai, will feature another 'Big Boss' TV star, Swedish actress Elli Avram.
We also learned that the maestro will be coming on tour starting in August and will hit the UK, Europe, and Canada. And the one place he would love to go? Russia!
He also has about five songs coming out in Bollywood but we will have to wait to find out which films!
Check out this cool video and pictures.

http://youtu.be/p02iR4xjGZs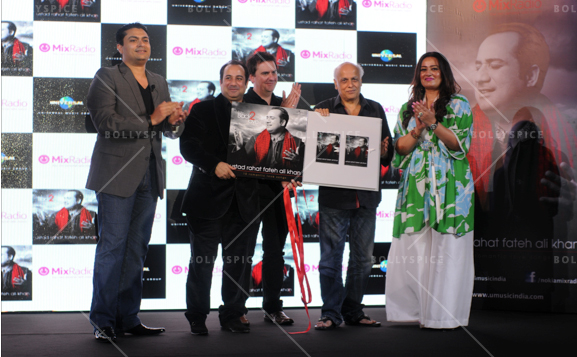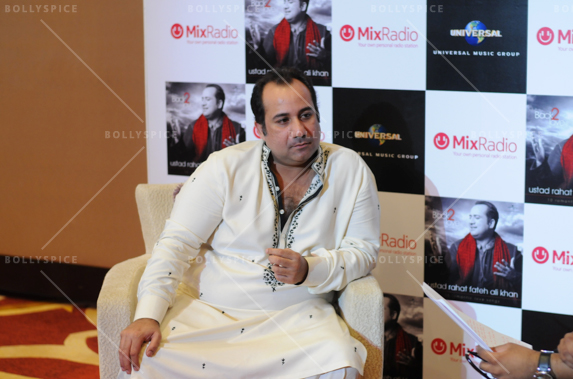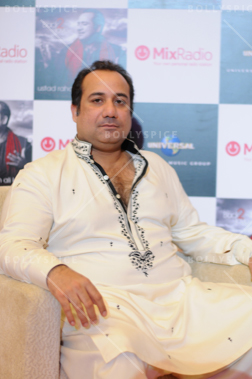 Photographer credit: Akbar Hussain