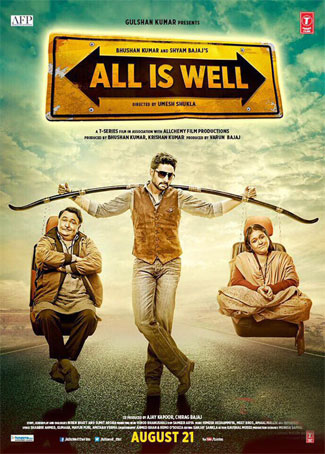 The director of OMG, Umesh Shukla, returns to the silver screen with his latest offering All is Well. The film stars Abhishek Bachchan, Asin and Rishi Kapoor in the lead roles. The story has three twists which revolve around a father-son relationship and the way they both see the world. The music released last week and is a power packed album with big names such as Himesh Reshammiya, Mithoon Sharma, Amaal Malik and Meet Bros.
Char Shanivaar – Music by Amaal Malik, Vocals by Vishal Dadlani and Amaal Malik, Lyrics by Shabbir Ahmed, Rap by Baadshah
The album opens up with the peppy number Char Shanivaar. Possibly one of the youngest Music Directors, Amaal Malik is back with yet another foot tapping number after his previous hit 'Sooraj Dooba Hai Yaaron' from Roy. Char Shanivaar sets the fun mood with its quirky lyric and party-like feel. The song has vocals by Vishal Dadlani, who has been singing quite a bit lately (Chal Beta Selfie Le Le Re)! The rap portion is performed by Baadshah. Baadshah is best known for his 2014 club hit 'Abhi Toh Party Shuru Hui Hai' from Khoobsurat. Amaal also lends his vocals to the song. While Char Shanivaar is a catchy number, it does lack the repeat listening value.
Nachan Farrate – Music by Meet Bros, Vocals by Meet Bros and Kanika Kapoor, Lyrics by Kumaar
Nachan Farrate is a typical Meet Bros party track. This song has been picturised on Sonakshi Sinha and is her item number in the film. Being very honest, I really did not like this track at all. It has a very obscure sound and is nothing like Meet Bros previous hits Chittiyan Kalaiyan Ve. This track can certainly be skipped on the album!
Baaton Ko Teri – Music by Himesh Reshammiya. Vocals by Arijit Singh. Lyrics by Shabbir Ahmed
After the two previous party numbers comes a breath of fresh air from Himesh Reshammiya. Baaton Ko Teri is a beautiful melody with heart-touching vocals by Arijit Singh. This is the first time we are hearing Arijit sing for Himesh and this is has been well worth waiting for! Himesh is known for giving such romantic melodies and after giving us the super hit Dard Dilo Ke from The Xpose last year, he is back with Baaton Ko Teri. The song has strong lyrics which are backed by a powerful melody and vocals that resonate the pain of separation. The song has received an overwhelming response and already has many covers on YouTube. It is definitely the love anthem of 2015!
Tu Mila De – Music by Himesh Reshammiya, Vocals by Ankit Tiwari, Lyrics by Mayur Puri
After the love anthem, here comes the rock anthem of 2015! After giving us his own hits like Sun Raha Hai and Teri Galliyan, Ankit Tiwari lends his voice to this powerful Himesh Reshammiya composition. This is the third time Ankit is singing for Himesh (Ankit previously sang the wonderful ghazal 'Sheeshe Ka Samundar' from The Xpose & 'Dhoom Dhaam' for Action Jackson). Himesh has excelled and showed once again why he is known as India's Rockstar with this anthem style composition. Tu Mila De has soul searching lyrics by lyricist Mayur Puri (Mayur has previously given lyrics to 'Tu Hi Tu' from Kick and 'Barbaad Raat' from Humshakals for Himesh). It will be very interesting to see how this song is picturised in the film!
YOLO – Music by Himesh Reshammiya, Vocals by Sreeram Chandra, Lyrics by Kumaar
Back to the party mode, here we have the popular phrase YOLO (You Only Live Once) incorporated into this catchy number. Himesh is also well known for his innovation and we have seen this with his hit songs like 'Keeda' (Action Jackson) and 'Caller Tune' (Humshakals). He has very cleverly woven the phrase YOLO into this feel good party number. This is the second time Sreeram Chandra is singing for Himesh (Sreeram sang the 2012 hit 'O Balma' from Khiladi 786) and one can tell he has enjoyed singing this upbeat track. YOLO definitely gets you in the party mood!
Mere Humsafar – Music recreated by Mithoon Sharma, Vocals by Mithoon and Tulsi Kumar, Lyrics by Amitabh Verma, Original Music by Anand-Miland, Original Lyrics by Majrooh Sultanpuri
When I heard that the 90's classic song 'Ae Mere Humsafar' had been recreated on the album of All is Well, my first reaction was of shock and horror. I am a huge fan of 90's Bollywood music and truly believe that these songs should remain as classics and not be recreated. Upon hearing Mere Humsafar in Mithoon's style, sadly my opinion remained the same. I have always admired Mithoon's intricate and detailed style of composing but unfortunately it just does not suit this classic song. Not only has the tempo been slowed down drastically, but Tulsi Kumar's vocals feel out of place.