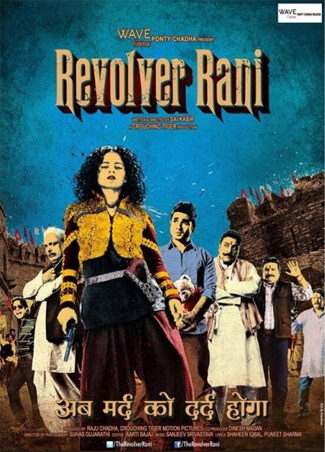 On August 25th we will see Kangana Ranaut in Sai Kabir's Revolver Rani. According to the synopsis, Revolver Rani is a satirical and odd love story set against the backdrop of politics. It's about Alka Singh (aka Revolver Rani), the leader of a political party, and her obsessive love for Rohan Mehra (played by Vir Das), a rising star of Bollywood. Sanjeev Srivastava was brought in to create the musical world of Revolver Rani and with the songs to make the story come alive. So how did he fare? Read on to find out!
The beginning sounds of the title track Revolver Rani was not promising because I kept checking to see if my computer was somehow skipping…sadly no, it is just the song. It gets better when the track transforms to an Usha Uthup jazz showcase and she is brilliant – of course. There are a couple of pure music stanzas that are really good – the wailing trumpet is fabulous. However, there is so much going on in the background of the basic song and music line that it is distracting. As a song for a promo video it somewhat works but it still is a mess of sounds, lines, singing and music. Skip.
There is a reprise version, which after hearing the original song I could not imagine what that mess of sounds could be turned into. However, this track surprised me because I liked it much more than the original. This has a thumping under beat laid on that is just killer. The deep bass really supports and highlights Usha Uthup's vocal. If you are going to listen to one make it this one.
Then we have the melodious Chanda Ki Katori Hai (Lorie) [Male and Female Versions] Piyush Mishra sings the lullaby with such feeling. It was way too short. I wanted to hear so much more, and that speaks to the fab-ness of this track! The female version sung by Garima Aneja is equally beautiful. She sings with a whisper in her vocal that is lovely. Of the two I preferred the male version but both are definitely one to give a listen too!
Pehle Lohe Ki Chingaari begins with a gunshot and moves on to have the orchestration of a climax or serious action scene. A brilliant composition with amazing singers and driving forceful music, this one sounds like it will be the background score for something very big happening within the story. I think to truly appreciate this one you have to see what is going on, on screen. It does intrigue me to see more.
When I was watching the trailer I saw a glimpse of some people dressed as Micheal Jackson, so I am assuming this song goes with that scene. There is so much wrong with the song I really don't know what to type. There are way to many musical lines and styles. One of the worst offenses is there is a discordant vocal that I can only assume is intentional for the scene but painful to hear. Honestly this is just bad, but maybe seen in context it will make sense. This is not one you would want to jam too. Just skip We Mix You Micheal Jackson, I wish I did.
We go back to classic sounds and vocals with Zardozi Lamhe. The highlight of the track is Moin Sabri, who sings with power and feeling. The music, again, has some very odd synth additions and echo effects that make the song confusing and hard to hear. However, for most of the track, thank goodness, they have just the wonderful music line with nice additions of acoustic guitar and the fab vocals. So if I, and you, can ignore the mess that is added in, it is a lovely song to listen too and one I would play again and again.
Bol Rahi Hai Payal is a throwback to the music of 90s Bollywood. From the first notes I thought of the music of Saajan, HAHK or DDLJ. I love the beats, sounds and vocals of that era and this one is a match for that musical genre to a T. Sung pitch perfect and spot on by Anweshaa and Avi Dutta, I see Salman Khan romancing Madhuri in a field. If you like the songs of that time and those movies give this one a spin.
Saawan Ki Aye Hawa starts with a cool rap beat that then transforms into a very Bolly song. Sung with power, spice and then gentleness Garima Aneja is brill! I liked the basic music line with the percussion but then…(you know how I feel about but thens) the odd synth layers and rap line seemed very out of place. Overall though, you can try to ignore the extraneous beats and just enjoy the track.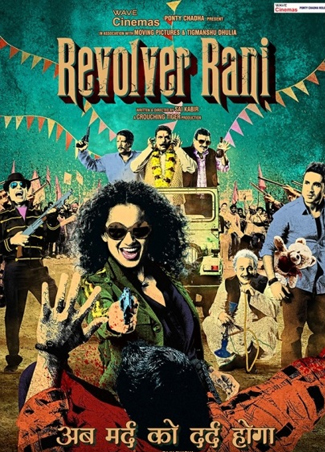 Great percussion brings you into Banna Banni. It then gets even better with Rekha Bhardwaj joining into the dance of the music. I love songs like this! It is just the instruments and the singer combined in beautiful simplicity that makes the music come alive. A definite highlight of the OST.
Composer Sanjeev Srivastava comes to the mike with a very grungy hard rock vocal for I Am Brutal. I am not sure of the reason or purpose of the song but hopefully it will make sense in the movie. All I can say it was brutal to listen too but maybe that is the point. I am giving him the benefit of the doubt and will reserve full judgment until the movie. Just skip!
Srivastava seems to like sounds that make you think the CD is skipping or your computer is losing it and that happens again in the beginning of Chal Lade Re Bhaiya. The track has an unusual percussion line that runs throughout which is very cool. The vocals by Piyush Mishra, Abhishek Mukherjee and Mayur Vyas are very strong and fit well within the confines and flow of the music. But again this song leaves me confused; there is way too much going on. I kept wanting to turn it down – not good. There are some good parts here and there but overall again this one may need a scene to get lost in because you certainly don't want to get lost in the music.
I breathed a sigh of relief when the piano began the ballad Sulgi Hui Hai Raakh. Building to a full on rock ballad with wailing guitar this one is a great jam. The track is sung brilliantly by Sanjeev Srivastava, you can tell rock is his flavor and forte. It has some off interludes but at its core it rocks in tempo, flavor and sound.
Finally music you can fall into – Asha Bhosle needless to say is just magnificent on Kaafi Nahi Chaand. Her vocals and the lovely orchestral music to accompany her is brilliant. There are a couple of musical change ups that are very nice but not really needed. All you need is Asha Bhosle to be transported into music heaven! Loved it, if you can't tell!
A cool guitar line starts off Thaayein Kare Katta and then it moves into a very interesting (read hard to hear) mix of music. Sung with gruffness by Piyush Mishra, the music does not fuse at all with the vocals. There was everything but the kitchen sink thrown into this song at one point or another. Way too much – it needed a big edit with several lines turned off. I so wanted to turn it off. Points to Piyush Mishra's delivery but that is it.
Though there are some high points on the OST, the low points are really low because of to much production and sounds. It was like he was trying to reinvent the wheel and added lasers and knobs and things that make it roll less steady rather than more. Coco Chanel once said, "Before you leave the house, look in the mirror and take one thing off." I wish he had done that musically by listening and taking off one or two layers. Do give The Revolver Rani reprise, Chanda Ki Katori Hai (Lorie) [Male and Female Versions], Kaafi Nahi Chaand and Banna Banni a listen, the rest…let's hope they play better on screen.