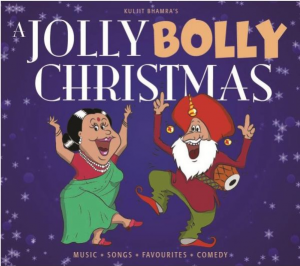 With Christmas fast approaching, the streets will soon be lined with breathtaking window decorations, appearances by Santa, log fires, traditional Christmas puddings and stockings filled with goodies. But hang on…. before you begin dusting off your Cliff Richard records…… wait! This year, we are in for a real Bolly-tastic treat as Indian composer/producer Kuljit Bhamra MBE introduces a new twist to festivities as he invites us all to 'Have a Jolly Bolly Christmas'. The new album will showcase a medley of songs that are vibrant, moving and heart-warming Bollywood versions of Christmas Favourites. Guaranteed to make you smile and dance at that Xmas party – or at home with your family…
The CD includes original songs in Hindi and Punjabi written especially for the album by Kuljit along with an updated, festive version of Kuljit's internationally famous Patel Rap (1991) – retitled Patel Wrap!
More than just music, the album also includes a Fun Christmas Tale:
Follow Bhangra Santa as he attempts to deliver this year's Christmas presents on his own. Randhir and the elves are too ill to work, so Bhangra Santa books a UK Gift Wrap Service and hires a self-drive sleigh; but Sat Navinder – the navigation device, soon reveals a mind of her own! Meanwhile, the Sidhu & Smith newly weds visit Southall from Newcastle for their first family Christmas meal together.
The fun-packed album includes a scene/song book, cut-out cracker jokes and cartoon character gift-tags.
A Jolly Bolly Christmas is the first Asian Christmas CD of its type and is a great choice for a unique Christmas gift with a difference.
Kuljit says:"It has been a lot of fun working on this project. I have had the idea for a few years and am really pleased with the way it has turned out. Bhangra fans will not be disappointed either!"
The album is already available from Amazon, iTunes and www.kedarecords.co.uk
Stay tuned we will have more including an exclusive interview with Mr. Bhamra coming up soon!