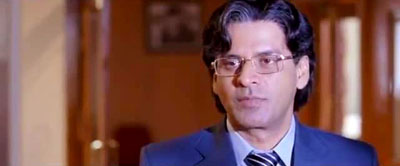 He not only changes his look but also his manner and his voice. He truly becomes someone different with each new character he portrays. This actor slips so deeply into a role that while watching him on screen you find yourself wondering, "Who is that?" And it is not until you check the movie poster or the cast list that you realize you have seen another amazing performance by the fabulous Manoj Bajpayee. In his second film with director Prakash Jha, Manoj is once again virtually unrecognizable in Aarakshan. How could this be the same actor from Jha's Raajneeti? This time he plays an arrogant and brilliant teacher named Mithilesh Singh who represents the commercialization of education in this film about the policy of reservation in India. Always so nice to take time out of his busy schedule (and this time from his new baby daughter) to talk with us, Manoj gives his thoughts on the role, the director and the policy of reservation.
What was it about this film that made you say yes?
There were many things. For one the script was very good. Secondly, the issue the director is dealing with is a very volatile issue in our country. Thirdly, yes, he IS Prakash Jha. I loved working with him earlier in his film, Raajneeti. The entire experience was fantastic. It was one of the best experiences of my career. When he shoots me he doesn't interfere too, too much into your space. He forces you to do your homework and have all the clarity before you start shooting. On the set, he is the least bothered because he knows exactly what you are going to do in front of the camera.
Tell us about your character.
My character, Mithilesh Singh, is the commercial aspect of education. In this country suddenly you have these private colleges that are showing up, you have coaching classes coming up with the intention of making money and you also have so many private institutes coming up, again with the intention of making money. Each and everybody who can afford to construct a building is thinking of starting a business in education. So, this guy, he is a professor in a college where Mr. Amitabh Bachchan is a principal. Mr. Bachchan's character is a very idealistic guy. My character is someone who is brilliant, but he looks at his teaching job as a means to make money. He is flamboyant. He is arrogant. He is a smooth talker and he knows the weaknesses of each and every person that he deals with and he is very confident.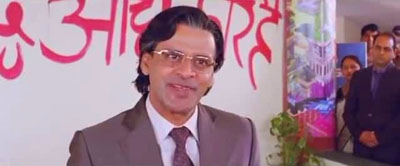 How did you prepare to play him?
We had so many meetings together with Mr. Prakash Jha. We wanted to reach a point with him but without making him look like a villain. We wanted to make him look much more human than any other character in the film: much more real, much more believable. In our society, these guys are there in numbers in every field, people who are doing the jobs not for the passion of it, but just to make the money. So they are not the rarity, they are very much there, so he had to be very, very realistic and very, very believable.
I enjoyed doing it. This is a kind of characterization that I have never given to any character in my career. The entire tone was different. The entire body language was different. He is a very easygoing guy, but because of his arrogance, and because of his knowledge that everything is not safe, he is a very confident person. We really wanted to pick up that confidence and that easiness.
Tell us about working opposite Mr. Bachchan.
This is my second experience. The first was Aks. That was a classic and I had a great time working with him twelve years back. Now, you know, he is the same. He has the same enthusiasm. When you look at him it seems as if God has really concentrated very hard in creating him. He put so much attention in making this persona. His enthusiasm, his excitement, his passion, it was all the same. In actuality he has not changed.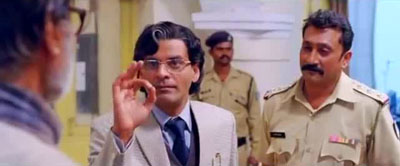 What are your thoughts on the Indian education system today?
We are living in this society in which we are dealing with reservation day in and day out. Yes, we were always of the opinion that there should be an upliftment of the oppressed class. People have been oppressed for years. Fathers were not privileged enough to give to their children. However, as I have always maintained, this policy needs to be improved every time because the person who is taking advantage of the reservation today should not necessarily be the person of the family that takes the benefit in the future. Our country is looking in that direction, they are thinking of taking out the 'creamy layer' of that segment. Creamy layer means people who have already benefited from this and their family no longer requires a policy like reservation. They are thinking of taking them out of this policy.
What do you think audiences will take away with them after seeing this film?
I think it is the issue: the issue of the equality in society, equal opportunities that everybody should get. Also the people that are running the business of education are going to be exposed through this film.
Your last few roles have been on the more serious side, can you see yourself doing comedy, a romance, or perhaps a lighter role?
See, I don't write roles for myself, the roles are offered to me and the scripts are offered to me. The comedies, which were offered to me, were awful! I always wait for something really fantastic, and for a comedy, for me to go ahead and do it, it has to be good. I don't want to prove to anyone that I can do comedy because many of my characters have evoked laughter. With comedy, the script should be chosen very, very carefully. In the name of comedy people write such spoofs. I find it very difficult to go there, to make your faces in a thousand ways and try to make people laugh. That is not something that is my idea of comedy. I will wait for the right film, definitely.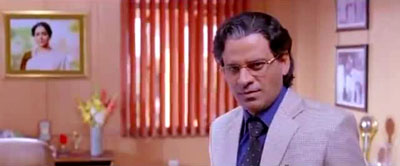 What is next for you?
I actually am ready with four films; all of them are in postproduction. There is Anurag Kashyap's film, then there is Vikram Bhatt's production, then there is one film on the Chittagong uprising, and this one, Aarakshan, is the fourth film.
I am taking a break now. While I am talking to you, I am enjoying the company of my daughter. (You could hear the smile in his voice). I am spending time with her. Now I need time for myself. For one month I am giving to the promotion of Aarakshan and then the other month will be with the family.
Along with Manoj, Aarakshan, which opens today, stars Amitabh Bachchan, Saif Ali Khan, Deepika Padukone, and Prateik. Be sure to check out our interivews with Prakash Jha and Deepika Padukone as well.