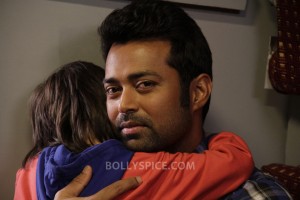 Leander Paes, is making his debut as an actor with Ashok Kohli directed Socio-political drama Rajdhani Express- Point Blank Justice on 4th January 2013. Produced by Manoj Kejriwal , Ritika Kohli & Rajesh K Patel, it has an ensemble star cast of Leander Paes, Jimmy Shergill, Puja Bose, Priyanshu Chatterjee, Gulshan Grover, Kiran Kumar, Mukesh Rishi, Sadhanshu Pandey, Sayali Bhagat, Achint Kaur and Shilpa Shukla. In the film Leander is playing the character of Keshav, an errand boy for a gun runner, who steals the weapon and a ticket to escape and travel in Rajdhani Express from Delhi to Mumbai. Inside the train his fate is no better. Distanced, ridiculed and humiliated, he reacts by pointing his gun at his co-passengers. All Hell breaks loose.
How was the first day of shoot as an actor?
My first day in my first movie was the beginning of a fantastic journey for me. I had full trust on my director, who turned to be a great guide too. it is his beautiful story of an Aam Aadami (common man). Keshav is a completely different personality from actual what I am; his behavior, reactions, his looks, his means…. everything is so different from what Leander as Long Tennis player is in his real life is.
What prompted you to take on the challenge of acting?
As a person I always love to take challenges. So now I have taken an initiative to be an actor which is my passion, now it will be up to my audience how they like me as actor. My audiences have given me lots of love as a tennis player. Let's see what happens on 4th January 2013 when Rajdhani Express hits the screens, which will show my other side and my passion for acting.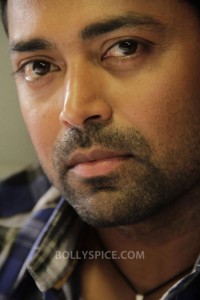 How would you describe your full journey of this movie Rajdhani Express- Point blank Justice?
Journey has been interesting and educating. It has been a remarkable experience for me as an actor. I am the new student of Bollywood. Here I need to thank my director Ashok Kohli who is a wonderful director and story teller. Then my DOP Mohan ji, who has made me look amazing on screen. Everybody on sets have done an outstanding job. In very simple words I am here to celebrate all these wonderful people.
As an athlete you have been on top. Do you think trying your hand in acting will be successful?
(laughs) It's too early to say this. I have just embarked as a new student, rest the box office will decide. I believe India has multi talented people, so I have also embarked on my journey as an actor. I don't need to be a celebrity since my tennis has already given it to me. I just want to articulate my passion towards acting.
Did you joint any acting classes to hone your skills as an actor?
No I did not need to and for this I would again say thanks to my director Ashokji. He never asked me to do so. We did workshops wherein Ashokji briefed me in-depth about my character Keshav. It was imperative that I see Keshav's character from his eyes. Director of the film is very important and an actor has to leave himself in his hands to mould. Ashokji's vision was very clear and that is what impressed me about this film a lot.
Why did you take Keshav's role?
Keshav means lord Krishna. So Keshav is in you and me too, in the common man. It is an impactful character and challenging because he not at all like the real Leander. He has seen many falls in his life and has taken a lot from the society. Now is the time for society to hear Keshav's point of view.
Since acting bug has bitten you, are you planning to open your production house?
I love taking challenges as my name Leander means Lion's heart. Since I am just one movie old I have to understand the creativity and the beauty of the films as an apprentice, as an actor, as a director and as a producer. Yes I would like to have my own production house one day.
Will tennis take a back seat now?
Of course not, during my tournaments I have represented my flag and my nation many times and it has given me an extremely incredible feeling. I have given more than 20 years to tennis and from it have got great respect. I have own individuality but all this I get as an athlete.
For actors we have an amazing audience who respect hard work, passion and enjoy entertainment. I want that same love and affection and recognition as an actor too.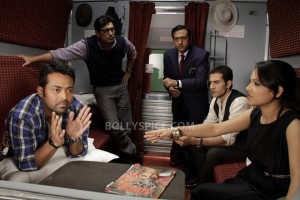 With your busy schedule was their any difficulty in date adjustment during your shoot and tournaments?
Yes there was, since I was working with nearly 400 people in Rajdhani Express. All were tremendously supportive. There were times when my shoot use to clash with my tournaments but through my team support all went on right track.
What is the reaction of your coach and colleagues on your film debut?
Initially I never told anybody, but when they came across the fact that I am passionate about acting and debuting in a film they were extremely excited about this. So is my couch very happy about this, which makes me also feels great. I hold same respect for athletes and actors.
If given a chance would you take up a role as an actor in Amar Akbar Anthony remake?
Of course yes, this is one of my favorite movies. I would love to play any character role in this movie's remake, whether it's Amar or Akbar or Anthony.
Any more film projects in pipeline?
I have three movies on my plate now.