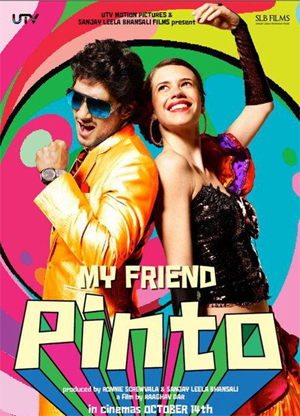 No offence to Mr Bhansali, but doesn't all the melodrama and rona-dhona of his movies get a bit too much for him sometimes? Apparently it does! Hence, his forthcoming film My Friend Pinto, a comedy. However, this time Bhansali is only involved in the capacity of a producer along with UTV's main-man Ronnie Screwvala, while debutant Raghav Dar directs.
Music of the film has been composed by Ajay-Atul (Singham) along with guest composers Hitesh Soni, Kavita Seth and Shamir Tandon, while Amitabh Bhattacharya and Deepi Sheshadri have penned the lyrics. My Friend Pinto features the vocal talents of Kunal Ganajawala, Gayatri Ganajwala (Mohabbat Hai Mirchi – Chura Liya Hai Tumne), K.K, Sunidhi Chauhan and the X-Factor contestants from the group Nirmatee.
My Friend Pinto stars Prateik Babbar (Dhobi Ghat and Aarakshan) and Kalki Koechlin (Dev D and Zindagi Na Milengi Dobara) in pivotal roles and hits cinemas 14 October 2011.
The album gets off to an easy start with Take It Easy. It is a cute contemporary track about the different moods and faces of life, cleverly penned by Bhattacharya and beautifully rendered by Kunal Ganjawala. Gayatri Ganjawala makes a nice but unfortunately brief appearance at the end of the song. Musically, the track is light and easy on the ears with an energetic climax.
Next is the rock-ish Yaadon Ki Album by K.K. A well-penned trip down memory lane to a much younger, simpler and innocent time, the track will be loved by all who love getting just that little bit nostalgic about their childhood days.
Intezaar by the X-Factor's Nirmatee, namely, Ranjana Raja, Siddharth Menon, Pranil More and Vian Fernandes is the third track of the album. Composed by Shamir Tandon and Kavitha Seth it is a relatively decent track with fresh and young vocals. However, the English lyrics should have been given a miss. The music is easy on the ears while the lyrics sans the English are light and effective. All in all, a decent listen.
The album continues with Do Kabootar, a sweet contemporary track sung by Kunal. Again the track's attractiveness lies in Bhattacharya's lyrics and the subtle yet enthusiastic manner in which Kunal has voiced the words. Musically, it is in the same line as Take It Easy as it features the same easy on the ears quality of the former with some energetic tweaks here and there.
Guest composer Hitesh Soni is next with Tu. With it's nice lyrics and free flowing melody it can almost be a lullaby. Sunidhi sings the song to perfection and she does this without lifting her vocals above a whisper, thus reaffirming that she can sing absolutely any kind of song.
The album ends with a bang with Dhinchak Zindagi, a loud and energetic number at par with Broadway numbers, sung by an equally enthusiastic Kunal Ganjawala. It is a fun track written with immense wit and charm by Amitabh Bhattacharya. It features a myrid of musical instruments in a wonderfully wacky arrangement, courtesy of the innovative musical minds of Ajay-Atul. By looks of the promos, the track has been picturised with the same gusto it was composed with which can only work in the song's favour.
In summary, My Friend Pinto is rather offbeat, yet oddly appealing in its contemporariness. It lyrics and music have this innocent zest for fun, frolic and life which makes it a good listen. The crazy/cool Dhinchak Zindagi is all the trapping of a popular number but subtle tracks like Do Kabootar, Tu and Take It Easy is where the real appeal lies. At the end of the day Intezaar just proves to be not as impressive and while Yaadon Ki Album is lyrically fantastic, it does not fare well musically. That said, a brilliant effort by Ajay-Atul who literally turned 180 degrees after the music of Singham which was very traditional to this which is very contemporary. Also, it was nice to hear Mr Ganjawala in such abundance after such a long time.
In short a wonderfully wacky and cool album with witty lyrics and great vocals to match. Don't give this one a miss.