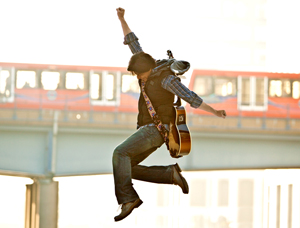 Recently, while chatting with his fans on YouTube, actor Shah Rukh Khan not only spoke about his Diwali release Jab Tak Hai Jaan, but also about his personal life and autobiography.
The actor has been quite busy with writing his autobiography and a few years ago even promised that he would publish it. Now, several years later he feels that it's time to wrap it up. "I've been writing my book for 10-15 years now and things keep happening to me so I keep feeling the book is incomplete. So I keep editing and adding but now I've decided I should end it in the next few months."
One fan asked him if his children, Aryan and Suhana, had seen the film and if yes, what were their thoughts. "My son Aryan has seen half of JTHJ. But he was very keen to see it before he went to school. He said it's very nice. Katrina is very nice, Anushka is fantastic. I asked him about the film and he said it was like a "good Shah Rukh Khan film. I don't know what to make of it but that's the first time he said something like that", he says with a dimpled smile.
After Temptation Reloaded in 2008, Shah Rukh Khan hasn't been on a world tour. So naturally many of his fans asked whether he had plans to visit their country. "I'd like to visit if he had the chance to shoot there or simply enjoy a family holiday." He also added that he's not much of a traveler and his favorite destination was Mannat, his Mumbai home.
In reply to a question about whether he think Jab Tak Hai Jaan will be the best Yash Raj movie, Khan said: "It's my film so not for me to state that but YRF has been making films that improve on their last films. It will be a fine film emotionally because it was Yash Chopra's last film."
Asked about how Jab Tak Hai Jaan got its name, SRK revealed that the working title of the movie was Unbreakable. "The title stood for unbreakable believe, unbreakable love and desire…and we couldn't find a word in Urdu or Hindi which was an equivalent of Unbreakable, so we came to the closest that you continue doing something, believing something or loving or living life till you die. Jab Tak Hai Jaan had a lyrical feel to it and it was part of a poem that Aditya Chopra had written for the trailer, so those two things got combined and we got Jab Tak Hai Jaan."
Asked about what it was like working with director Yash Chopra, who died on October 21. SRK said, "Working with Yashji is like working with family. I'm a star because of the films I've done with him. Yashji gets lovely ladies to hug you and sing nice songs so I always tell everyone you are blessed if you get to work with Yash Chopra."
One of the last questions was what he would like to keep doing Jab Tak Hai Jaan. "I'd like to keep making movies, see my children grow up to be healthy and educated, and keep acting," replied the 47-year-old actor.
Watch the full video here: