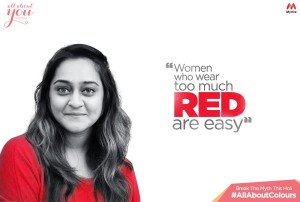 Have you heard of absurd myths like women who wear too much red are easy! Or, one should wear jazzy colors only at night? This Holi, 'All About You' from Deepika Padukone has launched an interesting social media campaign. The idea behind the campaign is to bust these weird myths around wearing colors.
More than often we come across do's and don'ts when it comes to wearing certain colors; how to wear them, which colors suits what skin tones and which body types and more. With this campaign, 'All About You' encourages users to share the colour myths they have come across and have been conditioned to follow.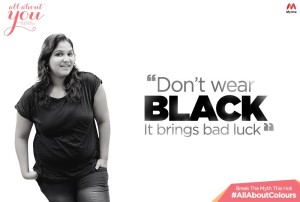 This campaign has already caught the attention of many and they have started participating, with selfies on Instagram, Twitter and Facebook holding up placards sharing their color myths, with the tag #AllAboutColours.
Have you come across any such myths about colours? Share your pictures with the All About You team. Break free from the norms this Holi, as it is #AllAboutColours!
Myntra is India's largest e-commerce fashion destination with 2,00,000+ styles and 1000+ brands, headquartered in Bangalore, Karnataka, India. It is known for delivering the most personalized fashion experience, and aims at giving people everything they need to help them look good.
For more details visit the following:
Facebook: https://www.facebook.com/AllAboutYoufromDeepikaPadukone/?fref=ts
Instagram: https://www.instagram.com/allaboutyoufromdeepikapadukone/
Twitter: https://twitter.com/AllAboutYoubyDP