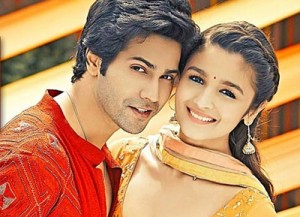 Leave it to the Bollywood actors to be filmy even in their Twitter conversations! We came across one such exchange of Twitter messages between the adorable Alia Bhatt and the very handsome Varun Dhawan.
Alia Bhatt's cryptic message to Varun caught the attention of one and all. She shared a still from their 2014 movie "Humpty Sharma Ki Dulhaniya" that read 'Are they coming back'!
To add to the buzz Varun replied with a puzzling "humpty needs his dulhania" and the conversation followed.
To put an end to all this speculation, film maker Karan Johar tweetd that all answers will be revealed tomorrow at 4 p.m.
Now this has got us all thinking, is this a hint to a sequel or is there something else cooking? Well as Karan said all answers will be revealed tomorrowat 4- so stay tuned and watch this space for more information.