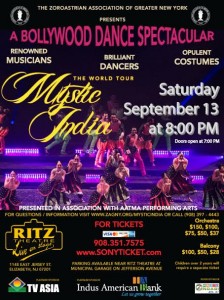 Due to popular demand, the show that has created international waves, Mystic India: The World Tour, returns to New Jersey. The Zoroastrian Association of Greater New York (ZAGNY) is proud to host this Bollywood spectacular, proceeds from which will benefit the new community and cultural center for Zoroastrians in the tri-state area. The event will take place on September 13th at the Ritz Theatre in Elizabeth, New Jersey.
Similar to the previous show, audiences will get an opportunity to experience various regions of India through an explosion of color and culture as Mystic India embarks on a journey through dance which culminates with a celebration of the Bollywood film industry. The dance team, part of AATMA Performing Arts consists of a diverse, impeccably trained group who combine traditional Indian and modern dance techniques bringing the streets of Mumbai and New York into perfect harmony. Renowned musicians join the 25 brilliant dancers in opulent costumes to create a global spectacle.
Founder and Director of Mystic India, Amit Shah said "We are honoured to be working with ZAGNY and presenting Mystic India: The World Tour at the Ritz Theatre. It was exhilarating performing to a sold out audience in March and we can't wait to do it again. We have travelled to four continents and performed for over 200,000 people. When I first created the show, my goal was to change the way Bollywood dance was represented on the international platform, as it's being commercialized and losing its authenticity. I am proud of our diverse cast for being such genuine ambassadors of Indian culture."
ZAGNY was formed in 1973 and has now grown to over 1,200 members in the tri-state area. ZAGNY's goal is to preserve Zoroastrian philosophy, history, culture and rituals by conducting classes for younger members, organizing social events to celebrate days of cultural significance, providing a platform for adults to volunteer their time, efforts and resources towards worthy social causes, and frequently sponsoring important educational conferences by bringing together scholars on Zoroastrianism from around the world. Mystic India: The World Tour is being held to support such efforts for the organization.
"ZAGNY aims to instill a strong sense of identity and enlighten our community, particularly the youth, about our ancient Zoroastrian heritage while also providing an appreciation of the rich culture and vibrancy of our motherland. Mystic India embodies what we all love about the Indian Subcontinent. The colors, rhythm and passion that Mystic India brings to life on stage, gives us a glimpse of the diverse cultural and musical experiences and delivers a beautiful connection to our Indian roots." said Astad Clubwala, President of ZAGNY. "Proceeds from this event will go towards the building of a Zoroastrian cultural and community center for the tri-state area where we can preserve and share our rich and varied identity, and which our future generations will enjoy with pride."
Tickets are on sale now, and priced at $28.00 and above. They can be purchased at www.sonyticket.com or by calling 908.351.7575. Sponsors for the show include Indus American Bank, TV Asia, Desi Talk, News India Times & Radio Zindagi.
About ZAGNY:
ZAGNY is a non-profit, cultural and educational organization, headquartered in New York. ZAGNY aspires to sustain Zoroastrian identity, preserve and share cultural traditions, and strives to create a sense of belonging for community members of the tri-state area. ZAGNY members are proud ambassadors of the Zoroastrian community at official events at the United Nations, at various interfaith events, and other social events like the Persian Day Parade in New York City, and the New York City Mayor's Celebrations during Nowruz."
About AATMA Performing Arts:
AATMA Performing Arts aims to unite traditional Indian dance styles, with modern forms of movement, resulting in a vivid amalgamation of eastern and western culture. With a dance troupe that travels internationally, as well as competes with dance schools in New York and New Jersey, AATMA's focus is to preserve the culture of India, while incorporating it with American dance influences to create a brilliant fusion of art powerful enough to be understood by audiences worldwide.