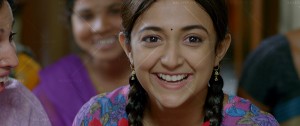 Recently co producer of Lakshmi, Elahe Hiptoola had invited actors like Anoop Soni, Nandita Das and Juhi Chawla to be a part of the private screening of the film. The movie had left everyone speechless.
Directed by Nagesh Kukunoor, Lakshmi is the story of a frightening reality that haunts women from deprived backgrounds. A hero in a land filled with cowards, whose courage and determination finally triumphs over evil.
The film had a bigger impact on Juhi Chawla. In a conversation with Elahe, Juhi said, "I still don't know what to say. I haven't seen anything like this before. I am trying to express myself and failing. I hope you understand. God bless you my dear for making a film which will impact a lot of people and their lives." 
Nandita Das congratulated Nagesh for the completion of his film and appreciated the character of the pimp played by him. "Nagesh you are a fabulous actor! Love the dialogues in a film that needs to be so serious," she said.
Presented by Jayantilal Gada (pen) and produced by UV News Media & Communication Ltd & A Kukunoor Movies Production, Lakshmi stars Monali Thakur, Shefali Shah, actor-producer Satish Kaushik and Ram Kapoor. The film is slated to release on January 17, 2014.