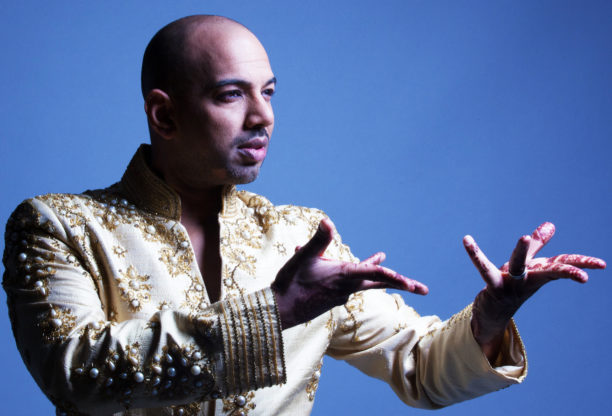 In the most recent season of the popular reality dance show So You Think You Can Dance (SYTYCD), Executive Producer and judge Nigel Lythgoe called Nakul Dev Mahajan – The King of Bollywood and that was a well deserved compliment. The choreographer has been part of the show since season 4 in 2008, where his first number thrilled audiences and has gone down in SYTYCD history as one of the best routines and a defining moment of the show. It is now 10 years later, 11 seasons later and 30 routines later and Nakul still has the passion, the drive and the excellence to bring Bollywood to America and the audiences and judges love it!
In this very in-depth conversation, Nakul and Stacey look back at his career presenting Bollywood dance on SYTYCD. Indulge us and get lost in the dance; you will not regret taking that step!
The Beginning
What was your first thought when they approached you for SYTYCD?
It was completely, obviously, a shock getting that phone call. I remember watching the beginning of season 4, but to be honest I wasn't an avid SYTYCD watcher at that time. I knew the show was on, but I had just opened my studio, the first Bollywood school, for just a few years, so I was working a lot, Stacey. I was just trying to make the school work so TV wasn't a priority. However, I do remember watching some episodes and I thought to myself how amazing would it be if they did Bollywood on the show. I just put it out there.  I did not gear towards it in any way that oh that should be me or that should be only something I should do.  It was just the thought that how wonderful it would be if they open up the diversity of the show and bring in Bollywood. A week later I get a call from the Executive Producer for me to come in for an interview. The hair on my arms raised and I got goose bumps. I couldn't believe that this might be a possibility. You know, I love interviews [for dance work] because I always feel so passionate about what I do.  I am never nervous with the process of an interview. The nervousness comes in from whether or not the project has room for something like this, right?  I was actually pretty confident and I really sold Bollywood. At that time they were interested about Bhangra as well since Bhangra was equally on the rise. I told them that they should probably stick with Bollywood. They wanted to know if they could include Bhangra too and I said, 'Listen Bhangra can be incorporated into Bollywood. With Bollywood, you are just covering a larger scope than just introducing Bhangra itself'. They totally agreed.  I just think they needed that extra reassurance that their decision on Bollywood was the right one. I think I gave them a little tiny nudge that yes, you are on the right direction.
30 numbers and 10 Years of SYTYCD
Did you ever expect that when you first walked into that studio that 10 years later you are still walking into a studio and producing numbers for this show? And that it is so popular?
It is surreal to kind of imagine. Really Stacey, it just kind of humbles me because the show has been so loyal to me for all these years. Just like any other genre on the show they get submissions all the time from other choreographers around the world. I am obviously not immune to knowing that. I know that there are other choices. They have been so kind making me the exclusive Bollywood choreographer on the show. I think it is because the American public and the entire team have a trust and has confidence that my work is what they want and continue to want. You know, they have brought in so many talented people throughout the years in the other genres, they kind of switch up who is the resident hip hop guy is now or who their contemporary person is this year etc., so it is something I don't take for granted at all.  It just makes me feel happy that I am doing this correctly. That I am representing this very small portion of our culture in a way that people are enjoying.
It is tricky sometimes to be able to have that longevity for 10 years on a television show. It is not very common. Especially in a style that is so different, you can see contemporary, hip-hop, ballroom lasting for the 10 years I have been on, but to have this happen – that it has been there every season is just amazing.
Favorite Numbers
So out of the 30 numbers you have done can you possible pick your favorite 5?
Wow, that's…I can – probably. I will try to pick my favorite 5.
The first one 'Dhoom Taana' (Om Shanti Om) is obviously up there with Katee and Joshua.
Then Billy and Robert's number to 'Ganesh' from Bombay Dreams
JT and Marko who danced to 'Malhari' (Bajirao-Mastani)
My group number two seasons ago called 'Let's Naacho' (Kapoor and Sons)
There is a great number I did with Clarice and Robert called 'Aila Re Aila' (Khatta Meetha). I really liked that one a lot and they actually used that as one of the bumper shots going into commercial break.
I have to say 6 because I also loved Mollee and Nathan's number in season 6. I just love it. I was looking at it a few weeks ago when I was prepping for this last routine. You know, always when a SYTYCD season comes around I always like to look back on my past a just so I know what movements I have done and what not to repeat. I look back and a lot of the routines in the earlier seasons where pretty simple to what they are now.  There was just something special about that particular song ('Azeem-O-Shaan Shahenshah' from Jodhaa Akbar). They allowed me to do something that I felt was more dramatic and had such a strong story line of a warrior going off to war and she is not wanting him to go so much she steals his sword but in the end… It is a love story.  I feel like the music was everything, so if I could do the again I would totally in a heart beat so that probably makes my list too.
There are others but I think those are my top 6.
What was one routine that you thought would go perfectly and did not?
Oh there are a few, there are definitely a few. A lot has to do with the dancers obviously and what their capabilities are. A lot has to do with their chemistry and sometimes the contestants just do not get along. They might be cordial but there is a disconnect and you can see that. If they are not willing to work with each other to make the best product it definitely shows at the live show taping. I always felt that my routine to Student of The Year's 'Radha' was and, I shouldn't say this but I am going to, it was a waste of a great song. It was such a great song; it got cleared, which is always a battle. Then the next battle is getting the routine done in time and having them execute it but it just didn't go well.
The other routine that I felt that wasn't strong and that had such great possibilities was 'Baawre' from Luck By Chance. That again I felt was a great piece of music, but the contestants just didn't look good together. It was a little awkward the way that they executed the moves. But these things happen; you just kind of hold your breath and go with it unfortunately.
More Naach
Who is the contestant out of all the contestants and all-stars over the years that you feel has done Bollywood the best?
In terms of the guys I have worked with Robert [Roldan] so many times. He has done 5 Bollywood routines with me between being on as a contestant, as an all star and the group numbers he has been in. I think Robert really embodies Bollywood amazingly.
I also want to mention Alex (freakin -editor) Wong. In my eyes, they are equally at the same level at the way they execute and approach Bollywood with joy and precision and sharpness and also finding the slows in it too. Alex is amazing. I can't say which is my favorite; both of them would be on the same level for me.
In terms of the girls, I honestly haven't had much experience working with the girls over and over again. The only girl I have worked on Bollywood the most is Kathryn (McCormick Season 6 and All-star). Clarice (Ordaz Season 8) actually has become my assistant on the Bollywood routines. I think her performing it twice for her season and then assisting me last season she has really kind of gotten the flavor of what the Bollywood style of dance is. She is a very underrated dancer.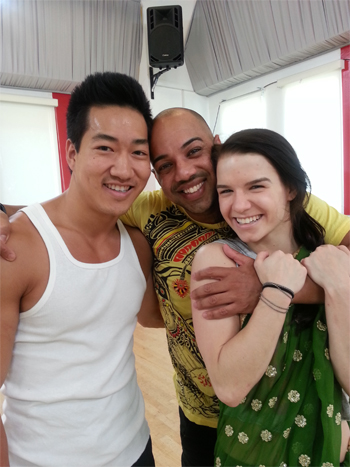 When you meet the dancers for the first time what do you tell them about Bollywood and get them into the cultural aspects of it?
My first thing I tell them is approach like it is musical theater. That's number one, so when you approach it like musical theater then you are going to get the sense that the character you are playing is as important as the movement. That if you are just doing the movement you are going to look flat and there won't be any life in it. Approach it as if you are singing this song and that you are feeling this character. Then I tell them they have to go online – I give them a few references just so they see how grand Bollywood is and how big it is and how the movement is exaggerated. Then I tell them that it is eclectic, that it is everything that you can imagine in the world that is dance and then it is put in a Bollywood song. That's Bollywood.  You have to be able to do a little bit of everything and be good at those sections when they come in the choreography.
What style of dance do you think has the easiest time with Bollywood?
I have always thought that the contemporary dancers, the jazz dancers are the ones that have the easiest times doing it. I think it is the training. There is something about the way they move that they can get it down. A lot of the contemporary dancers, especially these days, they are pretty eclectic in terms of styles. I mean they have been exposed to hip-hop because very, very rarely do you see a contemporary dancer on the show that can't do hop-hop. They are contemporary but they can easily, easily embody the hip-hop movement. And for me, where Bollywood is today, hip-hop is just a part of it now. So I feel the mix of the contemporary dancer with what they are bringing to the table in terms of other styles makes the best type of dancer to work with for Bollywood.
I think the animators have the hardest time because they are free-stylers. In fact, any of the free-stylers: the break-dancers, the b-boys, the whackers – all these types of sub-genres of hip-hop they have a really difficult time. Then after that I would say the ballroom dancers have a hard time with it.
Was there one dancer that you might have been worried about but then really did Bollywood well?
Actually there are a lot that completely surprised me. I think Joshua surprised me the most.  I was not expecting this guy to do what he did in that number. Especially because he was a hip-hop dancer and that routine, it was the first one so there was a lot of classical in that dance  – A LOT. Actually I had put both classical and Bhangra that in that number. That was pretty remarkable that he did such a great job.
This Season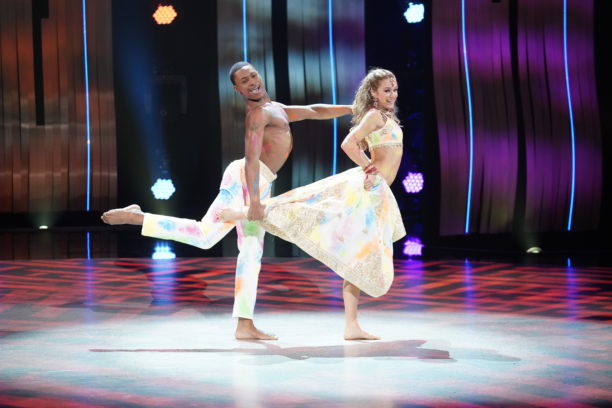 Tell us about the most recent number with Magda and Darius ('Badri Ki Dulhania' by Badrinath Ki Dulhania).
In the end I was really, really happy with it. You know, with Bollywood being more than ever very eclectic, I threw in a lot of styles. Now I normally do any way, but I wanted to make it more hip-hop than I normally do, more Western than I normally do, because that is kind of Bollywood these days. I wanted to look not so dated on the show, but at the same time give the viewers and the producers the Bollywood that they want from me, which is still keeping a cultural aspect to it. The show still wants to recreate the style, as something cultural so there is that fine line.
Now you had a kiss at the end, which in many Bollywood films kissing just does not happen, though that is changing, so what made you include that?
I love how she giggles in the end in the song from the soundtrack. See, I wanted to turn the character around because where we are in the political climate today; I just wanted to do something where the girl is kind of calling the shots. I thought that it would be cute to make her make the catcalls rather than the guy. I thought it would be cute to make a section where she is kind of looking at his butt and then she points at to and kind of wiggles at him. To take the stand, that we [women] have been getting this all our lives it is your turn now, but done in a respectful way because the characters are already together, they are not strangers. So this kiss, at the end in Bollywood movies or dances, why is it always the guy that is going in for the kiss while she is being shy? Why can't she go, you know, I am going to smack one on you? He is so dumfounded by it. I just wanted to give the audience and the viewers and the conservatives a different perspective of why can't the girl have feelings too and emotions and desires in a very emotional, humorous, candid, light way. So that is the reason I put the kiss in there. I know it always gets a reaction but I thought it would be a good way to end with the kiss and have him react that she kissed me… wow!
The Experience of Being on SYTYCD
Over the 10 years, how do you think your choreography has changed?
Quite honestly that has been a challenge for me! It has been a challenge because I have wanted to showcase different sides of Bollywood on the show. Every season I pitch a ballad, I pitch something slow, I pitch something more dramatic, and I pitch something darker. But producers have been very clear that they don't want to shake things up so drastically.  I don't want to offend any one on the show that I am not grateful for what I have received, but to a certain degree I have been definitely been a little typecast in what I can do on the show. See, what I have been told, is that yes Bollywood is 100 years old to the Indian public and community, but in America it is only 10 years old or 9 years old or 8 years old. This has been a conversation I have been having for like the last 5-6 years where I have wanted to shake things up and change things around. They say to that we introduced Bollywood in a certain way and people just loved it. As Cat said one time, this might be the happiest dance on the planet, but the thing is, it also can be something else. However, maybe that is why it keeps coming back year after year. This is the only cultural form that has been coming back every year. What if they did decide to have me do a ballad and maybe the American public would be like this is different and okay I get it, but it's not bringing me that joy.  It is risky to change it up.
I also understand that when you are scripting a show and you have that dark contemporary number, that heart-wrenching contemporary number about someone having cancer or something like that you have to lighten up the show. You have to have these arches through the show otherwise it gets too heavy. I think that is where I fit in, in whatever episodes I am on – they know with me, that they are going to get light, happy, foot stomping and a routine that has everyone smiling ear to ear. I think that is what they need from me.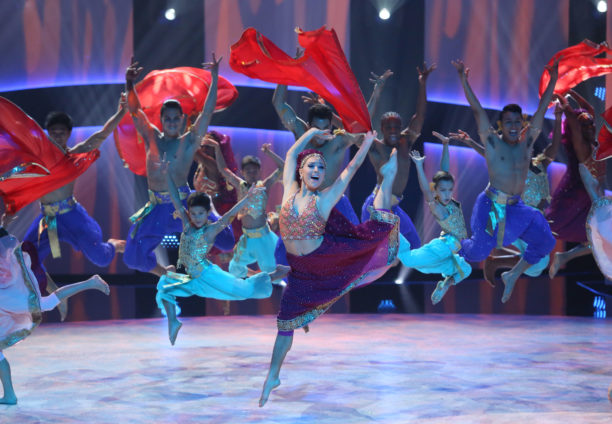 In terms of if I would look at my choreography over the years with a fine tooth comb then I see there has been a difference, because at the beginning I would throw in Indian hand gestures all the time just to give it that flair. Now slowly, over the years, I have been taking them out because it is not even needed any more. I am trying to make it as western as possible, but not to a point that this doesn't look cultural anymore. As you and I know that is the style that is Bollywood dance in the movies today. It is very tricky.
Now clearly they are not going to bring a full Kathak number on the show or a Bharata Natyam number because you can't learn that in 7 hours.  I think Bollywood is something you can learn in a short time, depending on the routine and what you are drawing from the contestants themselves. Nigel has said that I have learned how to incorporate classical movement and do a Bollywood number that has the cultural feel on non-Bollywood dancers in a very short time. I have been able to achieve that talent. It is difficult to do and it is not easy when you have 7-9 hours to complete teaching and rehearsing a dance that is going to be on live television and be judged and be critiqued by the world.
How nervous do you get before the live show?
Very nervous. I'm actually nervous that whole week. I think the most stressful time for me, where anxiety is at its highest, is the week that I get the phone call that I am on and the week that goes into the moment that I start workshopping the choreography to the moment that the show is done. When the routine is done, actually, there is another 2-3 days that I am still very anxious. It doesn't just lift off immediately and that anxiety comes from trying to create a bubble around me after the routine is over so none of the negativity out there online seeps into this little shell I have created to protect myself. Sometimes there is crack and I hear it or I read it and it literally saddens me. It just makes me feel as if I am not worthy of doing this. I have to keep the bubble. I don't read anything any more.
What is the best compliment you have received?
There are so many, but I think it is that I made India proud. Geeta Kapur, an Indian Bollywood Choreographer, who will be seen on my documentary that is coming up, said, "You have made India proud by bringing our culture to America." I think that is one of the biggest and best compliments. Also, the random people I have bumped into that have shared how proud they are that I have been able to be a small part of Bollywood culture in America.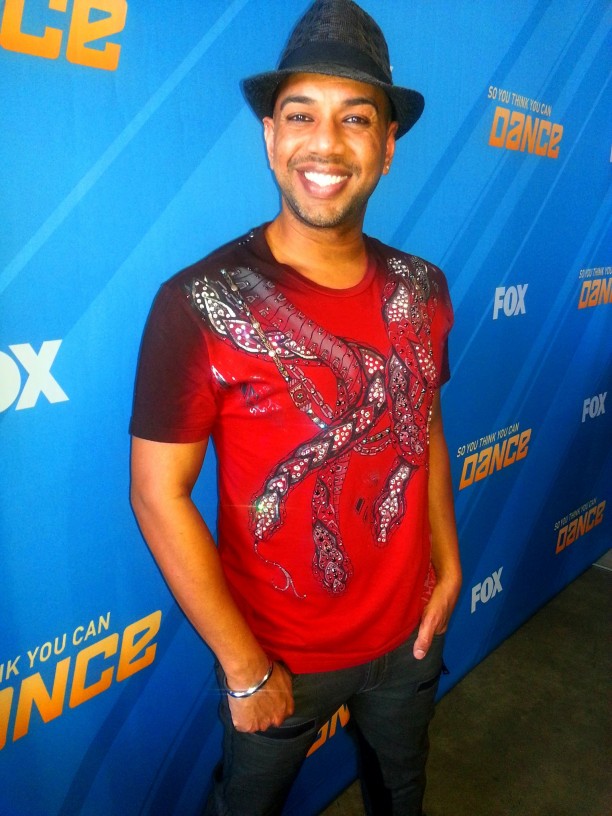 How much have you loved this experience of being a part of SYTYCD?
I wouldn't trade it for anything. It has given me a lot of fame. A lot of prestige. A lot of opportunities, most of all, to get the chance to share Bollywood to different audiences. It has given me a platform. I don't want to sound ungrateful for the opportunities of being on it and even though as we discussed earlier about my feelings about being typecast, the fact is I would do it over and over and over and over again. It has also given me opportunities to be a part of other television shows and projects that maybe I can show another side of Bollywood and that wouldn't have been possible without having be a part of this show.
In this day and political climate I think that this style being shown and the fact that it is so popular is very important. It is very important to show this culture and style of dance.
Absolutely. I think that is one of the great things about SYTYCD is that they have continued to bring this style on, which does show the diversity of what dance is. You know, when I grew up in the 70s I had to hide where I came from and I was made fun of. Now at least a show like SYTYCD and other shows I have been a part of they are introducing our culture and dance in a way that people are understanding it and liking it. The are wanting to know more about India and looking into what other aspects India has to offer. I once got a fan email saying I am going to India because of SYTYCD. It is things like that make me so happy.
Besides Madhuri (Dixit), who I know you love, are there other any actors or dancers you would love to choreograph?
Yes, Madhuri is my all time favorite. It would be Absolute Heaven. If there was time machine and it could be anyone? Obviously Sri Devi, she was another favorite of mine. I would have loved to work with her. Meenakshi Seshadri, I absolutely love that lady. She is so underrated for her time, but such a powerful dancer
From the current generation I would say Priyanka Chopra. I really like her expressions. I don't think, that she is the best, best dancer but that girl can emote! Her number in Agneepath, 'Gun Gun Guna', Oh My God I can watch that over and over again. She was so good in that.
I would probably say Shahid Kapoor – the way he moves. See there are so many and I think it is because of the Bollywood climate today out of all the actors these days  – they are all hip-hop and I look at them in awe. The way Tiger Shroff moves – I think how is he moving that way? For me, the guys don't make me as excited to work with them versus me just sitting down and watching them in awe of the way they are moving. I would work off of picking someone based on charisma and how much life they put into a Bollywood number and in the latest batch it would be Ranveer (Singh), Ranbir (Kapoor) – those two would be my options. Of course, who would not want to work with Shah Rukh Khan!
Bollywood is the Inspiration
What keeps you inspired and passionate about dance?
I think it just comes from within. It is hard to explain. I can't imagine a day without moving or dancing or expressing or doing something that doesn't involve Bollywood music and dance. I wake up to Bollywood music. I brush my teeth while Bollywood music is playing. I like the old stuff so I always am playing the old tunes and I find myself choreographing in front of my mirror with a foamy mouth of toothpaste. I dance in the shower, I did that as a kid and I still do that. I think that that inspires me. I try my best to find things I can connect to and that is the India that I grew up with not the India that is trying so hard to be westernized. I don't connect to that. I hold on a lot to nostalgia. I love old stuff and I try to get inspired from what I grew up with and then making it relevant to the new generation and the music that they connect too. That is where my inspiration comes from: going to my roots, going to who I am, and going to what I love so that it is authentic. So it is not forced and I am not just coming up with pieces just to serve the new demographic. I want to make sure that there is still heart behind it. A reason behind it.
More Bollywood Dance to Come
What do you have coming up next?
Dance USA Dance is a competition that began with auditions all over the country and the final was held in New York. It is Bollywood slash dance competition. It is going to air on one of the Zee channels. (Saturday, September 29 at 8 PM EST – only on ZEE Americas) I was very fortunate to be a judge with Lauren Gottlieb and Matt Steffanina at the finale. It was wonderful meeting with Lauren again and sharing stories, memories and hearing about her time in Bollywood. We picked up right where we left off.
I am also currently booked on a new NBC reality show, which I will share more on later and a groundbreaking Disney project. I can't wait to share all this with you in a few months.
We can't wait to find out more and also to see what Nakul will bring to these exciting new projects as well as, hopefully, another season of Bolly-naach on So You Think You Can Dance.
Thank you Nakul for always having an amazing conversation with me about all things dance! I love talking with you and look forward to the next one!