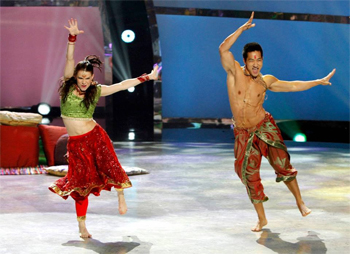 On Wednesday, we presented part one of our exclusive interview with choreographer Nakul Dev Mahajan as he talked about working with Miss America Nina Davuluri. In our fabulous conversation Nakul also indulged me and chatted even more about dance and his work on So You Think You Can Dance (SYTYCD). Check out what he had to say about working on season 10 of the fabulous dance reality show and more in part 2 of our exclusive interview!
It was a great season this year for Bollywood on SYTYCD…
You know, it was a little later than normal when they contacted me for this season. I never take anything for granted. That is just who I am. Anything that comes to me I embrace it I just feel a sense of gratitude, even if it is something that happens every year for me, I never, ever feel that it is going to happen no matter what. I think that is what grounds me. So I was getting a little nervous. I knew Season 10 was happening and I was wondering if maybe they are giving me a break this season. Do they maybe not know I am well enough to teach because the whole unit reached out to me, as you can imagine. I wasn't sure if I should reach out to them to say by the way I am fine and I can do this. I will, obviously be bringing assistants out even more to help me this season but nonetheless I am good to go. But then the welcome email came!
Of course we have to talk Alex freakin' Wong and Amy. How was it to create that fabulous piece?
I told Alex this, having you do Bollywood is a redeeming moment for me because I feel responsible for your injury. He said, 'You know it was a freak accident that happened. It could have happened anywhere. It could have happened in the parking lot. It could have happened with me going into the grocery store. It just happened to occur during a tech rehearsal. My Achilles must have been giving me hints before and it just happened there so don't hold yourself responsible'. I said 'Alex, I can't help not too because I think I, we, everyone wholeheartedly know that you would have won that year'. I think, and I am testament to this, everything happens for a reason. Sometimes I don't know what that is but I think Alex is now considered, win or not win, one of the best all stars of all time. And probably holds the record of the most watched and most celebrated So You Think routine and that is NappyTabs hip hop 'Outta Your Mind' with Twitch.
Yes! I mean can you get two better dancers together and he just killed that!
Poll after poll, survey after survey that is America's favorite So You Think routine of all time. So isn't that the biggest prize? So I have always felt that Alex is getting redeemed by just the glory of who he is because he deserves it so much. It was bound to happen no matter what.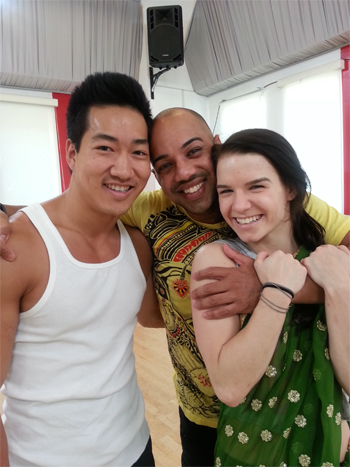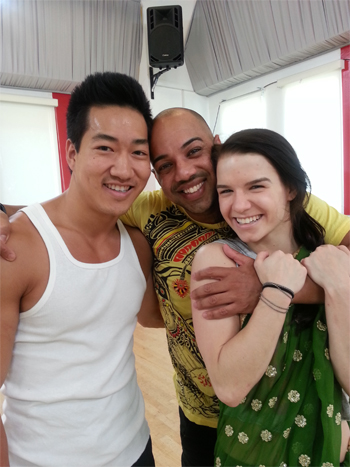 Nonetheless I felt that he deserved the Bollywood routine he deserved to do. When the producers came to me and said are you interested in working with Alex Wong for your all-star? I said absolutely yes! I had just finished working with him about a month before for Nigel's Dizzy Feet Gala. I had worked with him for the first time since his season. I brought Caitlin Kinney, who did the 'Jai Ho' piece on season five of the show, and Alex together to do 'Jai Ho' and 'Dhoom Taana' for Dizzy Feet. When the opportunity came up for him to be the all star for So You Think it was 'absolutely yes, he was amazing in that routine and I can't imagine what he has in store'.
Amy is a firecracker and I called her that when I got the chance to work with her during the group number. I said, 'Amy you may not be the tallest girl but you are popping out like crazy!' Her energy! There is so much joy when she dances and her passion and her dedication is amazing. She is very particular about making sure that every single nuance of the number is performed at the level the choreographer wants it and nothing short of that. That is really important. You want to make sure everything is perfect.
With their pairing, I think, they just set off each other. And obviously he is an all star, she is not, so there is not much time to build that chemistry unlike having someone you have been working with the whole season like her and Fik-shun, but they were able to generate this great camaraderie really quickly. They had a lot of fun with their number.
Then Jesse Tyler Ferguson saying Good Golly Miss Bollywood, I about died laughing. He loved it.
Yes! It is always wonderful when the guest judges also appreciate what you are doing. It was a routine I was hoping that I would have this season. I felt that I needed it for me.
It got such a tremendous response! Many people said it was their favorite routine since Katee and Joshua how does that feel?
It felt great. I read one recap that has stuck with me to this day and think it will always will is that they wrote 'Bollywood has never been my favorite but I think it is because it has never been done this way before in awhile and I think now I appreciate it. So thank you Alex and Amy for making me liking Bollywood for a change. I think it depends on doing it'. That is exactly what she wrote and you know I never thought of it that way. I always think everyone likes it (laughs) because I am like what is not to like?!? It's fast, it's happy, it's glitter. They're smiling. It is different but what is not to like about it? I have to respect that it can't be everyone's cup of tea. But it actually humbled me. For me, I breathe, eat, and sleep this so I can't imagine anyone not liking it that much. So when you see people going 'Hey, that was pretty fun', that was actually pretty cool.
It was definitely up there for me in terms of the numbers that happened on the show. In terms of the response and feedback it's definitely in my top 5 absolutely. It is hard for me to call any of them of my favorite. For me it is like trying to ask a parent who their favorite child is, it is always hard for me because every one of my routines has a story behind it of how I got there. It is never a piece of cake. I don't think people understand the up and downs of being on this show. Sometimes your music doesn't get cleared and so you have to go to your second choice. And your choreography may need to be altered and that is another beast of its own that people don't understand. It is the luck of the draw of who we get. We don't always get an Amy and Alex, sometimes we get others and we have to make the most of it.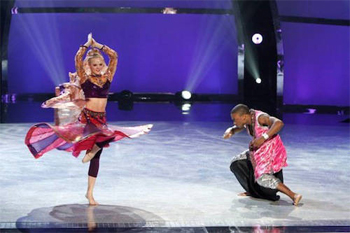 Speaking of that and if you will forgive me, there was Jade and Malece number, which I liked, but I did not think they really got it or Bollywood.
It was a challenging routine. I loved the song 'Radha'. To me, that number kind of embodies the kind of Bollywood I am, which is that folk with the Dhol beat and it's a bit modern. I love the story. I love the metaphor the lyrics have between the real story of Radha and Krishna and them making it into a Bollywood story, I think that was great. I loved the costumes too for our piece. Not all the routines go off the way you want it to be. Not everyone has the ability and the discipline to master a Bollywood routine in a short time and I think this is one of those cases where they needed more time, but they didn't have it because it is very limited. It is what it is. Sometimes you have hits and sometimes you have misses.
Then you had the group number, which was really well received.
You know coming off Jade and Malece, I really thought of it as redeeming myself. Though I never really took responsibility that owning that Malece and Jade didn't go so well because of me. I really think America and the viewers, from what I hear and understand, completely said that they just didn't get it; it had nothing to do with the choreography.
The group number was fantastic and I had a chance to work with Malece and she was great in it! It was a fun routine. I wanted to do a different look, in terms of the group number, by having everyone wear the same costume this time unlike the past Bollywood group numbers where everyone had their own color. I thought that was fun. I wanted it to be a little more modern in terms of the look – I didn't want any of the scarves on the head. I wanted to keep it fresh so that if someone is in their teens watching this, they are thinking oh this is fun. I wanted to have a folky South Indian feel and that is exactly what we did. It just came out really well. I think a lot of people liked it
Is it hard to work with a group: they are all great dancers but there are so many different styles. Is it challenging to get them into what Bollywood should be and feel?
It becomes a master class for me, which I give all the time and which I live and thrive from. I used to giving large classes so I feel I am my best when I have a room full of people that I am addressing and teaching. I am very much about educating people about the history of Bollywood, where it came from and we had discussion and discussion about what Bollywood is. It wasn't just straight dancing for two days; it was a lot of dancing and talking about Bollywood. I think that process for me always helps people really embody the character and understand the essence of what this really is. That Bollywood is from our movies, it is storytelling, it is our style of Broadway in the sense that it is very big movement and it is very expressive. I always think that Bollywood looks best as an ensemble style. To me, a couple Bollywood number; I equate that to the number the couple does in the mountain and around the trees in the movies. In my teaching and other shows most of my duets have always been more on the romantic side versus a hard hitting piece but I know obviously So You Think's dynamic is a couple competition so you have to hard hit everything that you do on that show. Whenever I am asked to come on the show to do a group number I am jumping up and down because to me and, I think, to the world, Bollywood is the best when it is as a group. You know they just feed off each other and they helped each other out. It was a young group; it was a group that was hungry to learn. It was a group that was very respectful of the style. They were a lot of fun. Of course every experience is different for me with all the group numbers, but I just had a really good time with this one and I think that showed. I think they had a great time doing it. I always love their faces when I first walk in the studio for the first rehearsal because they all look like they are going to pee in their pants. (Laughs) They don't know what to expect. They have only seen it and they think it is hard. Without a doubt the last rehearsal, when we are down to the last hour, all of them have done this, they have all individually in some way or another tell me, 'Oh we wish you would come back. Oh I hope to get to do one of your duets. Oh my gosh, I want to do this again. This was so much fun! Nakul thank you so much!' It is always a complete change of heart at the end of the process because they truly enjoy it.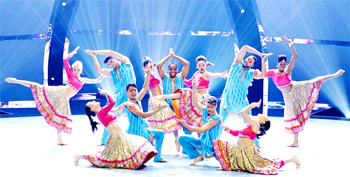 Of the other pieces of the season from the other choreographers, do you have a favorite one?
There are so many! My favorite number this season was probably Sean Cheesman's gypsy number. I just loved it! I could relate to it because it was Broadway dancing and Bollywood and Broadway go hand and hand. I felt that the movement, the story and the technique: Nico and Hayley were just fantastic. There was a lot of good work this year! The dancers were so talented; the girls were so great this season and the choreographers for season 10 really brought it! When you had that blend of the execution and the choreography going so well it was magic! There were a lot of magical moments in this season.
There was Amy and Travis' piece and then the piece with Robert and Tucker… those were amazing!
Yes, they were incredible; the one with Robert and Tucker, coming off the injuries that Robert had that was a very emotional piece. Then there were some really fun pieces. I really loved NappyTabs Bellhop piece, that was so much fun to watch. I really think this was Sean's year because I loved Sean's mannequin number he did early in the season with Makenzie and Paul. That number was electrifying.
So you know Lauren Gottleib went over to do the dance competition Jhalak Dhikhhla Jaa, were you able to see any of her pieces?
I have watched online and my Mother watches that show and is a big fan too! I am just in awe of what she has been able to do on that show.
Lauren amazed me, especially when she did the more classical types of dance.
She did several with that style but the one were she embodied the Goddess Durga. Oh My God that gave me goose bumps.

The fact that she was on the show and was there with Madhuri Dixit and Remo D'Souza and Karan Johar and then performed for all the stars – all who loved her. I mean Hrithik even said he wanted to dance with her! I was so living vicariously through her! (Laughs)
I know! So amazing. It's that feeling of six degrees of separation kind of thing for me. I think Madhuri is a goddess, I have idolized her since I was 15. And this is completely out of nice envy, here is Lauren, who did a Bollywood number on So You Think Can Dance that I happened to choreograph, they saw her, she is in the ABCD movie and then she was on Jhalak and she gets to meet all these stars. And meet Madhuri and she has danced with her! Wow! It feels like there is a little bit of connection there and that feels nice. So amazing.
What do you think of Bollywood choreography today?
Like any dance style everything is going to evolve and it just going to keep on changing. Right now I feel that there is this wave of this South Indian influence in Bollywood, which I absolutely love. Their root is really the folk style and I absolutely love that! I love South Indian choreography in their movies, it is very jumpy, it is very folky, it is very rustic, it is very aggressive. It is very hard hitting, the stamina is absolutely nuts! I like how they are bringing that into Bollywood now, so part of Tollywood is coming to Bollywood. A prime example of that is Chennai Express. Look how it has broken all records. The music and the choreography did play on with that new wave of interest that Bollywood has with the South and I like that a lot!
So what's next on your schedule?
My company puts on 2 shows a year. I am working on our next in house production, which is scheduled for Nov 17th. I am not allowed to disclose the Hollywood Projects I am working on.
I would like to thank Nakul for the fabulous chat! I wish him health and many blessings. Can't wait to see what he brings us next!