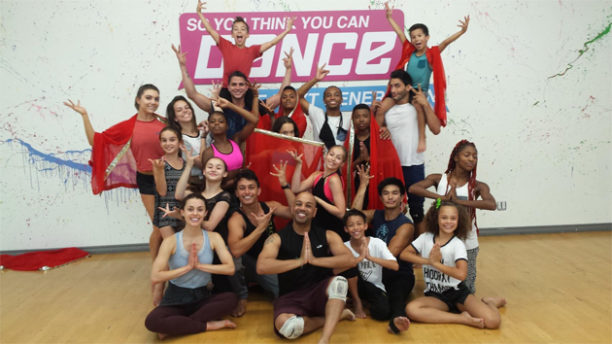 On Season 13 of So You Think You Can Dance this past summer, choreographer Nakul Dev Mahajan once again brought the magic of Bollywood to the stage. This season of the popular show had a format change with the contestants ranging from age 8 to 13 and could those kids dance! With both a group number and a duet in the final 4 show, Nakul presented the many sides of Bollywood and thrilled the audiences and especially the judges who gave them a standing ovation. I got the chance to talk with Nakul in two separate interviews about his fabulous numbers. We also touched on his life as an owner and teacher of 6 Bollywood dance schools, his work with Paula Abdul, his special choreography for several other television shows and so much more! Check out what he had to say in this fascinating and in-depth interview. Ek do teen, read on!
So You Think You Can Dance New Format – The Next Generation
With the new format I was a bit apprehensive, but then we had a meeting with the producers and they reassured us that this is going to be a wonderful challenge. We are going to be up for a huge surprise, because the talent and the knowledge of dance in these kids is far beyond the years of previous contestants. I watched the auditions and as soon as I saw what these kids could do I got excited. To work with kids this talented was a gift. I was really looking forward to it.
Let's Naacho!
It was a huge challenge to create a number with the young contestants and the All-stars but here is where I got lucky – I had already worked with all the All-stars, except Jonathan, so they had a little bit of a Bollywood foundation from me. Having that leg up was something that I haven't had before, because usually everyone doing Bollywood on the show, whether it was a group or duet, are doing it for the first time. Those nine people really, really helped with the details with the juniors. It was really wonderful to watch how much these All-stars are nurturing, caring, loving and mentoring these kid. It is all so, so genuine and it is so real. They are doing it all the time. They never stop. It is not for camera. There is something beautiful coming out of this.
I am sure you noticed this, since you are a trained dancer, but I really wanted to make it a variety of what Bollywood is today. It is a little contemporary, it is a little hip hop, it is a little funk, it is a little classical, it is a little bit of everything and that is what this piece was about. I literally just took the meaning from the title 'Let's Naacho'(Kapoor and Sons) and so if this song is saying Let's Dance I am going to put what Bollywood is today, which is every dance style and that is what you got.
At the end I just wanted them to have fun and have a little piece of India. I think that is what my whole pillar has been. That this is a little morsel of the country that I come from and just enjoy it because this is what Bollywood is about.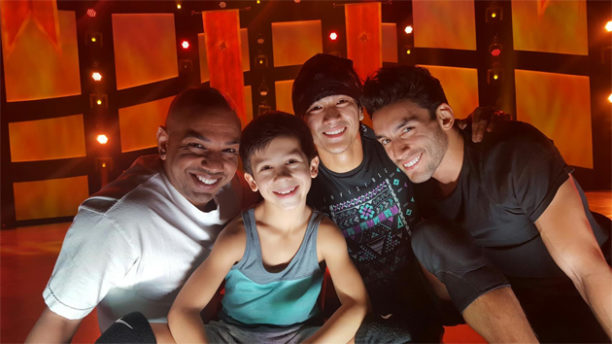 'Malhari' – JT and Marko
The tricky thing about being on a show like SYTYCD is that you don't know what contestants you are going to get and what the pairing is going to be. However, you have to start beginning to brainstorm what your concepts will be and submitting your music especially when you need clearances from India. So I submit my ideas for music based on the parameters that they give me, which is, it needs to sound cultural, ethnic, traditional and fast paced – lots of drums, needs to sound authentic. Then from that list the producers help me select what would be best for the routines and the show. For me, the music has to match the aesthetic to what we are looking at. I chose 'Malhari' (Bajirao Mastani) because I needed something very powerful. I loved the movie so much! When the concept came to me of the new king and the young prince and the passing of the torch with the young prince learning the ropes, the new king teaching him how to do archery and how to fight and more – when that kicked in I really felt that I found my vision for the song.
Working with Marko
This is my third time working with Marko, the first two were group numbers one in his season and then the one earlier this season. This is the first time working with Marko in a duet and I have to tell you Stacey, he is a great human being. He is a survivor. There is this humbleness about him all the time. This is a guy who wears his heart on his sleeve. I like that. So working with him and seeing how nurturing he was, how caring he was, the calmness in his voice when he was trying to get JT to be a little bit more motivated because he was so tired. I would use Marko over and over again. I could not have done it without Marko.
Working with JT
He is super adorable, which everyone already sees. What you see on television is what you get when the cameras are off. He was really eager to learn and wanting to get it right. I felt that America, for the first time, with this number, got the chance to see JT really out of box and really stretch himself to a level that shows that he is an athlete, that he is a strong dancer – he is not just cute. Nigel actually made a comment to me at the dress run saying that this is JT's strongest number. Paula just loved the piece and told me that is was on of her favorite numbers from me, which obviously means a lot. It was great. This boy got a standing ovation at the end of the piece and then at then end of the critiques they got up on their feet again. It felt good that this number went well. I was really, really proud of him and I really, really happy with the results of this routine.
You know it is very rare that you have a time where the dancers, with the music, with the routine, with the production of the costume and the lighting all come cosmically together. When that happens, then you have moments like this. This one was truly amongst the way better ones for me. This one is definitely top 10 for me.
Your favorite thing about this number
Great question. My favorite thing about this number is that I liked the story. I feel that there is a Marko in me every day. I am always passing the torch down to my kids; teachers are constantly passing the baton down. Something like that hits home for me. And wanting a child or a loved one being the best that they can. So I am very happy that with this piece that that was conveyed and with such joy. And with such power, there was a lot of power in this number.
Will SYTYCD Be Back Next Summer?
I really hope so because besides Dancing with the Stars, there is no worthy dance show on television. It has become a staple of our culture – watching SYTYCD over the summer. I can't imagine what Fox would fill this spot with. I know the ratings may not have been the best, but the videos online have gone viral! I mean the Mirror piece had 55 million views and counting. Most of all the videos of the routines this season have gone viral with at least a million hits. A friend told me that Malhari was the most viewed of that night episodes videos. I hope it comes back. I am eager to see what the format will be next year – if they bring back the children or back to the old format with a twist. But whatever it is I hope to be a part of it. You know, Stacey, Season 13 celebrates me being on SYTYCD for 10 seasons.
Favorite numbers in 10 seasons of SYTYCD
The ones that pop in my immediately are Joshua and Katee ('Dhoom Taana' – Om Shanti Om). There was something that was magical about it. Routine wise and difficulty wise I have definitely outdone that level but you just never forget that first of anything. You never forget your first kiss right? The Joshua and Katee number – that was my first kiss. That one will always be special. Amy and Alex ('Munni Badnaam Hui' Dabangg), Jaja and Alex (Naacho Re – Jai Ho), Billy and Robert (Ganesh – Bollywood Dreams). This might be a forgotten season because it was that double season, but Molly and Nathan to Jodhaa Akbar ('Azeem O Shaan Shahenshah'). That was one of my favorites because it was so different. They allowed me to do something that was slower and so theatrical. 'Malhari' is definitely on the list; it was so special to me. Robert and Clarice ('Aila Re Alia' – Khatta Meetha) was another favorite. Those are the ones that are sticking out. In terms of the group numbers: the one this season was one of my favorites and the top 5 girls from season 5 ('Dholna' – Pyar Ke Geet).
World Choreography Award with Paula Abdul for Check Yourself, a breast cancer PSA
That was such a dream come true. As you know, I grew up watching Paula Abdul, so to be nominated with her and sharing an award with her – it was surreal. It hopefully sends a message to anybody out there that your wildest dreams can come true! I had a simple dream as a kid just to meet her and now I am sharing an award with her – that is completely mind-blowing for me. It was an honor to be recognized. You know, I had a very small role in this video for breast cancer awareness by Avon. The credit really goes to Paula. I am very honored to be a part of a beautiful music video with such talents and they were very nice to include me. I am very humbled by the experience.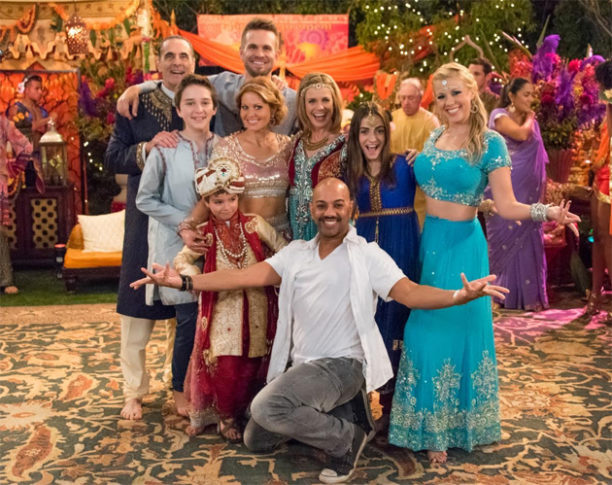 Fuller House
Fuller House was amazing. It was wonderful to work with them. What I loved the most was after our second rehearsal Jodi (Sweetin) and Andrea (Barber) came up to me and said, 'We just want you to know that we are big fans of yours on SYTYCD'. It felt so nice that they were fans of the show. It made my day. I was very happy with the piece. Again it was one of those numbers where you have a limited amount of time. You roll with the punches and you approach it with love and positivity and it comes out great. I got a lot of great press from it so I was really happy.
Then there was the story when the two younger kids did something special…
Oh that was the cutest thing! The kids wanted to do something nice for me so they Googled how to honor a dance teacher or teacher in India. So what happened was I was paged and I, of course, freaked out because I was being paged and the dance is literally about to be shot in the next hour and I am thinking what? I am nervous as I go up to the set and the kids came up to me and I said do you guys have a question? They come up to me and they had these 2 garlands of roses. And then in Hindi they said dhanyavaad Nakul Ji and Ji (as you know) is when they add respect to a person's name. Dhanyavaad means Thank you. I was blown away. I couldn't believe it, I have never been honored that way ever, Stacey. And to be honored that way by non-Indians – that was even more special because they actually made an effort to find out how to honor a teacher. Their tutor told me later that the kids were upset after. And I asked why and she said because they forgot to touch your feet. I said I would have burst into tears. I would have been a blubbering idiot because by that time I was so emotional anyway.
Bringing Bollywood to America through SYTYCD and also through your studios
It is a dream. It means the world to me. Stacey, honestly, I count my blessings all the time. It feels good that I am still getting work and that I still have a lot of regard in the community and in the dance world. I am 41 years old and I have been knocking on Hollywood's door since I was 19 so it has been awhile and I am feeling the fruit of my labor now. It has taken a long time – it wasn't overnight. So for me to have these opportunities it is a blessing and I always, always, hopefully, take it with humility and grace. Every opportunity I treat as if it was happening for the first time.
I absolutely feel that Bollywood on SYTYCD has changed America's perception of Bollywood. There is no question about it. Over the past 10 years I have gotten so much fan mail and emails saying they are now enrolling in a Bollywood dance class because they saw it on SYTYCD. In fact, I just had the most beautiful message sent to me from a woman who lives in Nigeria. She is opening up a Bollywood dance school in Nigeria because of the influence she has had from watching Bollywood on SYTYCD. That really is the most special thing. And she is opening up to children that don't have exposure to dance or have the funds to take dance classes. Can you imagine? Talk about snowball effect. That just made me so happy. I couldn't believe it. The show has changed people lives and the show has educated so many people about dance. I hope that it continues to do and I hope it stays on for many, many years to come.
Up next
I have a friend who is a filmmaker and he is making a little documentary on me. We are going to release on Thanksgiving Day. It is basically going to tell a tale of my life story so far and what I have been able to do. We were very lucky that the filmmaker was able to get interviews with Nigel Lythgoe, Jeff Thacker, Paula Abdul, Nina Davuluri. We are just going to talk about making your dreams come true, the journey of fighting obstacles and for me it has been bullying and when I had my cancer scare. Then talking about something my community doesn't really talk about – being Gay Indian in America and I think there needs to be a conversation. We don't have an out gay public figure that our community can look up too. I think there needs to be more conversation and someone to let people know it is okay to be who you are today. Hopefully, this documentary, Stacey, is going to inspire people.
We wish Nakul all the very best and look forward to talking with him again about his documentary and all things naach again soon!