Nakul Dev Mahajan is known as Hollywood's Bollywood choreographer and has, along with training students in the art of Bollywood dance at his Bollywood dance academies, been making contestants naach to the Hindi film music beat on the popular dance reality show So You Think You Can Dance (SYTYCD) since Season 4. With many memorable numbers including his first to 'Dhoom Taana' featuring SYTYCD super couple Joshua and Katee, the choreographer has, with a folk classic flavor, given audiences a wonderful view into this amazing dance style.
I recently chatted with the choreographer, in two wonderful interviews, about all things bolly-naach including his two numbers on SYTYCD so far this season, his special judging appearance on a popular Indian dance reality show and so much more. I could present everything we chatted about in our fun and always fabulous conversations but would take way to long to read so please check out the highlights… 5 6 7 8!
SYTYCD Times 2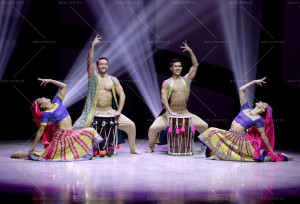 Dhol Baaje
Talking about the concept behind the Bollywood number that aired on the July 20th SYTYCD show Nakul said, "Well, I couldn't really fully plan until I found out which dancers I was getting. It was a very folk inspired Bollywood routine. I did know that I was going to incorporate the Dhols. I really liked this song, 'Dhol Baaje', a lot and even though the movie was horrible and I can't believe I did a song that was pictured on Sunny Leone, I really love this song! I am a huge Hum Dil De Chuke Sanam fan, I love that movie, such a classic movie, classic Aishwarya and I loved that they gave this song a face-lift. I hope that America liked it. I really liked the drum aspect of it. I really felt that we hadn't seen that."
Nakul revealed that it was difficult to work on this number with such a diverse set of contestants. "This is a Bollywood's first on So You Think You Can Dance to do a four person number, we have never done that. It was hard, honestly. I mean I had a contemporary dancer, I had a tapper, I had a whacker and I had a b-boy. So I was dealing not just with four different personalities, but four different styles of people who haven't danced together ever. You know you have your challenges and you just make it work. As a choreographer you have to find that middle ground and bring them all together in harmony."
About Gaby, who is the only contestant still on the show, he said, "She was lovely. She is just a delight to work with. I think she is going to go far in the competition. I feel, as I watched her in her other pieces that week, that she really is a chameleon. She really is able to adapt to other styles and she is a tapper. Gaby definitely embodies a lot of discipline and she is very versatile. She was great to work with."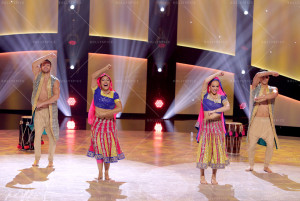 So how did he feel the number went in the live performance? "I think all in all Stacey, I feel, that yeah, it wasn't the best Bollywood number you have seen on the show, but it is definitely one of the ones that I don't feel was really on the weaker side either. I stand by this, in the short amount of rehearsal time they actually get I really did feel that they did the best that they could. The live show was one of the better runs I had seen! For me, I think I would probably say it fell in the middle definitely, the high middle. I think the main purpose is to make the audience feel good and make them smile. I feel I accomplished that. I did hear good feedback that it made them smile. It made people see a different style to some of these dancers and I think that sometimes is the bigger picture. For me, at the end, it was a successful piece."
He added, "That is the thing about the show is that magic happens when you have the right song, with the right choreography, and the right contestants and when those three things blend together then that is when you have a Katee-Joshua moment. I feel that I have only had those moments after Katee and Joshua when it has been an all-star matched up with a contestant. I feel for me that has been the special ones. There was also the Molly – Nathan one that I did to 'Azeem-O-Shaan Shahenshah' from Jodhaa Akbar that would be my top three. I would love to do something like that again."
Alex and Jaja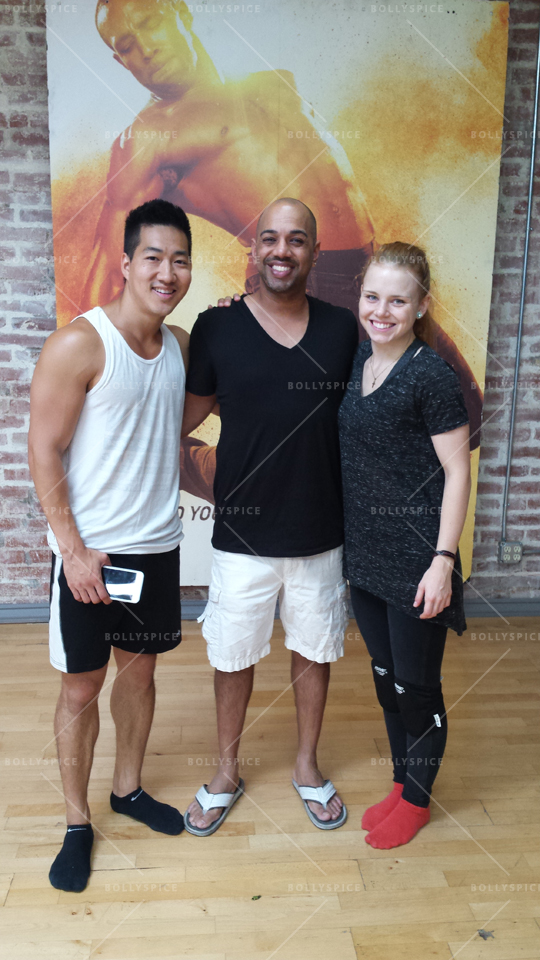 That magic did happen with the Jaja and Alex number on the show that aired on August 17th. The choreographer said that his inspiration behind this Bollywood number was Aladdin and the scene where Jasmine wants to escape her palace and she gets caught in the bazaar giving a child an apple. "I didn't however want to go to literally, that was just my inspiration. I also knew that I wanted some kind of prop aesthetic to give the piece a setting and hope that the audience will come into that world. I felt that it needed something that was tangible on stage. For me it was that beautiful dome that production found for me. It really added to the piece."
He was very excited to learn that he would be working with Alex freakin' Wong again. "When I found out my all star was going to be Alex I was jumping up and down because you know, as we talked before, it was so unfortunate that he got hurt the year he was on doing the Bollywood number. I felt that he redeemed himself when he did the Bollywood number with Amy 2 years ago, which was to 'Munni Bandham.' I had worked with Alex before for the Dizzyfeet foundation gala as well. It was wonderful for America to see him back again. Some people call him crazy to be back doing Bollywood but I promise Bollywood is not a dangerous kind of dance style at all. It really was just a freak accident that happened while he was rehearsing for the Bollywood number. But you know Alex loves it. He loves it. He was very excited that he got to do this."
Nakul has nothing but praise about working with the well-known dance star, "Alex is very precise and he is very dedicated in all the aspects of the routine. He is a great supporter to me and to the dancer. He is very down to earth, very humble and very grateful. Whenever I have Alex, and this is my fourth time working with him, it is such a pleasure. He's become a friend. He is a wonderful human being."
He did reveal he was nervous when he found out he would be working with a street dancer again. "I was freaking out and not in a good way to be honest. I was very nervous. And I want to say this with no disrespect, but I have not had the best experience working with the breakers and the street dancers and that is not just this season but for many seasons. They have all been lovely and respectful, but for the short time we are allowed to have with them and the fact that they are doing a foreign cultural style of dance and street dancers generally have a difficult time not being able to retain choreography and not being able to keep up with the counts because that is not what they do – I have had huge challenges to come up with a solid product at the end."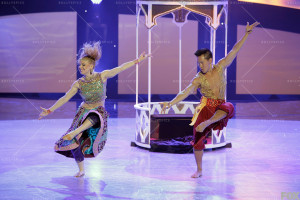 Adding, "But you know, I always say that when you have a good piece of music, a match made in heaven and when you have good choreography only then do you have a memorable piece that will be remembered not only through the whole season but the whole series. And that is a rare thing. With this piece that magic happened."
The package showed that Jaja was having a bit of a hard time in rehearsal at first but then she killed it on stage, so what was it like to work with her? He replied, "As I said I was nervous and when I had her the first day and the second day my nerves were still uneasy because she was just not getting it. After some notes from our amazing producer Jeff Thacker that we worked on, it was then the end of rehearsal. I then saw them a whole two days later and it was Night and Day! Jaja was a whole different creature. She was having fun with the piece. Her character came in. I knew this girl had character, I knew that even though she might have struggled throughout the piece, I knew that she would have pulled through because her stage presence is amazing! I knew she could pull through with her facials. But not only was she having fun and doing the facials but also she was hitting the moves. I was really, really surprised. This weight just lifted off my shoulders. This was Sunday and I knew this was going to go well. And it just got better from then on. We fine tuned it and it just got even better. They did their piece and it was a hit. And honestly, Stacey, I don't do this a lot but I have been watching the number over and over."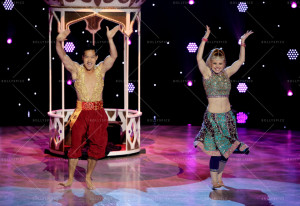 What does he think made her so good in the number? "I really think she has an inner drive that she wants to win the show and you can see that. I think that she generally is a very hard worker and wants to make this happen. Also she just embodies so much joy. And to me it looked like she wasn't thinking about her steps but was just having fun. I think number two it is Alex Wong. When you are dancing next to Alex Wong and when you have that kind of support and clarity with someone who dances that way you can't help but want to up your game. I think everyone upped their game at that show. I think it was one of the strongest shows this season. I think what happened was that the all-stars really lifted and really pushed these contestants. I think with Jaja, the third factor is that she really wanted to please the producers and she wanted to please me."
The performance got an amazing response and a standing ovation from the judges and the audience. "It was really, really nice to see that response. And this is going to sound really cheesy, but I am going to say it anyway, I feel that I didn't need it as much as Bollywood needed it on the show. Because at the end of the day, for me, the bigger picture is that Bollywood is being represented."
"Actually Nigel told me during commercial break, 'For Me, this one is right next to Josh and Katee.' That was huge for me. And I have been hearing that from a lot of people. It feels as if it is really resonating well within the public," he added.
He says that this number definitely makes it onto his list of one of the best Bollywood numbers on SYTYCD. "Yes! This one is up there. It is top five for sure, if not top three for me. Of course for me, Josh and Katee's 'Dhoom Taana,' will probably always be my number one and favorite but that is because it was Josh and Katee. And for so many other reasons. Mainly I think because it was the first one and what makes it so special is that it was the first time we were introduced to something so beautiful and so different."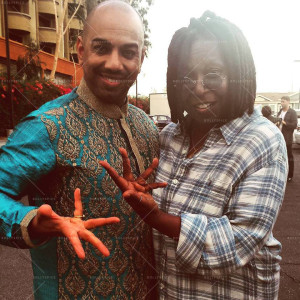 The picture of the number with Jaja and Alex that Dance on Fox posted was the top trending Bollywood hashtag on Instagram on Wednesday! "Yes, yes it was! It actually had more hits than Alia and Shah Rukh and Salman Khan. It was crazy to know that for one day the So You Think You Can Dance Bollywood hashtag generate more hits than any other Bollywood hashtag around the world. Isn't that crazy? I would never have thought that," said Nakul.
He also met Whoopi Goldberg who was at the show. "It was so cute. We met on stage and she said, 'My gosh that was so amazing. That was so delightful. I loved it.' She said other things but honestly it was kind of a blur I just kept saying thank you. She was so so nice. "
Dance India Dance North America
Nakul also recently was part of another dance reality show but this time in India. "One of the largest dance reality shows in India called Dance India Dance and because it so large the show has franchised into different shows like Dance India Dance – Tiny Tots and Dance India Dance – Dance Moms. The one that I got invited too was Dance India Dance – North America. What it is is a dance reality show where all the contestants are from Canada or the US. These young inspiring dancers they send their submission auditions via video. Then they pick finalists and they tape it in Mumbai and I was invited to be a judge. It was such an honor. I am very, very, very grateful for the opportunity. Very grateful. I am a very fortunate choreographer and artist and I never ever take that for granted, ever."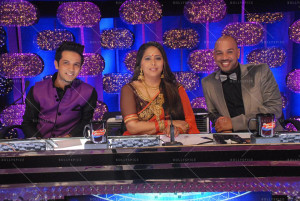 One the panel with him were two big names in choreography in India, "I got to sit next two amazing choreographers Mudassar Khan, who does most of the choreography for Salman Khan, and Geeta Kapoor who did the choreography for the amazing 'Lovely' from Happy New Year. They are both huge names in choreography. They are wonderful people."
Adding, "I think one of the most touching moments I had judging the show was the amount of appreciation that the contestants and the judges had in my contribution to Bollywood in America. I think hearing it the way they presented it – it really got me choked up. It was really nice to get that validation."
Other Naachy things!
We also had to talk about former SYTYCD all-star Lauren Gottlieb, who has made a name for herself in Bollywood! "It is unbelievable to see how India has embraced her and I wish her all the best, she is very talented and very deserving. Who would have though she came off of SYTYCD and now is a household name in India?"
If Bollywood called would he run and leap, in a word yes, if the right project came along. "With DID I felt Bollywood called and I jumped. I have had sketchy offers but I declined because I don't want my introduction to be something that is not something that I believe in. But yes, Stacey, I am just waiting for the right project to happen and if it does I am there."
Nakul also made a dream come true by meeting one of his dance idols Madhuri Dixit. "Yes, yes I did! A long story but the short version is I met her and her husband coming off the plane. As we were walking down she said, 'So you are doing really good work'. And I said, 'Thank you so much'. I was kind of blown away that she even knew what my work looked like. Her husband also was talking to me about her dance app and said they are thinking of incorporating choreographers from America to her Dance with Madhuri app that she has and they were interested in incorporating me at some point. Then I was able to take a quick selfie with Madhuri and I was completely dazed. I was so starstruck and I never get starstruck. But obviously for my idol I was. She is gorgeous and she is so nice. I said to her, 'Thank you so much. You know you have completely changed my life. You have no idea thank you'. She said thank you and then she walked away and that was it! That was my 25-year in the making meeting her finally! I think for me it has been such a nostalgic thing that a year ago I met my western idol Ms Paula Abdul, then this summer I met my Indian idol Madhuri. Dreams do come true; you just have to be patient and work hard."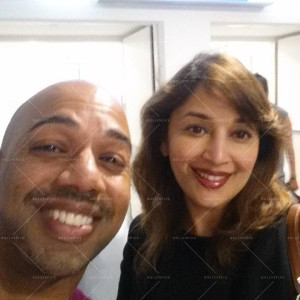 Bollywood is also getting another huge outlet and Nakul will is representing. We are talking about the Joe Tremaine Dance Conventions and Nakul was asked to give master classes in Bollywood, "For the first time I am part of this convention world. It was a lot of fun. Joe Tremaine, I am sure you know is a huge name and actually this is his 35th year doing this. He invited to me to do 4 master classes in Orlando and they all had 5 to 6 hundred students! They were so appreciative of me being there and of learning Bollywood dance. They loved it. It really is a sign of the times, Stacey, to see so many people embracing it. I was part of the Tremaine dance conventions, which is ginormous, the fact that the convention world is now introducing Bollywood I think that is something to be celebrated. I think that is wonderful."
We have talked before that Bollywood and Indian dance and culture is becoming much more part of the American consciousness, does he see that to be true and for it to be growing even more now?
"I do. Absolutely! It comes in waves, Stacey. I feel that the awareness is more and that Bollywood is no longer a foreign term. I think now it is part of pop culture. That feels great."
Will we see Nakul for a third time this year on SYTYCD or perhaps the Jaja-Alex number will be in the finale as a judges favorite, well for that we will have to wait and watch! DID North America is airing now on ZeeTV!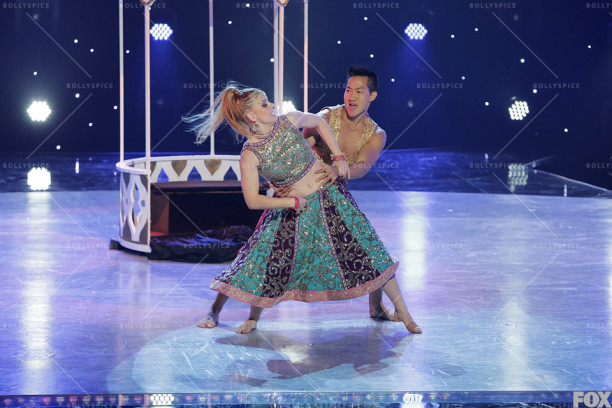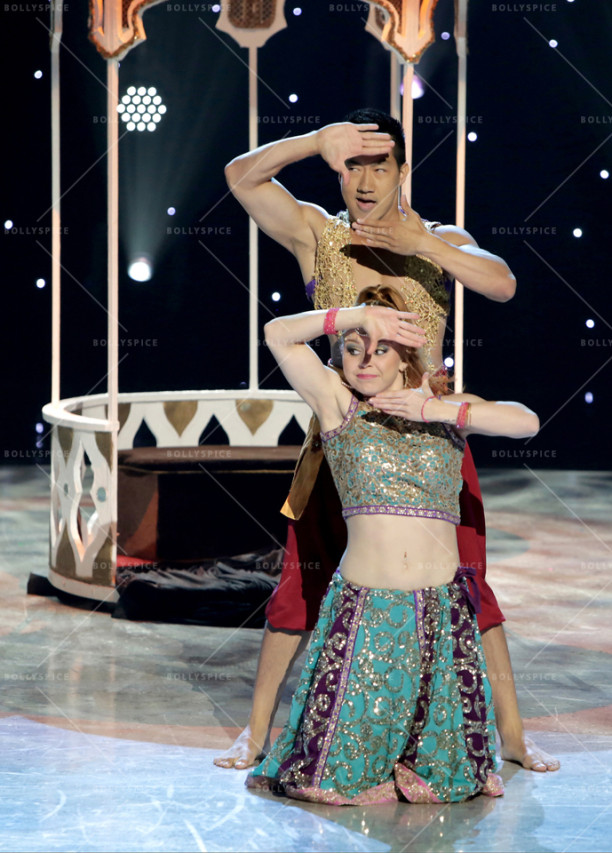 Check out the Jaja and Alex number too!