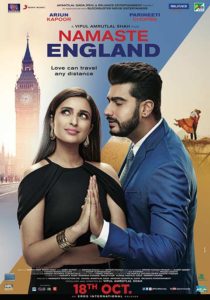 At the time of Dusheera we remember the women in our lives and think about how they are devoted to love and family like Sita or how they are strong and independent like Durga. Bollywood films released at this time of year (and even more so this year) look to develop the strong women character but as is done in Namaste England, also explore what the male's position is in this new age of neo-feminism. Baadshah, Mannan Shaah and Rishi Rich have been brought together to give a rousing soundtrack to this tale of love, marriage and support.
A relationship is always a balance between the need for each other and the distance that is required so people can individually achieve what they want. In this first song, Tere Liye, Atif Aslam screams out a power ballad backed only by synth drums and acoustic guitar about how the boy needs his girl to shorten that distance. A kazoo and violins break up the choruses and verses to bring the sad effect, but a small flute does pop up occasionally with hope. Atif is built for this sort of song and the music is certainly stirring but is dimmed enough to let Atif rule the melody for himself. Akanksha Sharma comes in halfway in a mix of Punjabi and Hindi to help the audience see the other party's part in this. Not a tear jerker, but a perfect song to the heartbroken or heart-mended.
Bhare Bazaar gives us the expected club track from Baadshah. Vishal Dadlani and Payal Dev work around Baadshah's light hip-hop stylings with a rap break. She seems resistant to come to the dance floor, but he can convince her and is persistent. Even once on the floor she resists his advances, but it feels like its only a matter of time. While this is the standard song we expect both from Baadshah and the bhangra influence in its beats, the lyrics feel more forceful in a time where men are being told they need to respect women's wishes more. Their repetitive nature certainly doesn't help remove the feeling he's coming on a bit strong.
Dhoom Dhadakka is some more classic bhangra. The boy seems to be pushed onto the dance floor to expose his feelings for his love-to-be. There is a shehnai at the start which makes several re-entrances, so this is going to be a wedding song. Nevertheless, this could be a copy of ever so many bhangra hits in recent Bollywood history. Shahid Mallya delivers a beautiful set of lyrics but whether its his voice or the heavy feel of the beat, the audience must really concentrate on what he's saying. Luckily about 2/3 of the way through we get Antara Mitra whose voice is very clear and the drums back off for her. This one is for the Punjabis who want to feel good about existing relationships.
Rahat Fateh Ali Khan seems to have taken the seat of classical power in Bollywood over from his father and Jagjit Singh. In Tu Meri Main Tera, he delivers a Sufi performance, which only he could have done. This is a searching and haunting song. Earthen pots and clapping hands give a beat, over which violins, ektara and acoustic guitar support Rahat's alto. Audiences will likely need the tissue box nearby to listen to this one, a feeling of desperation and loss dripping from every word. Normally Sufi is used in the glory of god and maybe that's the point here.
A much lighter touch with clicking fingers and bright acoustic guitar features Shashaa Tirupati singing in English and Hindi mixed lyrics in Kya Kahoon Jaaneman. This has the sexy feel to it and is very much about the girl's desires to hold her love close. An electric guitar on a distorted pedal gives this song a wild feel and Shashaa's easy, clear delivery makes it all very sultry. "Kya kahoon jaaneman, jalta hai kyun yeh badan" shows that she isn't messing around here. A saxophone is a great touch in the end of this song to complete the picture in case it needed completing.
Mannan Shaah takes to the mic himself for Ziddi Hai Dil. "Tum hi iski ho tamana, tum hi iski aarzoo" is the call of a heart that won't let his love go. The boy is struggling with his own emotions in a space where he has lost her to logic. Synth beats backed with occasional tabla and violins running very lightly in the background allow for Mannan to scream out the pain this song is trying to portray. The problem with this is that all it does is highlights that his choice of instrumentation and beat don't really work in this case. This is an extremely sad song and men in all parts will feel the truth of its lyrics, but the singer is not suited for this piece at all (especially in the wake of 'Tere Liye' earlier) unless the aim is to literally scream this song over a megaphone.
The last song is Proper Patola. Badshah is joined with Aastha Gill and Diljit Dosanjh for some more classic club hip-hop bhangra mix. This one slides far more towards the club hip-hop, but the underlying beat will be very familiar to Punjabis. This is very much the ending song, being only just on 3 minutes and by giving both girl and boy an even showing, this should be a fun ending for all parties.
In the age of social media, Youtube movie clips and general sharing of information, this film and particularly its songs have not hit the usual heights expected of Bollywood movies of any Indian language. The trailers and teasers got the expected 20M views but only 'Proper Patola' and 'Bhare Bazzar' seem to have really gelled with audiences before the film release, no doubt due to the popularity of Baadshah. As to how well they hold to the story there is plenty of sadness and wantonness from the boy's side but there isn't a lot of exposure in the songs for the girl's side. And finally, as a Dusheera flick, the songs certainly don't seem to aid anyone's understanding of male roles in a new world where women stand up for themselves.