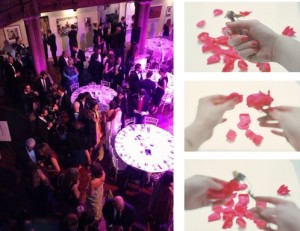 Held in conjunction with Christie's, the Sara Charlton Charitable Foundation (SCCF) hosted a charity gala and auction for In The Name of Honour, a ground-breaking Contemporary art exhibition at One Mayfair exploring violence against women, gender and the female body. Taking place from 19–22 September, the exhibition is open to the public, while the Gala Event last night, on 18 September, raised in excess of £230,000 through a live art auction of ten artworks, a silent auction of celebrity sketches as well as sales of artworks in the exhibition and pledges.
"We are overwhelmed by the amount of support we have received," comment SCCF CEO and COO Antonia Packard and Rhea Gargour. "It is immensely inspiring to have had so many artists and celebrities donate their works for this cause, and all proceeds will go directly to those who are most in need of it – the amount of women suffering from domestic abuse and honour-based violence in the UK is staggering, and they often have little or no support networks to turn to. We hope that through events such as this we can start to change this. Thank you so much to all those involved and who have pledged their support to the Sara Charlton Charitable Foundation."
Meanwhile, a silent auction of special celebrity sketches saw top lots going to Elie Saab, Prime Minister David Cameron and screen legend Roger Moore, while guests at the exclusive gala night included Princess Eugenie, Chelsy Davy, Mark Francis Vandelli, Natalia Barbieri, and more.
With one in four women in the UK suffering abuse in their lifetime, and with some 3000 reported cases of honour-based violence each year, there is an urgent need for action. The 18-22 September 2013 will mark an important week as the SCCF seeks to raise funds for victims of abuse. The artworks will be on display and open to the public until 22 September, during which time educational days, workshops and artist talks will also take place. Top Criminal Behavioural Analyst Laura Richards is advising the SCCF on its educational programme.
The exhibition will feature 45 works for sale by both emerging and internationally acclaimed contributors of different ages from around the globe. This includes ground-breaking feminist artists from the 1970s and 80s, such as Jenny Holzer and Alexis Hunter as well as a younger generation of artists addressing gender issues, such as Vanessa Beecroft, Mona Hatoum and Sarah Lucas. There are also representatives of the new wave of young and emerging feminist artists, including Faiza Butt, Amalia Caputo, Shadi Ghadirian, Manal Al-Dowayan and Sarah Maple. A number of works have been created especially for In the Name of Honour. The majority of works will be available to purchase on the launch night, with 10 going under the hammer for the gala's live auction. The rest will be available subsequently throughout the week, with five to be auctioned via the Christie's Post-War and Contemporary Art sale at South Kensington on 24 September.
In the Name of Honour also features a special selection of celebrity drawings created specifically for the event by names such as Patrick Stewart, Helen Mirren, Rosario Dawson, Tom Hardy, Maggie Smith and Ben Elton, to name a few. These include an edition by Prime Minister David Cameron. The celebrity drawings will be sold via silent auctions at the gala dinner.
The event was kindly sponsored by Annabel's, Artemis, Christie's, Collyer Bristow, ICAP, Richemont, Royal Bank of Canada Wealth Management, Frerejean Frères, Frederiks of Kensington and Heineken.