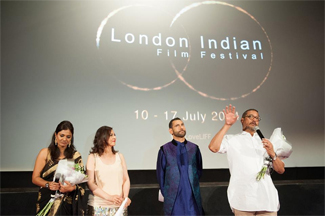 Bollywood legend Nana Patekar closed the annual London Indian Film Festival on Thursday night, which has now entered into its fifth year. The actor was invited to attend the closing gala, where his film Hemalkasa was screened to a full house at Cineworld Haymarket. The film is based on a true story of a married couple, who practice medicine in the village of Hemalkasa and educate villagers on health, as well as looking after abused animals. The director of the film Samruddhi Porey also attended the event, as well as a number of special guests which included Sunny and Shay, Asad Shan, Asjad Nazir, Jeffrey Brown and many more.
Both Nana and Samruddhi took part in a Q&A after the film's screening with Eastern Eye Editor Asjad Nazir, where they spoke about the film and their experiences of making it. "The moment the script came to me, it was easy for me to say yes," said Nana during the Q&A. "I know Prakash and his work well so I wanted to let people know what they were doing. It was easy for me (to construct the character) and only physically did I struggle slightly as I found it difficult to shed some of the weight. But when you know a person for so long then it remains with you and lingers with you so it was easy."
Samrudhhi also spoke about her experience of directing Nana, who is known for films such as Parinda (1989), Krantiveer (1995) and Khamoshi (1996). "I'm very lucky that I learnt too much from him and from Prakash Amteji. This film is not my alone efforts and it was mostly teamwork. I was only a tiny part of it."
Hemalkasa was close to winning the LIFF Audience Award, but lost out narrowly to the hard-hitting drama Sold, which was screened on Opening Night.
Stay tuned for our interview with Nana Patekar!
In the meantime, check out the cool pictures from Closing Night!