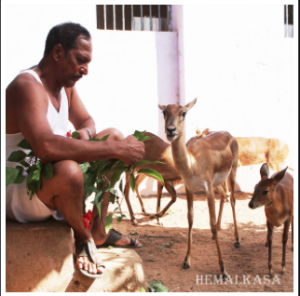 Iconic actor Nana Patekar, known for his brilliant performances in The Pool, Parinda and Ab Tak Chappan, as well as displaying his lighter side in Bollywood blockbusters like Welcome, is all set to take London by storm when he visits the city for the World Premiere of director Samruddhi Porey's Hemalkasa, the Closing Night Film of the 5th London Indian Film Festival (LIFF, July 10-17). The film details the inspirational lives of Magsasay Award winning couple Dr Prakash Baba Amte and Mandakini Amte who dedicated their lives towards improving the lot of the tribal people in Western India.
Nana Patekar said: "I appreciate the LIFF selection committee because by selecting Hemalkasa they have shown that only an expert jeweller has an eye for a real diamond. I believe here LIFF is the real expert jeweller. This is not merely a film but an inspirational message for the world and hence I am here at LIFF. Otherwise usually I avoid accepting film festival invitations. My friends, if you miss the film, the loss is yours."
Director Samruddhi Porey, winner of India's prestigious National Award for Mala Aai Vahhaychy, says, "It is an extremely proud feeling that Hemalkasa my first Bollywood film is selected at LIFF for the most prestigious closing show. This is not only a film but also a dream, which I saw for thousands of needy people. LIFF selection is a first step towards start fulfilling it. I have truly poured my soul into it."
Hemalkasa premieres on July 17, 6pm at the Cineworld Haymarket. Nana Patekar will walk the red carpet with Samruddhi Porey and other special guests and will participate in a Q&A after the screening. The festival opened with a sold out screening of Sold, executive produced by Emma Thompson, and starring Gillian Anderson who walked the red carpet and participated in a Q&A.