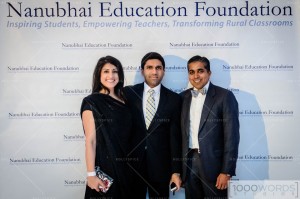 Over 300 supporters attended The Nanubhai Education Foundation's 10th Anniversary celebration. The event hosted at 404 NYC was held in honor of a decade of commitment to transforming public education in rural India. Sakina Jaffrey from the Primetime Emmy Award nominated original series, House of Cards, came to support the organization, along with Sheetal Sheth, best known for her role opposite Albert Brooks in Looking for Comedy In The Muslim World. Another big supporter that dazzled the evening was Award-winning director and photographer Indrani Pal-Chaudhuri.
Spokesman for Nanubhai Education Foundation, Actor Manish Dayal, best known for his role as Raj Kher, in The CW series 90210 also attended the NEF gala. Dayal has made big news for his upcoming leading role as Hassan Kadam in the DreamWorks Studios film adaptation of The Hundred-Foot Journey (based on the NY Times best-selling novel by Richard C. Morais) directed by Lasse Hallström and produced by Steven Spielberg, Oprah Winfrey and Juliet Blake. The film also stars Helen Mirren, Om Puri and Juhi Chawla and is set to release on August 8th.
Guests enjoyed cocktails and wine from Diageo and Wine 34, Hors D'oeuvres from Michelin Star restaurant Tulsi, and entertainment from the queen of Bhangra, DJ Rekha. The gala is the primary source to raise funds for the Nanubhai Education Foundation's Scholars and Residential Teaching Fellows Programs, which focus on awarding college scholarships to girls from financially vulnerable families in rural India and building English speaking skills for students in rural boarding schools through native English speakers, respectively.
"The support we received at the 10th annual gala is instrumental in allowing Nanubhai to distribute over 15 scholarships to young rural women to pursue higher education and complete a college degree. For the vast majority, they are the first of their family to go to college. This is a remarkable achievement and one that we all should be very proud of! By educating these 15 ladies, we are vastly improving not only their lives, but the lives of their future families as well," says Ms. Nita Nehru, Co-Chair of the Board for Nanubhai Education Foundation.
Other supporters for the gala include Odeon Capital, Courtesy Management, Equity Stock Transfer, KHR Jewels, FlexTrade, ARY Media, Neerja Public Relations, Spotlight Studio, 1000 Words Studio, and Glamorous Event Planners. For more information on the Nanubhai Education Foundation, please visit www.nanubhai.org.
About Nanubhai Education Foundation:
Nanubhai Education Foundation is a 501 (c) 3 non-profit dedicated to providing equal access to India's rapidly growing economic opportunities to the students of India's rural public high schools by improving the level of instruction throughout rural india via Nanubhai Scholars and Residential Teaching Fellows. Since 2004, Nanubhai has been transforming access to quality education. They have integrated an innovative program of English training, teaching techniques and classroom management skills to underfunded public schools in the Indian state of Gujarat. The organization was founded on the premise that all Indian students deserve equal access to quality education.