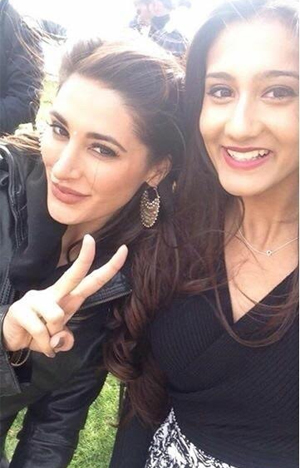 A young female fan got a chance to meet her favourite onscreen diva Nargis Fakhri in London
Having crazed fans is a phenomenon that Bollywood is well acquainted with. But this one is certainly craziness with a lot of heart. Known to be very connected with her fans online and for her open personality, Nargis Fakhri recently met up with a young female fan named Meenakshi Gopal from London, who she called on the sets of Housefull 3 in London after Meenakshi's consistent outreach via Twitter.
Says a insider, "Nargis met Meenakshi, her mom and sister during the promotions of her debut film Rockstar in London and due to the large crowds present at the event, they got pushed aside by security and couldn't interact with Nargis then. She connected with Nargis via Twitter and told her about how she even chased the car they were in to give Nargis a gift but in vain."
But now, 5 years later, thanks to her connect with Nargis via social media, she got a chance to give Nargis her gifts and properly meet her when she was invited on set in London. Nargis was rather touched and happy to meet one of her first fans and she was glad to have been able to give the girl her due for all her efforts. After all, there is no bigger validation than a fan's love and adulation.