The #BangBangDare concept which is a fun way for Hrithik Roshan to promote his next movie Bang Bang is working very well!
His latest dare went to the lovely Nargis Fakhri, who made Bollywood dance to her sexy item number 'Yaar Na Miley' next to Salman Khan in Kick, last Summer.
Nargis was born in New-York in Queens & she has openly talked about the way she used to live there on Koffee With Karan.
Nargis met the American rapper 50 Cent while she was shooting for her Hollywood project in Europe a few months ago. Already there, one could see her excitement and huge love for rap. So no wonder she got so happy when Hrithik dared her to sing a "rap".
Even tho she had to attend the GQ Awards, the actress recorded that 2 minutes video backstage and let's say the truth … SHE ROCKED IT!
To d 1who actually stimulated my #bangbangdare idea, @NargisFakhri girl frm d hood, shoot a RAP in a style only u can! V want crazzy!Accept?

— Hrithik Roshan (@iHrithik) September 28, 2014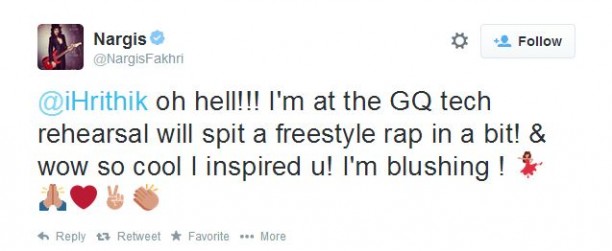 Bang Bang Dare Hrithik Roshan to Nargis Fakhri @iHrithik here u go! My freestyle rap just b4 going on stage for GQ http://t.co/cBwTzySVoL

— Nargis (@NargisFakhri) September 28, 2014
Woman!! I still can't get over your rap! I hope u know how amazing u r. True feminine power! Love u n inspired by u! @NargisFakhri

— Hrithik Roshan (@iHrithik) September 29, 2014
She's all about love and she's ready to give! @NargisFakhri you are a creation d world needs to discover!!U are all things amazing. WINNER!

— Hrithik Roshan (@iHrithik) September 29, 2014