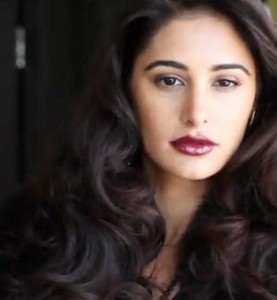 Nargis Fakhri is an American Pakistani model-turned-actress who appears in Bollywood movies. She made her Hindi film debut with Imtiaz Ali's Rockstar opposite Bollywood heartthrob Ranbir Kapoor. Fakhri was also seen in the controversial Madras Café earlier this year opposite John Abraham.
The actress was in London recently for a Bridal Fashion Show and was the showstopper for Indian designer Archana Kochhar.
Nargis caught up with our Bollywood reporter Sunny Malik and spoke about her life after entering Bollywood, movies and much more…
You started your career as a model and still get to walk the ramp. Do you like that?
It feels really good that I can still walk the ramp as a showstopper. I also love doing magazine photo shoots. It's different because I wasn't a showstopper before. It is different but it's great.
You lived in London as a model…
I travelled the world for modelling and lived all over the world. I have lived in places like Thailand, New Zealand, Honk Kong, Germany, Greece, London and all over the US. I am from New York but I loved London as it's a great city. I love that you can walk around, shop and have a great nightlife in London. It's always fun to be back here.
You are based in Mumbai now. How has life changed?
My whole life has changed after becoming a part of the Indian film fraternity. It is a little weird when people want to take pictures with you and want your autographs. That is definitely something very different.
Has that happened here in London?
Yes, of course. It started as soon as I landed at Heathrow airport (laughs). But I can't complain as you become a bigger deal and it is awesome.
The Indian film industry can be a lonely place for outsiders. How welcoming was the fraternity?
I didn't feel that I wasn't welcomed but it can be a very lonely place nevertheless. I had no friends and family when I came to Mumbai. It also stays lonely because you are constantly working and don't have the time to find real friends. It's just because the time isn't there. I have been working like nuts and hopping on to airplanes every other day.
You are still a very open person. You interact with your fans on Twitter and also post about things that aren't related to your film work. Don't you feel that a star shouldn't be so accessible?
I do hear that we are not supposed to be so accessible but I am a human being. I am friendly but I have realised that I can't be as friendly as I used to be. I post a lot of things as I am lucky to be in a position where I can influence people or be an inspiration or motivator. I am a person who loves travel, fitness and yoga and I will promote these positive things. When my fans will see that I am doing yoga, I think that maybe I can encourage them to live a healthier lifestyle. I don't know how it works for them or how they feel. It's just nice that I get to connect with them.
How did you deal with rumours about your personal life?
When it first started, it was strange and upsetting. Things were written that were not true. I also think that I look at news a little bit differently now. I guess that I have learnt over time that journalists are just doing their job and have nothing personal against me. I do love the fact that I have social media networking sites where I can put the truth out. You just get used to it and realise that it comes with the territory.
Do you still get upset about rumours?
It bothers me. If it would not bother you that would mean that you are a non-emotional human being. I wouldn't want to be that way. I would not want someone to tell me that I have no feelings. Certain things will bother you but you learn to brush them off your shoulders and keep moving. It doesn't affect me as much as it did in the beginning of my career. I used to be sad for a week but now I get upset for maybe a few seconds.
You started your film career with Imtiaz Ali and Rockstar. How did you then choose your films afterwards?
It was interesting in the beginning because they [Imtiaz Ali] chose me for Rockstar and I took that opportunity as a new adventure – to meet new people, to learn a new language and see a new culture. I didn't really think much about the future. I decided to be a part of Rockstar because the story was amazing and I felt connected to it. I could see it in my head while I was listening to the narration. I believe that going ahead I am doing the same thing. I want to be connected to the story and feel close to the film. After Rockstar, I did Madras Café and I was super excited to be a part of it.
Madras Café was pulled from UK cinemas after protests by Tamils outside Cineworld headquarters in London. Were you disappointed?
It's always disappointing when something you worked on does not get released in a certain place. This film had a piece of history and I feel that people should know about. It's a good film. It was nice playing such a role because even I learnt something while researching for my role.
How do you deal with criticism? Do critics matter to you or is it more about the box office?
I was heavily criticised for my role in Rockstar. It hurts because no one knew my situation or how hard I worked. I don't think anyone knew anything about me. I know people don't care that I was just approached to do a film in a foreign language and had to learn the language in two months. As time has gone by and I have learnt how things work, I just realised that everyone will have something to say whether it's good or bad. It doesn't bother me. Unfortunately, human beings are very judgemental people. Its okay and you allowed having an opinion if you didn't like somebody or someone's work. I also feel that some critics have a very harsh way of speaking and writing.
You are working with director David Dhawan in his next film Main Tera Hero.
Yes, it's really great to work with him. We are almost done with the film. It's such an amazing experience because it's a new genre for me. It's a totally different character from Rockstar and Madras Café.
Would you say that comedy is the most difficult genre you worked on so far?
I don't know. It did not seem so difficult but my challenges are very different from other people. My challenges will still be the comic timing in Hindi because it's a foreign language. We will only have to wait and see how it turned out. I must say that I really enjoyed it though.
Your Main Tera Hero co-star Varun Dhawan has also studied abroad. Did you connect with him more because of that?
Yes, he is a really cool guy and easy going. I think he has studied in Nottingham. You get to talk about all the stories of college. He has a different insight or view. He gets my jokes (laughs).
What other films are you working on?
I am going to work on the remake of Shaukeen with Akshay Kumar. I am really excited about it. Let's see what other films come my way.