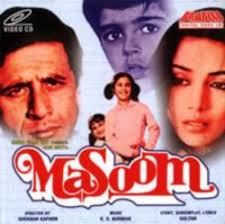 Veteran actor Naseeruddin Shah is reportedly not a very big fan of remakes, and says that he does not understand the 'remake trend'. Also, he is definitely not in favour of his 1983 film Masoom.
Masoom was a film directed by Shekhar Kapur starring Naseeruddin Shah and Shabana Azmi as his wife. This film was about Naseeruddin's love child disrupting his happy family with Shabana.
Naseeruddin told the Times of India in an interview," I do not understand this remaking of a film that has become such a trend these days. Why would you remake something that has already been made in the first place? Unless you have some different angle or factor to add to it, you should not do it."
There were recent reports that Himesh Reshammiya bought the remake rights of Masoom, to which Naseeruddin said that the film cannot be made better than what it is. "Masoom should not be remade. It does not match today's technology driven age. In a world where mobiles and internet connects people more than anything else, how is it that you will show a father who has no idea about his son till the child is 10 years old?" he added.
Naseeruddin Shah is evidently one of the finest actors of Bollywood, with the different kind of roles he has portrayed in his films like Ishqiya, Saath Khoon Maaf or The Dirty Picture. His films Dedh Ishqiya and Jackpot are yet to release. The actor says that he does all his films with commitment and love. "Never have I ever done a film that I did not want to do. I have done all my films with the same amount of commitment and zest. Some of them worked out, some did not. Masoom is one of my favourite films even today. Even while making a film if you realise this will not do well, you don't walk out of it because you committed to the project. People still remember Masoom and Monsoon Wedding and have always wished me well," he said.
His directorial debut happened in 2006 with the film Yun Hota Toh Kya Hota, but he is reluctant on directing further. "Directing a film is so difficult! The basic factors required to be a director is having visual sense and to be able to take decisions for all of it, both of which I lack. I enjoy directing theatre but cinema is different. You cannot go back and change your image as a filmmaker as people will judge you on what you have already made. So I don't know, I may or may not direct in the future," he added.
Naseeruddin is impressed by directors like Tigmanshu Dhulia and Anurag Kashyap. He said, "Anurag and Tigmanshu are preparing a new stage for the future filmmakers. It is a change and a different angle to cinema, but let's not get carried away by it."