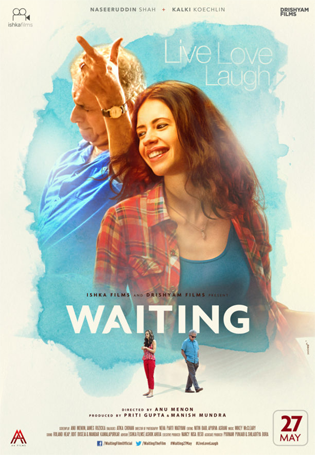 As expected, Anu Menon's highly-anticipated film, the Naseeruddin Shah-Kalki Koechlin starrer Waiting has struck the right chords with movie-lovers. Besides garnering critical acclaim, a tremendous word-of-mouth feedback — which is a true testament for any film — is additionally ensuring that the film continues to be a crowd-puller.
Waiting is the story of a retired professor whose wife is in coma for 8 months in a hospital. He meets a terrified young wife in the hospital whose husband has been in a sudden accident. The film traces their friendship where they learn to laugh and live from each other.
Right from Naseer-Kalki's fun camaraderie and their sterling performances as the poles-apart strangers who become friends while waiting on their comatose spouses, to the beautifully-woven story filled with laughter, love and hope, Menon's 'Waiting' is being hailed for its refreshing content and lilting music.
Kamal Gianchandani, President, PVR Cinemas Group, says that "Waiting has been getting consistently good reviews from critics as well as audiences. Now that news is filtering in about the strong story and performances, we've definitely seen a sharp jump in ticket sales. Fans too seem very keen to catch the unlikely Naseer-Kalki pairing."
Devang Sampat, Head, Strategy at Cinepolis, agrees. "The word of mouth on social media has been so strong for Waiting that most weekend shows are now filling fast. Since it is a 'star-less' release week, the best content will rule the roost at the box office."
Getting a thumbs-up from the critics and the crowds, the film has kick-started on a high note in spite of just a 288-screen release. The film scored impressive numbers at the box-office over the weekend.
The film opened at 27,23,394 on Friday, on Saturday there was a hike in collection with 21 lac earning upto 48,39,530 and on Sunday, the film earned 54,86,619, totaling up to 1,30,49,543 rupees.
Besides Naseeruddin Shah and Kalki Koechlin, the film that premiered at the Dubai International Film Festival (DIFF), also features Rajat Kapoor, Arjun Mathur and marks the debut of noted filmmaker Mani Ratnam's wife, actor Suhasini Maniratnam in Hindi cinema.
Directed by Anu Menon and produced by Priti Gupta, Ishka Films and Manish Mundra, Drishyam Films, 'Waiting' released on May 27th.