Releasing on August 5th is a new take on a Bollywood movie. Bazodee mixes elements of a Bollywood musical with a distinctly Caribbean island flavor. Set on the vivid, colorful islands of Trinidad & Tobago, the film pulses with the sensuous dance rhythms of Soca music. Directed by Todd Kessler, the film stars Kabir Bedi, Natalie Perera, Machel Montano, Kriss Dosanjh, Valmike Rampersad, and Staz Nair.
Bazodee, which means a state of confusion, a state of love, tells the story of Anita Ponchouri (Natalie Perera), the dutiful Indian daughter of a deep-in-debt businessman (Kabir Bedi). Anita is about to marry a wealthy Londoner (Staz Nair) when a chance encounter with local Trinidadian singer, Lee de Leon (Soca music star Machel Montano) sets things askew. In search of a muse, de Leon agrees to perform at the engagement party. Unable to deny their mutual attraction, and with the excitement of Carnival approaching, Anita must now choose between the answer to her family's financial prayers and the possibility of real love. It is about being true to yourself and honest in love at all costs!
In this exclusive interview, star Natalie Perera talks about Bazodee, which she calls an unique musical love story and why she loved being a part of this cool film.
Was acting something that you always wanted to do?
Yes. I've always been an actor. In my opinion actors are grown-ups who never stopped playing and as an adult I am constantly acquiring and refining my skills in order to play well. My addiction to acting began at church playing famous missionaries in the Sunday Schools plays, and later in my life after I graduated from university where I studied Classics, I went on to study Text and Performance at RADA and Acting at Royal Central School of Speech and Drama.
What were your first thoughts when you heard the idea of Bazodee?
I thought Claire Ince had written an absolute gem of a script that immediately had major feel good factor. In addition to that I was super excited that the lead role is a woman, Asian and from the Caribbean. My ethnic heritage is Sri Lankan and I was hyped up to represent an Island Indian. Then I saw it was shooting in Trinidad. What's there not to like?! With all that's happening in the world today it's a great thing to be transported to something positive.
How would you describe this film?
Bazodee is completely unique, like nothing you've ever seen. I would describe it as a musical dramedy and a love story. For me, it's like Mamma Mia dipped in Indian culture and Trinidad and Tobago.
The film has such an intriguing and interesting concept, what do you makes it so special and why did you want to play a part in it?
Bazodee is such a pleasurable film on the senses. Firstly, it's of course set in gorgeous Trinidad and Tobago one of the most spectacular places on planet earth, with it's vibrant culture and colour. Then there's the pulsing, infectious and energetic glimpse of carnival and the music of Machel Montano that will make anyone want to get out of their seats and move. Lastly, it's a love story set in this heaven and I was super excited to work with EMMY-nominated director Todd Kessler and jumped on this unique project wholeheartedly.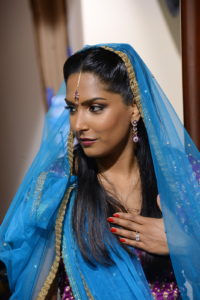 Tell us about Anita and how you became the character?
Anita is a young woman, who lost her mother at a very young age, is very close to her father and takes care of him and everyone around her. She thinks she's got it all figured out until she meets Lee and is knocked sideways. I studied the script, asked a lot of questions from Todd Kessler about my backstory, accent and ethnicity. I worked hard finding an accent that would fit with Anita's Indian heritage, her international schooling/ fiancé from London and a slight Trinidad flavour. I also got the opportunity to hang out with the wonderful local actors and crew and learned more about Anita's cultural surroundings. The process felt very organic for me.
If you were in her shoes what would you do?
In everything I do, I always follow my heart.
Tell us about working with esteemed actor Kabir Bedi?
Working with Kabir Bedi was an absolute blessing. What a fabulous voice! Even though he's such a big name he was so obliging and humble in his dealings with me, giving me helpful tips and tricks that only a pro would know. I remember seeing him in Octopussy as a child and thinking 'if an Asian can be a Bond villain maybe I too can be a Bond villain one day.' He is an inspiration and just the loveliest man and apparently everyone who has played his daughter has gone on to do very well so I hope that luck rubs off on me too.
Also what about working with Machel Montano?
Working with Machel was amazing. He is the life and soul of the party and people adore him. He has an abundance of energy and brought it to set. It was great to play alongside him because he is so relaxed and at easy around cameras and I feel we worked really well together. I really had to up my game to work alongside fully-fledged stars, but that's all part and parcel of the excitement. He has spent his life performing on stage and in front of cameras and it was no surprise that he is a natural.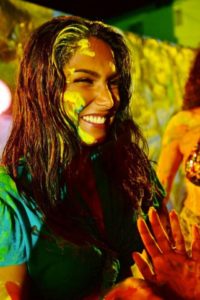 Tell us about the music of the film?
Machel's music and Soca is the most energetic, infectious and colourful kind of party music that manages to have heart. I think that is because it seems to have a rich history.
Are you a Soca fan now?
I'm definitely a fan. I can't work out at the gym without Soca and in my opinion it's the best party music "it gets the people going!" There is nothing quite like it. In the film Anita says, "He makes happy music, the world needs that." I completely agree with that! Soca gets me going.
Why do you think it's important to make films like this?
The script is so positive and has major feel good factor. It's not often you see a female, Asian lead from the Caribbean as the lead in a film and I think that alone is an important and exciting feature about Bazodee. My ethnic heritage is Sri Lankan and I am hyped up to represent Island Indians. It was the first time I came across such a different role and I became really excited about it. The director Todd Kessler cast local Trinidadian actors in this film, which in my opinion is amazing because it's a country bursting at the seams with talent. Bazodee is so wonderful because it showcases people and cultures that don't often get exposure. Bazodee is unique. It's like nothing I've ever seen before. Once you see it, you'll know what I mean.
Your thoughts on Hindi films today?
I think it's great how the variation, scale and scope of Hindi films are growing today. The Bollywood film industry is one of the biggest in the world and is catering for diverse audiences and tastes and I think that's brilliant. I am a fan of all genres of film. They each offer entertainment and storytelling that have unique qualities and fill a particular niche.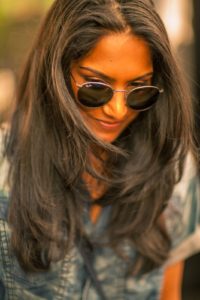 If you could star with one actor of actress who would that be?
There are so many actors I'd love to work with; it's really hard to choose. I think I'd love to work with Joanna Lumley because she is just utterly fabulous and Sophie Okonedo because I love the work she does and I find I'm 100% engaged whenever I watch her in anything! As for male actor, it would be Steve Carell because I think he's so damn funny, has a spectacular range and he's my favourite male actor right now.
Would you like to be part of a Hindi film?
Absolutely! I'm interested in becoming as accomplished as possible and performing in a variety of genres is a great way to do that. Do you know of anyone casting?
What do you think audiences are going to love about this film?
Bazodee is a universal story about two people who fall in love and have to combat other conflicting aspects of their life to choose to follow their heart or not. It's unique and a pleasurable feel good film. The audience is transported to heavenly Trinidad and Tobago, where they get a burst of the Carnival experience and colour accompanied by the music of Machel Montano, that will make anyone need to get out of their seats and dance! The audience will fall in love with Trinidad and Tobago leaving cinemas smiling and happy.
What do you love about Bazodee?
I enjoyed working with Todd Kessler very much. He was the captain of the crazy party ship that was Bazodee and I felt he was a wonderful leader. He made me feel confident and enthusiastic about the process throughout the shoot. I loved my time in Trinidad and Tobago and the family of talented friends I made there. It was an unforgettable experience for me, and a privilege to be part of something so extraordinary and unique to anything I've even seen.