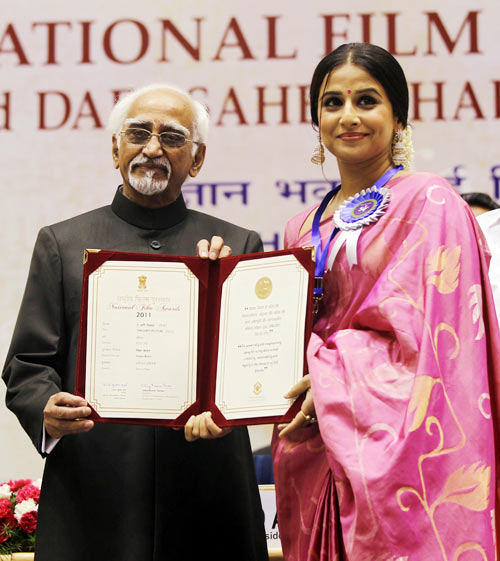 The best of the best from India's movie industry, national and regional, gathered in New Delhi for the 59th National Film Awards. While it was regional cinema that dominated this years award function there was one familiar person that took to the stand to receive an award. None other than Bollywood's 2011 super queen Vidya Balan.
Dressed in a rose pink sari, something which has become a signature look at award ceremonies, along with with a simple hair style, Vidya took to the stage to accept the best actress trophy for her role in The Dirty Picture. While it seems Vidya has been collecting all the awards for The Dirty Picture, others in the production team were awarded for their work. Customer designer Niharika Khan and make-up artist Vikram Gaekwad also picked up awards for their part in transforming Vidya into item queen Silk.
The best feature film award was picked up by Marathi film Deool and Kannada film Byari. It was director Gurvinder Singh who picked up the best director award for the Punjabi film Anhe Ghorey Da, a film which also received the best cinematography title. The best supporting actor and actress awards we picked up by Appu Kutty and Leshangthem Tonthoingambi Devi for the Tamil film Azhagarsamiyin Kuthirai and the Manipuri film Phijigee Mani, respectively. The Bengali industry ruled the music awards with composer Neel Dutt winning best songs for Ranjana Ami Ar Ashbo Na and Mayookh Bhaumik winning the background score for Laptop.
While the Hindi film industry appeared to be quiet throughout the night it was Hindi films Zindagi Na Milegi Dobara and Game that took away all three of the best audiography awards. I Am picked up the award for best Hindi film while Amitabh Bhattacharya won best lyrics for the track 'Agar Zindagi' in the film which was also performed at the event.
The highest honour of the event being the Dadasaheb Phalke award was given to veteran Bengali actor Soumitra Chatterjee.