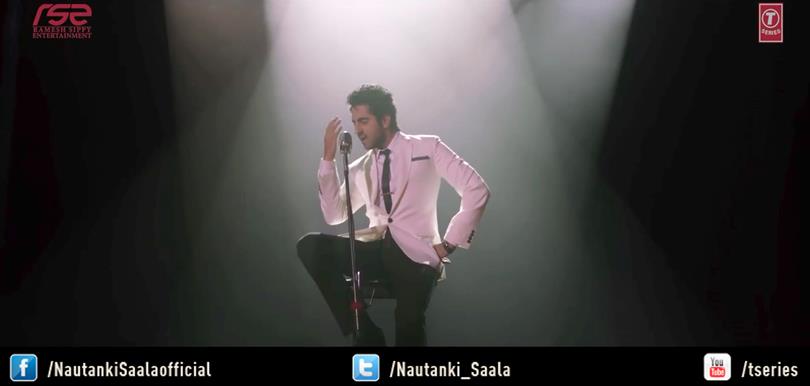 Nautanki Saala is making waves with its promos and songs. The film has gained applause for its songs like 'Saadi Galli Aaja' by Ayushmann Khurrana and 'Mera Mann' by Gajendra Verma. This positive response from the audience is also reflected by Ormax Media, one of the most trusted research agencies of Hindi film industry.
The songs have done so well in 'Ormax Heartbeats charts' that the media house has compared it with the films of Khans. Expressing his happiness, Director of the film Rohan Sippy says, "The creative team worked very hard to make music that would stand out, and the marketing team pulled out all stops to promote the music- even without superstars in the cast, it has visibility like the music of films like Cocktail or Rockstar did. So it is extremely gratifying to read unbiased research from Ormax that tells us the audience is responding fantastically to all our efforts. The unique acting and singing talent of Ayushmann has helped us rub shoulders with albums of Khans & Kumars! We all know the importance music plays in the success of our films, so we hope that this success adds to the appeal of Nautanki Saala!"
Commenting on the same, Shailesh Kapoor, Ormax Media CEO says, "Nautanki Saala's soundtrack has been performing exceptionally well on 'Ormax Heartbeats charts'. These charts are based entirely on consumer research conducted across the country, and hence, a true measure of the audience response to the music of any film. 'Mera Mann' entered the charts four weeks ago and has been in the top 5 for the last two weeks. 'Saadi Galli Aaja' created a new Heartbeats record by entering the charts straight at no. 2 this week."
He adds, "In the last three years, no other song has managed such a quick rise to the top. At a soundtrack level, Nautanki Saala features in the top 10 albums list at Wk –2 stage, i.e., two weeks before the film's release. In fact, it is the only film without an established superstar like Salman Khan, Shahrukh Khan, Akshay Kumar, Ajay Devgn or Hrithik Roshan to feature in the top 10. This signifies a strong connect with the film as well as with Ayushmann as a singer-actor. Music is a key factor influencing the opening of any film.
Nautanki Saala, which releases April 12th, is sure to benefit from the fantastic performance of its music! Nautanki Saala, directed by Rohan Sippy, is produced by Ramesh Sippy Entertainment and T-Series who is the music label for the album.