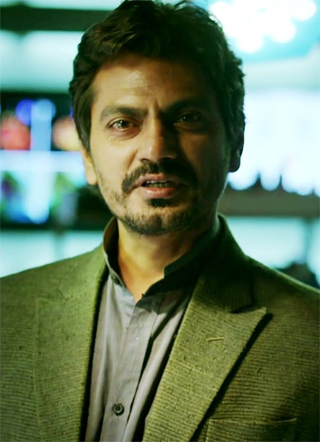 Considered one of the best actors in Hindi cinema, Nawazuddin Siddique has had audiences and critics the world over applaud his performances. With each new part, the actor awes with his incredible talent and ability to get totally lost within his roles. He has wowed in films like Patang, Gangs of Wasseypur, Bombay Talkies, Talaash, and most recently The Lunchbox.  The actor will next be seen in Salman Khan's big budget action packed film. Kick. We really don't know much about his character except that he is an enemy of Salman's character Devil. A gangster named Aslam.
I got the opportunity to have a very, very quick but interesting chat with Nawazuddin about Kick. Check it out!
The actor revealed something very interesting about how he became a part of the project. "When they were writing the script, Sajid Nadiadwala said this role will only do for Nawaz."
"They approached me with the role and definitely it was a fortunate thing for me because it is an out and out commercial film. I didn't take a second and said, 'Yes, I will do it!'" he added.
Since they seem to be keeping things under wraps, I guessed he probably could not tell us much about his character, but I had to ask. "I can't say much about the character because the director is not letting me say much at all.  But it is a wonderful character. It is a grey shaded character that I really enjoyed playing."
One of the things I most admire about Nawazuddin is whether it is in Patang, Gangs of Wasseypur, The Lunchbox or Kick he always gets so lost within his characters that many times I don't recognize him until I see his name on the cast list. So how does he prepare and then become his characters? "It is always the same process, even when I did my earlier films.  It is always the same whether it is a commercial film, whether it is Wasseypur or Lunchbox or the smaller ones. As an actor you approach them all the same. I believe in Method acting first of all, because I am trained actor from the National School of Drama here.  My approach on how to create the character is really what the character is saying, first of all. It is the character that always tells you 'do me like that' actually."
Speaking of The Lunchbox, it has gotten huge praise all over the world. "Yes, The Lunchbox is a big hit overseas. I am feeling really good about the success. I got lots of award and appreciation from The Lunchbox.  The Lunchbox is very special for me."
Getting back to Kick, what was it like to work with Salman Khan? "Wonderful," he says, "He makes the working environment very easy and light."
The actor also had nothing but praise for the director, "It was his first film as a director and Sajid Nadiadwala did a very commendable job. He knows very well how to extract the best from the actor for the character."
He says he really enjoyed working on Kick, "I am very happy to work in Kick. I feel very good as an actor to be working in a big budget movie. I had a very good experience. I enjoyed the action scenes. In fact I enjoyed each and every bit – every scene in the film."
Adding that since it is an out and out action film, "Ultimately I am hoping that with Kick being a mass-y film, an entertaining film, people will recognize me, Salman Khan fans will recognize me and then my smaller budget films that are coming later will get the benefit from that.  I think it will help my other smaller budget movies."
So what makes Kick so special? "Salman Khan, of course. He is what makes it special, there is no doubt about it!"
What's next for the esteemed actor? "Mountain Man, which is directed by Ketan Mehta. It is a biopic. It will be releasing after two or three months."
We can't wait to see what he brings to the action drama filled Kick, which hits theaters on July 25th!