On 10th June, the Power of Three will be unleashed as the formidable trio of exemplary actors in the shape of Amitabh Bachchan, Nawazuddin Siddiqui, with Vidya Balan in a pivotal guest appearance will be seen together in Ribhu Dasgupta's emotional thriller TE3N!
Well, this movie sparks many new things, specially for Nawazuddin Siddiqui, who not only is sharing the screen space with megastar Amitabh Bachchan for the very first time, but he apparently even learnt Bengali on sets!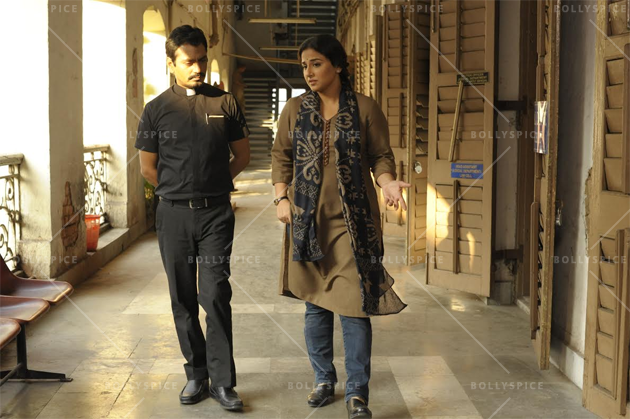 The atmosphere on the sets in Kolkata was one of bonhomie, Bengali food and often lots of conversations in the mellifluous language, as Director Ribhu Dasgupta, creative producer Sujoy Ghosh, Vidya Balan and Amitabh Bachchan (both of whom know the language quite well), would discuss the activities of the day in Bengali….so much so that Nawazuddin over the course of the shoot too learnt the bengali well enough to hold a conversation, unwittingly!
Says a source close to the team, "Sujoyda, Ribhu, Mr Bachchan and Vidya, who feel quite at home in Kolkata, would often slip into Bengali phrases in their conversations, so even Nawaz by the end of the shoot understood most of it and could speak quite well, helped by the actors."
Well, nothing like a film set that gives you so much to learn from!! We are sure big B and Vidya Balan must have made for amazing teachers!