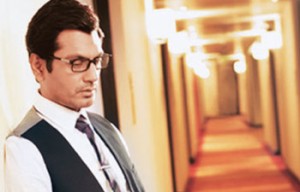 Nawazuddin Siddiqui teamed up with Rohit Pandey for the five film ensemble Shorts with directors Shlok Sharma, Siddharth Gupta, Anirban Roy and Neeraj Ghaywan along with Rohit Pandey. He said he is glad to be a part of this venture as working with young directors includes inputs from both ends.
"When you are working with a young and fresh director, you can give in your inputs and combine them with his ideas. So I can tell him what I think I need to add, and then have a totally different character as the final product," he added.
Nawazuddin is known to completely delve into his character in a way that it sometimes becomes difficult to recognize him in his different roles. His latest performance in Dibakar Banerjee's short film in Bombay Talkies received a lot of praise. He says he feels good that he is a part of that clan of Indian cinema that have got international recognition.
He said, "At first, I didn't have a choice in what I got. But then I got to work with some really different and talented directors who are great in their work. Working with them made me feel proud. Their work has been appreciated internationally as well and they should be credited for that. Awards have been won as well. I think Indian cinema is finally being taken seriously."
Shorts will release on 12th July and the cast also includes Richa Chadda, Huma Qureshi, Vineet Singh and Ratnabali Bhattacharjee. The film has been co-produced by Anurag Kashyap and Guneet Monga.