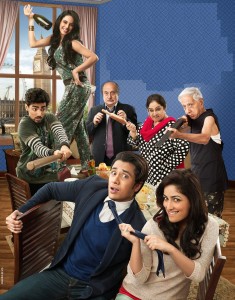 Director and producer Neeraj Pandey and Anupam Kher will be marking their third film together with Total Siyapaa. After working together in films like A Wednesday and Special Chabbis, both the veterans will be once again seen in their forthcoming film directed by E Niwas and produced by Neeraj Pandey.
Both Neeraj and Anupam who excel in their own fields, are very fond of each other. Their sensibilities in terms of cinema bring them closer and hence they enjoy the entire process of working together.
Simultaneously both have also developed a working bond as they have closely worked in the past. Now yet again, they join hands for their next release.
Total Siyapaa which also stars Ali Zafar and Yami Gautam in lead roles is all set to hit theaters 7th March 2014.
Set in London, this wacky, warp-speed tale is a melting pot of cultures. The film gains pace when Aman travels to London to meet Asha's parents who are conservative Indians and completely unwilling to go against their rigid beliefs. Aman's life descends into 'Total Siyapaa' when he attempts, albeit unsuccessfully at first, to impress his future in-laws with hilarious and at times completely cringe-inducing consequences! The film uncannily captures the differences between India and Pakistan and hopes to foster a deeper understanding and togetherness between the two countries. Total Siyapaa also sees real life couple Anupam Kher and Kiron Kher come together on-screen for the very first time.