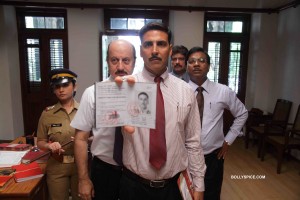 Akshay Kumar, will be stepping away from his signature comedy and action roles to portray a serious character in his upcoming film Special 26, in which he features alongside South Indian starlet, Kajal Aggarwal, and Bollywood veterans, Anupam Kher and Manoj Bajpayee.
The actor was willing to take on the challenging role and reinvent himself as he plays a fake CBI policeman in the new film, which is based on the real life heist that took place on 19th March 1987 at a famous jewellery shop in Mumbai, where men posing as Central Bureau of Investigation officers on a raid walked away with jewellery worth millions of rupees.
Director Neeraj Pandey says, "It is inspired from that incident and bits of it are from other stories I read in the papers…strung together, they were the perfect backdrop for the film."
Akshay says, "A con confident artiste is something I have never been offered before and I am happy to have got this opportunity. I am very satisfied with the role and it was a challenge. But I am happy to get an opportunity to reinvent myself."
The filmmaker believed that the Akshay would be the ideal actor to pursue the role and helped him visualise the character. Akshay adds, "The director has to make me understand that I can do justice to the role because reading the script is not enough for me. He should help me visualise the role and let me know how I fit in it."
Check out Akshay in Special 26!

Special 26> releases in the UK and Worldwide on 8th February 2013, presented by Viacom 18 Motion Pictures and Tip Top Entertainment.