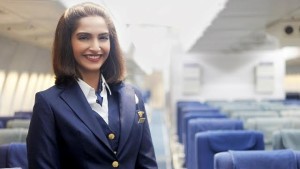 Fox Star Studios' powerful biopic, Neerja, has received an unprecedented response and garnered unanimous plaudit globally for its powerful, cinematic portrayal of the story of Indian air hostess, Neerja Bhanot. The film has generated the best reviews ever for a Fox Star Studios release, with star ratings ranging from 4 – 5 stars. Neerja has further been hailed one of the best films of the last few years by seasoned, Indian film critics. Lauded by critics, audiences and industry alike, it has already been declared the breakout hit of 2016 in India and has taken over $1.56 million in international markets – the highest Opening Weekend for a female-centric, 15-rated film.
Critics were joined by Bollywood's industry stalwarts and high profile personalities, who took to social media to express their praise for the film. MegastarAmitabh Bachchan tweeted, "'Neerja' the film, absolutely stunning!! How on earth did Ram Madhvani successfully make this film, is a wonder!!"
Actor Hrithik Roshan tweeted, "Saw #Neerja. LOVED IT! Sonam Kapoor, what an incredible performance. Can't remember the last time I cried this much. Congrats! STAND PROUD!" 
Director Rajkumar Hirani tweeted, "Just saw Neerja a gripping emotional and inspiring film. Sonam Kapoor and Azmi Shabana brilliant. Hats off Ram Madhvani and Atul Kasbekar"
Filmmaker Karan Johar tweeted, "Neerja leaves you strong and yet heavy hearted, the brave biopic is new age in execution and has an old world warmth about it, #mustwatch"
Cricketer Sachin Tendulkar tweeted, "Watched Neerja. What a braveheart & selfless person she was!! Happy about a film being made on a forgotten hero. Amazing performances by all. #Neerja is a must-watch film"
Cricketer Yuvraj Singh tweeted, "Thank you @sonamakapoor @atulkasbekar @AzmiShabana @foxstarhindi for showing the brave soldier #NeerjaBhanot for putting her life for others"
International media were also unified in their praise of the film. Huffington Post wrote, "The subject, the performances and Madhvani's restrained direction are strong enough to ensure that few will leave theatres dryeyed."
Time Out London wrote, "Sonam Kapoor, daughter of 'Slumdog Millionaire' quizmaster Anil Kapoor, proves at last that she is more than just a pretty star-kid, delivering a career-defining performance as the vulnerable but composed protagonist. Strong support from a veteran cast makes 'Neerja' a rewarding and emotional watch."
Neerja is in cinemas now.