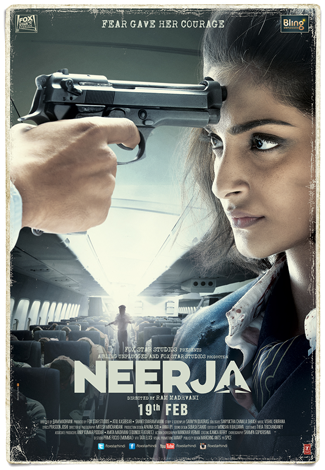 Was Neerja Bhanot, the airhostess who on 5 September 1986 perished while trying to save lives in a hijacked aircraft, really a Rajesh Khanna fan?
In the film version of her life, the zany feisty and exceptionally courageous (as we soon discover) Neerja Bhanot is a fanatical Rajesh Khanna fan. Or maybe fanatical is not a word we ought to use, considering.
10 minutes into the film, when we see Neerja dancing to Rajesh Khanna's 'Bye Bye Miss Goodnight' from the film Premnagar, I wanted to believe in the reality about Neerja Bhanot that director Ram Madhvani and his ingenious writer Saiwyn Quadras has so diligently and faultlessly put across, immortalizing the memory of the slain braveheart even while giving Indian cinema yet another example of its growing maturity.
Neerja is a film that wears its excellence casually, like a beautifully knit garment thrown on for a stroll in a windy park. Turbulent weather is not quite the problem in this hijack drama (which is not really just that, but a lot LOT, more). The entire nightmarish drama unfolds on the runway on a grounded aircraft.
The detailing of the PanAm flight is so exact (and full marks to production designer Aparna Sud), I didn't for a moment feel I was on a film set. From the moment the genial Neerja enters the flight (destined to be her last journey), I felt I was travelling with her, and all the crew members and passengers. The fact that we know how this heart-in-the-mouth drama will pan out doesn't any way diminish our insurmountable anxiety, as four rabid Palestinians (played by impeccably cast actors) take over the flight from which our heroine will never return.
This fore-knowledge actually heightens our involvement and grief. When Neerja says goodbye to her parents we know what they don't.
It is her last goodbye.
As mentioned earlier, this is not a film a straightforward hijack drama. Director Ram Madhvani (returning to filmmaking after 14 years) weaves together some delicately drawn vignettes from Neerja's past that recur unobtrusively while the ghastly crisis in the aircraft unfolds.
This is no minor achievement. Normally to have any kind of intrusion while the central crisis unfolds would be inexcusable. Full credit to Madhvani and his editor Monisha Baldwa for interweaving scenes from Neerja's past while she tries to cope with a crisis that no airline training had prepared her for. Most vividly, memories from a bad marriage with a husband pounding his way into her self-esteem and her father (played effectively by Yogendra Tikoo) prodding her on the phone to be a 'bahaadur bachcha', recurs in the aircraft as the terrorists try to break down Neerja's defences.
This could easily have turned into a cat-and-mouse game between a quartet of heinous villains and an over-smart female hero. The director takes the story to a level far higher than the heightened drama of a terror attack. This is the story of how crises create heroes. It is also about how this film about an unimaginable crisis created a hero called Sonam Kapoor.
Sonam, so far known for her impeccable dress sense, dresses and looks, is just as beautiful as she is expected to be (so please don't believe all the lies about how a good performance comes after taking off the makeup and the sartorial splendor). Looking every inch a diva (and uncannily like the real life Neerja Bhanot), Sonam digs deep into her subconscious to express emotions that perhaps even she didn't know existed within her. Not a moment of her joy (with her family) and fear (on the aircraft) are faked.
This is the performance where Sonam's career actually begins. And to have the country's most brilliant dramatic actress Shabana Azmi play her mother is just so providential. What Shabana has done to the role of Neerja's mother is beyond the description of the maternal portrait we see in movies. Her eyes lose hope in front of us as the chances of her daughter coming home diminish. Shabana's speech at her daughter's first death anniversary will move even the most stone-hearted viewer to tears. There is an earlier sequence where she tells her son to stop crying for Neerja because, make no mistake, she will return.
Shabana is right. Neerja has returned. This film brings her alive forever. It is the kind of muted homage to a hero that doesn't blow bugles, eschews flamboyant flourishes and builds a welter of emotions from within the character's own subconscious rather than depend on extraneous trappings to simulate sentimentality. The background score by Vishal Khurana is so bare and minimal to be almost invisibly woven into the storytelling. Mitest Mirchandani's camera looks into the eyes of the crisis fearlessly: the way Prasoon Joshi's lucid lyrics prescribe.
There is not a single artiste or technician in Neerja who has bummed out on the job. A whole lot compassion and conviction have made a miracle of a movie called Neerja happen.
So what are you waiting for? Go, a have a good soul-cleansing cry this weekend.
Rating: 4.5 stars