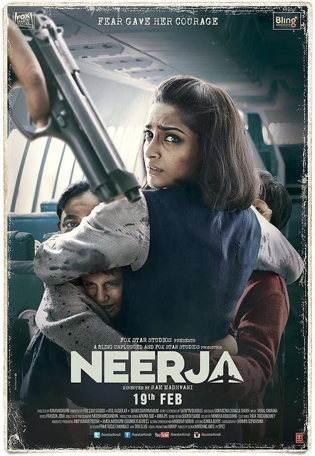 It is not very often that a film can grip its audience and have them believe that the screen is really happening there and then. Neerja is one of those rare films.
A hijacked plane.
Angry terrorists.
Your heart in your mouth.
This is the theme, the setting and the film's overall tone – all of which is made even more intense by the knowledge that yes, what we are seeing on screen, did actually happen.
The audience are transported to the scene through the powerful performance of the sinister hijackers and the brave Neerja Bhanout, portrayed by Sonam Kapoor.
Director Ram Madhvani has done a fantastic job of portraying the traumatic last moments of Neerja Bhanot.
Neerja was a young air-hostess and model who sacrificed her own life in order to save the passengers of her hijacked plane. On September 5th, 1986, a Pan Am flight was hijacked at Karachi Airport, Pakistan. The flight had come in from Mumbai and was heading to America. Neerja Bhanot kept the four hijackers as distracted as possible, saving the lives of the majority on board. 240 of the 361 passengers survived.
The horror of such an event is difficult to fathom. However, with Sonam Kapoor's stellar performance and with the intensity of the characters playing the crazed hijackers, this film will leave you shell-shocked.
Sonam Kapoor's depiction of Neerja Bhanot is proof that Sonam is an actress that has got what it takes. Her critics have at last been proven wrong! The sensitivity and strength required for Neerja's character must have been a balancing act, one that Sonam has got spot on.
Shabhana Azmi as Rama Bhanot deserves a special mention. Azmi has a way of touching a chord with just a look or a gesture. The song Aisa Kyun Maa is heart wrenching and portrays the helplessness of both Neerja and her mother.
Nevertheless, what struck me was how clearly this film has been made with love and not with hate or revenge. The opening credits show Rama Bhanot, the actual mother of Neerja, sat in an aeroplane, sending her blessings to the audience. At this point, the viewer would not have experienced the film. However this short opening scene is vital in highlighting that kindness is stronger than hate. On seeing the mother who lost her young daughter in such a heinous way, it perhaps is easy to forget that love is really what makes the world go round.
Simply put, go and watch this film.
However be warned that the film's intensity is reminiscent of a turbulent rollercoaster that one feels the need to get off, but must stay put until the ride is done.
The shocking events of Pan Am Flight 73 were unheard of to many, as was Neerja Bhanot.
Films are an important medium in changing the world. Neerja is a film that does just that.
Neerja Bhanot is a hero and an example of the courageous splendour the human spirit contains.
This film is not entertainment, it is education.