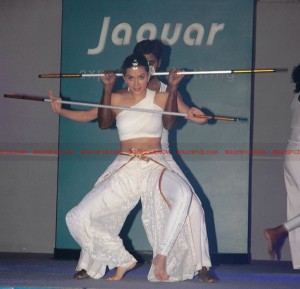 Jaquar revealed its Complete Bathing range and hosted a swish evening comprising of art and entertainment to introduce their concept of "J" class, leaving Bangalore spellbound. The evening saw grace and glamour come together in a classy, stylish celebration during the revelation of the brand's new identity.
Held at the swanky hotel – The Lalit Ashok, the evening commenced with an International Ariel Act by Isha Sharvani, followed by a fashion show with the sensuous and classy Neha Dhupia as the show stopper.
Everything that the aesthetic evening showcased was a mere reflection of how customers can now experience bath-ware like never before with the all new brand positioning & offerings by Jaquar. Jaquar now boasts of a variety of products, ranging from aesthetically designed high performing faucets, sanitary ware, wellness products, shower enclosures, water heaters and flushing systems.
Jaquar products are unique and provide world class bathroom ensembles solutions to their customers. Today, Jaquar has established itself as a complete bathroom ensemble solutions provider, with a vast portfolio to its credit. Jaquar is the only brand that provides all functional products for a complete bathroom under one roof.
Mr. Rajesh Mehra, Director & Promoter, Jaquar said at the event, "To keep Jaquar timeless and in line with our vision, the repositioned Jaquar stands for the new age customer who aspires for complete and coordinated bathing requirement. Thus, we are moving away from Jaquar as a faucet brand to Jaquar as a complete bathing brand. Since the inception of the company, it has been our passion to deliver world class bathing solutions, suiting every requirement of our customers, through constant development and continuous innovation."
About Jaquar
Jaquar group was built on the platform of highest quality standards, aesthetics and with the intent of providing world class products. Conceived way back in 1960 by Mr. N.L. Mehra, Jaquar group is an undisputed market leader in the bath fittings category that has transformed the industry from merely utilitarian to inspirational. With the Group's vision to evolve into a 'Complete Bathing Solutions' enterprise, Jaquar has also successfully diversified into various bath verticals like sanitaryware, shower enclosure, water heaters, concealed cisterns, wellness range of products like whirlpool, shower panels, showers, steam cabin and spa.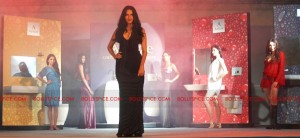 Jaquar group has recently forayed in concept lighting solutions for all residential, commercial and outdoor applications. As a one window solution, Jaquar concept lighting offers wide range of high quality products, design consultancy, installation and post care.
Over the year's innovation, commitment and performance has been the group's core philosophy. A globally renowned super brand, Jaquar has created worldwide presence through continuous R&D in design and today Jaquar group has:
World class brands, products and ranges for residential and commercial purpose
Over 60% market share in bath  fittings industry
Presence over 5 continents making it a true global player
3 state-of-the-art manufacturing facilities spread over 1 lac sq. mts.
Trained technicians producing 45,000 faucets a day
1 million happy new customers every year
Large company operated orientation centers showcasing world class display
Unmatched customer service and product warranty
Crossing 1000 crore mark in FY-10-11, Jaquar is truly a global bath solutions company creating benchmarks in the industry and the most preferred one stop solutions brand across the globe.