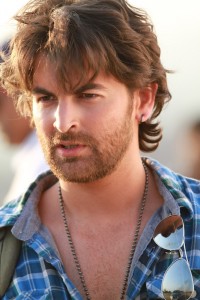 Neil Nitin Mukesh in Shortcut Romeo is in for a look make-over of sorts. In the film, Neil who plays a tapori character who wants to get rich quick and to give this look the director felt he needed to get rid of the actor's classy look and bearing. To get him into the character Susi Ganesh suggested Neil grows his hair and develops a little roadside aggressive body language.
Commenting on Neil's look Susi Ganesh says, "We wanted Neil to have a tapori look. His long hair gives us that. His character not only demands tapori but a rich man, for that also this long hair will help."
When asked if it was difficult to convince Neil for this look, Susi promptly says, "I wasn't difficult because when saw my original film, he loved the long hair look. I wanted to do this because Neil has never tried this look on him."
Neil stylist Vikram Pharmar had to work a lot on his hair to get the apt look. He says, "Initially we tried to test with wig but after seeing the script and action sequences, Neil decided to grow his hair and have an original. I got a brief from the director that he wanted a very down market guy look on Neil but later when he has money and wealth he has a clean shaven look which is more corporate."
Vikram concludes, "The most appealing this about Neil's look is that he has never looked this handsome and cruel in a same film. This is very different and stylish look."
His co-star Ameesha Patel feels it's a difficult task to make Neil look like a tapori. Ameesha explains, "It's difficult to make Neil look like a tapori because his face is like a foreigner. His blonde hair and fair complexion looks very rich and classy. I have always met him during parties, in which he looks elegant in a suit or a tuxedo. But when I saw him in the tapori look I was completely impressed as he was carrying it really well."
Shortcut Romeo is a remake of Susi Ganesh's super hit Tamil film 'Thiruttu Payale'. 'Shortcut Romeo' will release on 21st June, 2013.
Check out this inside look into Neil's character!