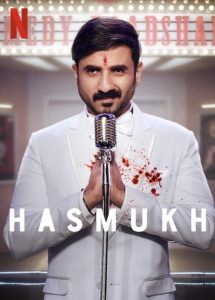 Hasmukh (Netflix, 10 Episodes)
Starring Vir Das, Ranveer Shorey, Manoj Pawa, Suhail Nayyar, Ravi Kissan
Directed by Nikhil Gonsalves
It's like Lata Mangeshkar being hired to play a bad singer. It takes a very brilliant actor to play a bad actor. Vir Das, a first-rate stand-up comedian, plays an inept pathetically cheerless stand-up comedian in Hasmukh who needs a strong impetus to make him come alive on stage.
No, a shot of that strong beverage won't do. Something far more potent…like murder perhaps?
It is a tempting premise for a crime thriller. Something like Sonam Kapoor playing a couture queen who kills to kill it on the ramp. And Vir Das, who really should be seen more often, simply nails it. He is an innocent, virginal wannabe comic virtuoso bullied by his abusive uncle, and sexually molested by his aunt who gropes him while he makes the tea.Chai-ld abuse?
Biggest bully of all is Manoj Pawa (in an obscenely ill-fitting wig) and he, unwittingly, becomes Hasmukh's first murder victim. Pawa becomes the ghost at Hasmukh's burlesque banquet.
This is dark humour at its darkest. Hasmukh's wretched unhappiness is on a level of the Joker. He either kills in frustration or gets killed. As simple(?)as that! From this distracting takeoff point, Hasmukh builds into a savagely sinister crescendo of repression and comeuppance. I have to admit that the episodes got unwieldy as they progressed. The tv channel in search of TRPs steps in with all the subtlety of a sledgehammer negotiating a head pinned to the wall.
Ravi Kissan is a fine fusion of farce and ferocity as the channel head. He reminded me of Jackie Shroff in Goldie Behl's film Bas Itna Sa Khwab Hai while Kissan's assistant (Amrita Bagchi) is a distant akin of Sushmita Sen in the same film. She swings between being a Good Girl and a Badass Babe. Take you pick.
Vir Das's guileless giggle giver's persona beguns to wear thin as he goes on a killing spree one episode at a time, as if following a self-discipline routine. It doesn't get better just because his victims are all sleazeballs. What I found more convincing was Hasmukh's rivalry with the other stand-up comic KK (played by Suhail Nayyar). In a lengthy sequence towards the end of the plodding journey, KK drunkenly declares himself a loser. It's well-performed monologue, and one that makes us alert to the series' failings with the character's feelings.
We never know why Hasmukh feels the way he does about his comedic abilities being tied to crime. There is a romance towards the end with a foreigner, a love interest which is of interest to no one, not even Hasmukh himself. His failings as a human being are so broad, they leave no room in us for empathy. Still, Vir Das keeps us watching till the end. I wanted to feel for Hasmukh because he was played by an actor who understands failure and knows how to handle it better than Hasmukh.
Accompanying Vir Das's Hasmukh on his killing spree is his friend and manager Jimmy, played by Ranvir Shorey who never fails to succeed no matter what the character. Das and Shorey play off each other in a balanced conflict that the plot on the whole lacks. The narrative wobbles. Das doesn't.