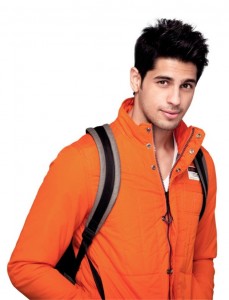 Debuting actor of Karan Johar's movie Student of the Year (SOTY) Siddharth Malhotra seem to have less experience than the rest of the cast. However it did not stop him from learning and surprising KJo himself.
Model turned actor who was thrilled when KJo gave him an opportunity and couldn't refuse says, it was hard at times working alongside Mahesh Bhatt's daughter Alia and David Dhawan's son Varun as he had no background in the film industry.
"The only disadvantage in being from outside is doing filmy things. I'm not so dramatic and not comfortable doing over the top things. When you look at Shah Rukh Khan, it's not what he sings on screen, but how he sings too. He sings (lip syncs) with so much passion and love. This was a challenge at least for me," Siddharth told IANS.
Siddharth was quick to realise that non have a background in films wasn't his biggest issue. He had to work long days and maintain health throughout the time so he looked good in all shots. "..You have 13 to 14 hours-long work schedules and hardly get anytime to sleep. You need to keep working out so that you look good and perform well" he expressed.
Although SOTY is his first film to act in, the back tails are all familiar to him. Five years before he became an assistant director with Johar's Dharma Productions and worked on My Name Is Khan. Working on the sets is where he met his now co-actor Varun who was also working as an assistant director. "We had a lot of time to know each other off screen. We travelled together, went to Los Angeles together and stayed together,"
SOTY is set to release October 19th. Siddharth would now like to do an action film but as there is some talk about doing another film with Dharma Productions there is no assurance as to if he will be doing it and if it will be an action film or another romantic comedy like SOTY.