The highly anticipated YRF film Ladies vs Ricky Bahl, which brings back the Band Baaja Baaraat dream team of director Maneesh Sharma, Anushka Sharma and Ranveer Singh is getting ready for release. The film is being called a Rom-Con because the story follows a smooth and charming conman, Ricky Bahl, cons girls for a living but finally meets his match.
Check it out we have the first look at the whole cast on the official poster of the film.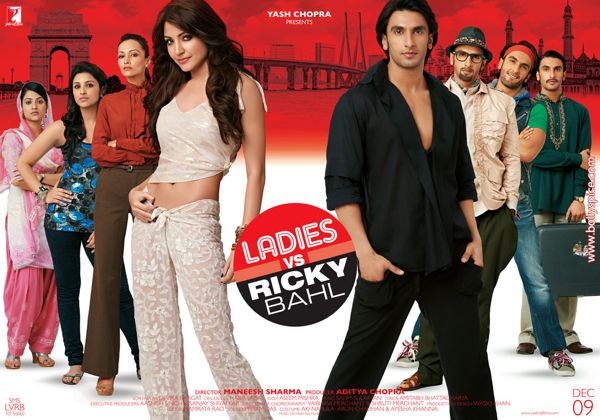 On the poster you see, of course star Ranveer Singh, and wait Ranveer, Ranveer and Ranveer who plays conman Ricky Bahl. Opposite him are the three lovely ladies who fall prey to the romantic con Dipannita Sharma, Aditi Sharma and Parineeti Chopra. Plus also showing is the gorgeous Anushka Sharma who we think is Ricky's match, whether it be con or rom we don't know yet!
Talking about his character and co-stars Ranveer recently said, "Ricky is very smooth and charming with the women who are his targets. I had fun working with all the actresses. While Parineeta Chopra is very fresh and bubbly, Dipannita Sharma is cool and calm. Aditi Sharma is very cute, while Anushka Sharma is a firecracker and a tigress."
Watch out for Ricky because he hits cinemas on December 9th, which interestingly is the same date BBB released!