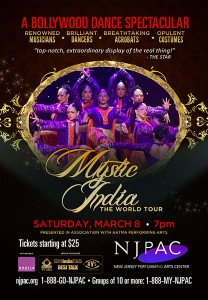 After performing to sold-out audiences across the world, Mystic India: The World Tour comes to Newark, New Jersey and the New Jersey Performing Arts Center's Prudential Hall on March 8th for one performance only.  Mystic India is an internationally acclaimed Bollywood dance spectacular based on the concept of ancient India's transition into modern India.  The show features renowned musicians, brilliant dancers, breathtaking aerialists and acrobats, and 750 opulent costumes.
Founder and Director of Mystic India, Amit Shah said "We are extremely excited to be presenting Mystic India: The World Tour at NJPAC. We have travelled to four continents and performed for over 200,000 people. It is truly an honor to be performing at such a prestigious venue on our "home turf," and we are most excited about launching some of our new content at NJPAC. When I first created the show, I wanted to spread our love for Indian culture around the world and represent India in the most accurate way.   My goal was to change the way Bollywood dance was represented on the international platform, as its being commercialized and losing authenticity. I am proud of our diverse cast for being such genuine ambassadors of Indian culture."
Audiences can expect an explosion of color and culture as Mystic India embarks on a journey through various regions of India and culminate with a celebration of the Bollywood film industry. The team of diverse, impeccably trained dancers combine authentic Indian and modern techniques bringing the streets of Mumbai and New York into perfect harmony. Musicians and acrobats join a team of 60 dancers to create a global spectacle.
"Mumbai meets Newark with the arrival of the world tour of Mystic India, the highly entertaining spectacle of music, dance, acrobatics, and costumes, that will bring Bollywood to life at the Arts Center. Presenting cultural artists from around the world speaks to one of NJPAC's core missions," said David Rodriguez, Executive Producer at NJPAC.  "The acclaimed Mystic India represents a spectacular realization of that mission.  This show will appeal to a wide range, from the South Asian community to families to the Bollywood fans to theater and dance aficionados."
Tickets, onsale now, are $28.00-$140.00 and may be purchased at www.njpac.org, by calling 1-888-GO-NJPAC or by visiting the box office at One Center Street in Downtown Newark.
For more information, please visit: http://bit.ly/1dMgVJE.
This performance is part of NJPAC's World Music Series sponsored by American Express.
Programming has been made possible in part by funds from the New Jersey State Council on the Arts/Department of State, a Partner Agency of the National Endowment for the Arts, by funds from the National Endowment for the Arts, and by Discover Jersey Arts.
The performance is also sponsored by media partners TV Asia, AVS, News India Times and Desi Talk.
NJPAC is a wheelchair accessible facility and provides assistive services for patrons with disabilities.