Apparently Katrina Kaif has set the film stage on fire with her performance in the item number for Agneepath. Everyone who has seen either the first look or was present at the filming has praised Kat not only for her hot looks but her incredibly cool moves in Chikni Chameli!
Star of the Agneepath remake Hrithik Roshan is one of the people giving the biggest praise, "The audience will be spellbound by Katrina as Chikni Chameli. She is the most hardworking co-star and is unbelievable!"
Choreographed by Ganesh Acharya, the item number is very rustic in feel and form. Katrina said she loved the concept of the number, "After I heard the song and dance director Ganesh Acharya gave me a dry run, I took it up as a challenge and actually had a lot of fun doing it."
Sanjay Dutt was also blown away with the choreography by Acharya, "He has interpreted this song in a very desi way. Our jaws dropped when Kat did the entire song for us during the rehearsal."
Katrina agrees and says this is not Sheila, this is Chikni, "Sheila… was more Broadway-meets-Bollywood, whereas Chikni Chameli is completely rustic. Ganesh has ensured there are no similarities. The energy and the moves are completely different."
Probably the biggest compliment that she could get is that fans won't care that the "God of Dance" aka Hrithik is not dancing with her, "Katrina is outstanding. The audience is not going to mind that I'm in the same frame but not dancing!"
Check out this hot new image!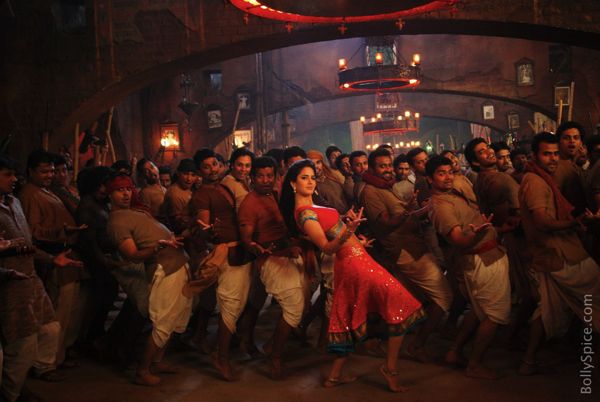 We will be able to see Chinki, and oh yes Hrithik, Priyanka Chopra and Sanjay in the highly anticipated remake of the classic when Agneepath hits theaters on January 26th.