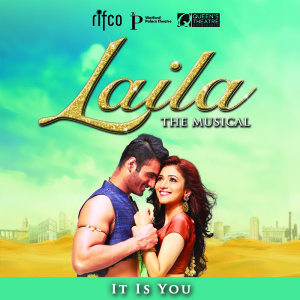 From the creators of award-winning acclaimed musical Britain's Got Bhangra comes a new contemporary musical – Laila. Director and Writer Pravesh Kumar (The Deranged Marriage, There's Something About Simmy), Music Composer Sumeet Chopra (Break the Floorboards, Karma Chopra) and Lyricist Dougal Irvine (Departure Lounge, In Touch) have come together for a retelling of the greatest eastern love story – Laila Majnu.
The story of young love and feuding families is being given a modern musical twist by the Laila creative team, fusing Sufi with Musical Theatre.
The story opens in modern day Yorkshire, where Laila takes shelter from a raging storm in an old bookshop. She comes across a book with her name on it and is compelled to open the book. Consumed by the story, Laila finds herself in an old story and on a new journey.
Artistic Director of Rifco, Pravesh Kumar said, "Laila Majnu is one of the oldest love stories but has rarely been told in the West. The story has travelled across borders and generations through music and verse and is a natural musical. I wanted to share this beautiful story and look at the timeless themes of love and honour in today's multicultural Britain."