We are getting closer to the release of the epic Ra.One and so from now until October 26th we will be bringing you some very exciting treats! We showed you 'Chammak Challo' and today revealed the romantic 'Dildara' song promo! Now we can let you in on what the story of Ra.One is all about and show you a brand new poster!!!
The story:
A father trying hard to 'fit-in' in his Son's badass world- A son… trying hard to 'dude-up' his dad from 'aiiiyyyo' to 'YO!' And a mother lost in translation between her husband's 'ingeva' and her son's 'Inn'it!'
While Shekhar was trying every trick in the book to woo his son, get 'dude-ified' and 'up his coolness quotient' his son had given up on him..
Just when the father-son duo hit a deadlock- Shekhar strikes gold when he designs one hell of a game..
Finally it all starts falling in place…
…as the family comes together…
…only to find themselves in the middle of a crash…
…not just a hard drive crash but a crash that would drive them to a disaster and make their lives go – KABOOM!!!
All hell breaks loose when – the game that was meant to be played with… starts playing them…
Ra.one- The next level!
Check out this new totally hot poster!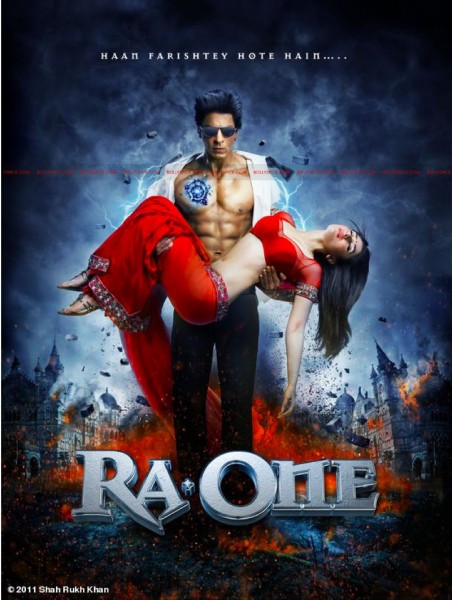 We have many more Ra.one movie goodies coming up so stay tuned to BollySpice!
Set to release on Dilwali, Ra.One is an epic sic-fi/superhero/adventure film that stars Shah Rukh Khan, Kareena Kapoor, Arjun Rampal with special guest appearances by Sanjay Dutt as The Villianous Villan – Khalnayak and Priyanka Chopra as The Damsel in Distress! (See even more little tidbits just for you!)