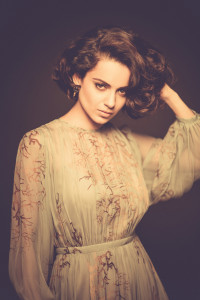 Kangana Ranaut and her team including her advocate Rizwan Siddiquee have released a new statement about Hrithik's Roshan and her legal cases and the Summons from police that both Ms Ranaut and her sister come to the police station to make a statement.
Advocate Rizwan Siddiquee in reply to the Summons states that "No Police Officer can summon my client Ms. Kangana Ranaut or her sister Ms. Rangoli to any police station to record their statement as a witness under Section 160 of CRPC. The Witness summons sent to my client and her sister by the Police Officer is patently illegal, as no woman can ever be called to the police station to record their statements as per the provisions of law.
"Nonetheless my client who is shown to be a victim as per the claims of Mr. Hrithik Roshan has herself willingly expressed her desire to co-operate with the officers in accordance to the provisions of law, as well as in her reply to the Summons she has duly reserved her rights to file an appropriate criminal complaint against Mr. Hrithik Roshan and his associates for hacking two of her email accounts, which includes the email from which Mr. Hrithik Roshan admittedly claims to have personally received about 1439 emails from my client on his correct email id as well the email from which my client was communicating with the alleged imposter.
"The crux of the matter is simple Mr. Hrithik Roshan had admittedly full knowledge of the so-called imposter in the month of May 2014. However, he did not wish to take any action against the so-called imposter for good seven months nor did he as a responsible citizen, then bother to take the required details of the imposter from my client during those seven months. Thereafter sometime in December 2014 Mr. Hrithik Roshan filed an informal complaint with the cyber cell, with full knowledge that no investigation shall be carried out by the Police on an informal complaint. During this time Mr. Hrithik Roshan admittedly started receiving mails from my client on his correct email id for more than a year, however he did not block them for reasons best known to him. Mr. Hrithik Roshan then thereafter sent a defamation Notice to my client stating my client defamed him because "Silly-Ex" referred to by my client in one of her interviews was him. In his Notice, he claimed that he did not know my client socially at all. He also interalia claimed that he was receiving 50 emails a day from my client. He further specifically claimed that my client was using his name to gain publicity. In reply to his Advocate's notice, I on behalf of my client proved the extent of blatant lies that his notice contained and questioned him as to how was he attending my client's private birthday party with his entire family and my client was attending his party besides his sister's and his father's birthday party as well, if he did not know my client socially at all. Besides I questioned him on his exaggerated claims of receiving 50 emails from my client ever day and why did he prudently not block my client if it was one-way communication. The basis of sending a defamation notice was also questioned as no case for defamation was made out in the Notice. Mr. Hrithik Roshan was also prudently questioned as to why no case was registered against an imposter at the right time when it was required. He was required to act on my notice within 7 days. However thereafter on receiving my notice on the 1st of March he cleverly chose to maintain a 'dignified silence" as there could not have been any good reply to my notice where his statements were proved to be blatant lies. Subsequent to this he conveniently chose to divert all media attention to a so-called imposter to deviate from the main subject of having criminally threatened my client and having intimidated her, without any provocation or good reason at all. As a matter of fact it is my client who has actually suffered and has yet maintained a dignified silence so far. These acts of deviating media attention by filing a belated F.I.R. after about 2 years against a so-called imposter pursuant to receipt of my notice is another unintelligent attempt. Things were started by Mr. Hrithik Roshan and he should come forward and end it in a proper manner."