Opening on Friday, the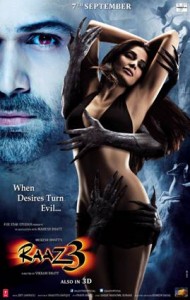 supernatural thriller Raaz 3, directed by Vikram Bhatt and staring Emraan Hashmi, Bipasha Basu and Esha Gupta is the 3rd movie from the most successful horror franchise of India cinema `Raaz'. The movie is set against the backdrop of the glitz, lights, glamour and back-stabbing cruelty of the entertainment world; a fading movie diva Shanaya (Bipasha Basu) turns to Black Magic to thwart an upstart young starlet Sanjana (Esha Gupta) on her way to usurp the position Shanaya once held. Sanjana ruthlessly turns against the girl, using her lover Aditya (Emraan Hashmi), a man who owes her his career, as a pawn. Things go awry when Aditya falls in love with the Sanjana despite himself and avows to protect her against the evil that is consuming all of them. The film, which was filmed with special 3D cameras releases world wide on 7th September 2012!
Now New York readers you have a chance to win two tickets to a special 3D screening which is taking place in Manhattan on Thursday evening!
Simply watch the trailer
httpvh://youtu.be/MdGMo3fffkg
Then answer this question
Who directed Raaz 3?
Email your answer along with your name and address to editors@bollyspice.com. Hurry you only have until tomorrow morning to get your entry in!